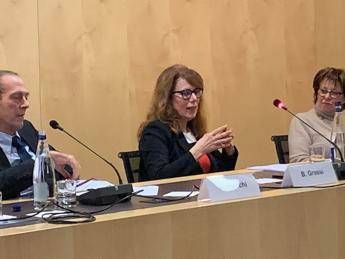 "Gsk's commitment to the challenge of systemic lupus erythematosus has been going on steadily for about 10 years, i.e. since the clinical development of belimumab began, which inhibits the biological activity of BLyS (B lymphocyte stimulator), a protein necessary for the transformation of B-lymphocytes into mature B plasma cells. Today, however, belimumab also responds to the needs of patients with lupus nephritis: it is safe, effective and well tolerated". Thus Barbara Grassi, medical-scientific director of GSK Italia speaking today at the press conference "When lupus attacks the kidney" which was held in Rome.
Belimumab – it emerged from the meeting with the press – is produced in the GSK plant in Parma, from where it is exported to 50 countries around the world, for a total of around 3 million vials expected in the current year. In Italy it is a targeted therapy that affects over 2000 patients, most of whom have chosen self-administration at home. It is the first biologic drug developed and approved specifically for lupus in over 50 years and the first to achieve subcutaneous home administration as an alternative to infusion.
"Gsk has been involved in precision medicine for many years – remembers Grassi -. In the last ten years, the monoclonal antibody distributed throughout the world has shown to be effective, safe in a large program involving more than 3,000 patients worldwide with at least 5 very important clinical studies, the evidence of which has now been confirmed by experiences of real life". "Side effects are rare – concludes Grassi – but nothing that significantly contraindicates its use".
The approval of the new indication for belimumab is based on data from the BLISS-LN (Efficacy and Safety of Belimumab in Adult Patients with Active Lupus Nephritis) study, which showed that, over two years Added to standard of care, GSK's biologic increased rates of positive renal response to therapies and helped prevent worsening of kidney disease in patients with active lupus nephritis compared to standard of care alone. However, the BLISS-LN study is not the only piece of evidence, there are also other studies such as post hoc studies performed on belimumab IV pivotal study data, secondary analyzes of the SC formulation pivotal study and data from real word evidence that have highlighted the efficacy of belimumab on the kidney.