The SanDisk microSD card is the best option for your console.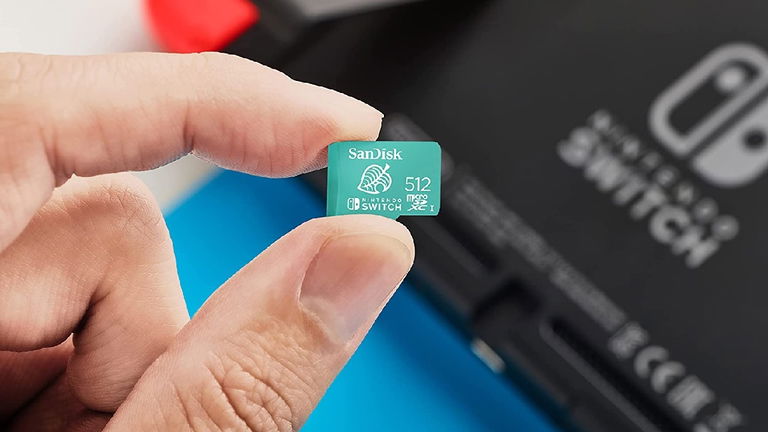 This 512GB SanDisk microSD card is officially licensed by Nintendo
join the conversation
It's no longer a surprise that the Nintendo Switch is the current best-selling console. It offers different ways to play and has an impressive catalog of games. However, the hybrid console also has weak points such as internal memory with only 32 GB of storage. It is recommended to buy a memory card compatible with Switch and this 512 GB model from SanDisk is really cheap. It costs 90.99 euros on Amazon because it is an official Nintendo licensed card and it has a 38% discount.
If you just bought a Nintendo Switch, you're going to need a microSD card From the beginning. The OLED model has improved this aspect of the console, but it is still quite limited (64GB). There are many Switch-compatible memory cards, more or less cheap. The most popular is the SanDisk card because they have a exclusive design with iconic drawings of Nintendo games. This memory card is very well discounted on Amazon, especially the 512 GB one with a 38% discount.
Nintendo Switch microSD Card (512 GB)Nintendo Switch microSD Card (256 GB)
SanDisk's microSD card for Switch is 38% off
This card can cost almost 150 euros, so it is a worthwhile offer. SanDisk is the most recognized brand and leader in data storage. It has a wide variety of compatible cards with cameras, computers and now also consoles like Nintendo Switch. This microSD card has official license and different capacities from 64 to 512 GB so that you can choose according to your needs.
For Nintendo Switch, we always recommend the one with the highest capacity because that way you will avoid uninstalling games to download others. This microSD card offers incredible read and write speeds with 100 MB/s and up to 90 MB/s, respectively. It is perfect to expand the memory of your console and forget about the space problems. Finally, it should be mentioned that this memory card has a drawing of Animal Crossing: New Horizons in your design.
Nintendo Switch microSD Card (512 GB)Nintendo Switch microSD Card (256 GB)
The sandisk card It has a good price with a discount of almost 60 euros. The 512 GB capacity model it costs 90.99 euros on Amazon, where it has a 38% discount. Not only are you guaranteed full compatibility with the hybrid console, but it is a perfect gift (and very useful) For any Nintendo fan.
join the conversation