Traditionally puttanesca sauce is prepared for long pasta, but it is so tasty that it would accompany any dish such as eggs, white meat or fish.
Ingredients for 4 people
380 g fettuccine
8 anchovy fillets in oil
1 can of canned tomato (850 g)
2 garlic cloves
100 g pitted black olives
2 tablespoons of capers
Extra virgin olive oil
Sal
1 teaspoon of sugar
1 cayenne chilli
Pepper
Parsley
Elaboration
Heat 3 tablespoons of oil in a pan (wide, low casserole).
Peel the garlic cloves, slice and add them to the pan. Add the cayenne and sauté everything a bit. Chop the anchovies finely and add them. Cut the olives (reserve 8 to decorate) into slices and add them. Also add the capers, the chopped tomato with its juice and the sugar. Mix well and cook the sauce for 20-25 minutes. Remove the chilli.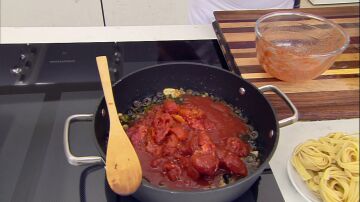 Make the sauce | antena3.com
Heat plenty of water in a saucepan. When it starts to boil, season it and add the pasta. Cook it for the time indicated on the package (9 minutes). Remove the pasta and add it to the sauce, pour in a little of the cooking broth and mix well. Cook together for a couple of minutes and grind a little pepper on top.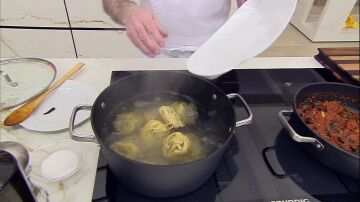 Cook the pasta | antena3.com
Divide the fettuccine among 4 plates. Cut the reserved olives in half and place 2 on each plate. Sprinkle them with a little chopped parsley and garnish with a few parsley leaves.