Expand the storage capacity of your Nintendo Switch with these Lexar microSDs that are on sale on Amazon.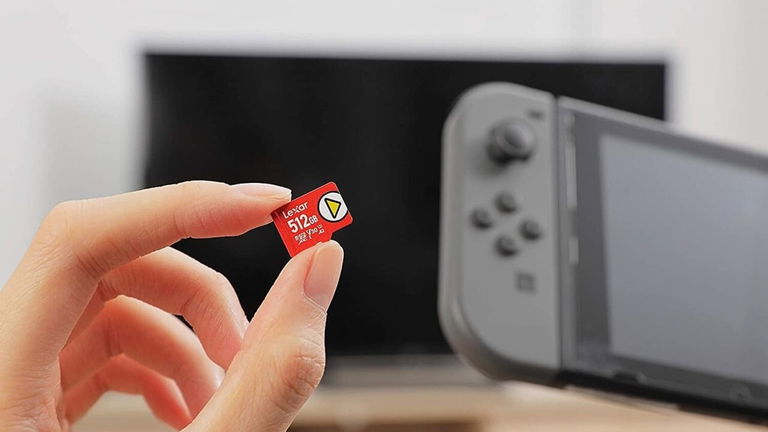 This microSD is compatible with Nintendo Switch, tablets and smartphones
join the conversation
If you are the owner of a Nintendo Switch and you usually buy games in digital format, you have surely had space problems on more than one occasion. The Nintendo console, regardless of model, it falls quite short internal storage level. Luckily, this can be fixed by purchasing a microSD. However, 1 TB microSD are usually prohibitively expensive, so it is best to buy a 256 GB or 512 GB card.
Leaving aside Sandisk's microSD, which are possibly the best known, there is another brand that stands out for the value for money of its cards, Lexar. Well, this time we have to talk about the latter. The 256 GB and 512 GB microSD have a discount of 7% and 8% respectively. This means that you can now buy one of these cards for slightly less than the recommended price, which was already very attractive.
The best microSD cards for Nintendo Switch
Get these Lexar microSD at the best price on Amazon
The 256 GB Lexar microSD is priced at 26.82 euros, while the 512 GB is available for 61.47 euros. Right now they are one of the best options if you are looking for a microSD that is not very expensive. By the way, they have a rating of 4.6 stars out of 5 and close to 5,000 reviews.
Lexar microSD card (256GB)
At the performance level, they are at the level of the best microSD on the market. According to Lexar, they reach a read speed up to 150MB/sso games and apps they load much faster. Leaving aside everything related to performance, it is worth remembering that in order to use a microSD on the Nintendo Switch you first have to format it. Too easy. There you go to the HOME menu and select Console Settings. Next, in the menu on the left select Console and then Format Options. Finally, select Format microSD card.
Lexar microSD card (512GB)
If these two microSDs are out of your budget, then you have to take a look at the 128 GB Sandisk microSD sold at El Corte Inglés. Have official nintendo license and it can be yours for only 17.99 euros (before 24.99 euros).
join the conversation