Suara.com – Men's doubles Hendra Setiawan/Mohammad Ahsan are looking forward to the European tour and don't want to be too late in disappointment after being knocked out in the second round of the BWF World Tour Super 500 Indonesia Masters 2023 at Istora Gelora Bung Karno (GBK), Senayan, Jakarta, Thursday.
Based on the BWF calendar, there are five tournaments taking place on the Blue Continent in 2023, namely the Super 300 German Open (7-12 March), the All England Open (14-19 March), the Super 300 Swiss Open (21-26 March), the Super 300 Madrid. Spanish Masters (March 28-April 2), and Super 300 Orleans Masters (April 4-9).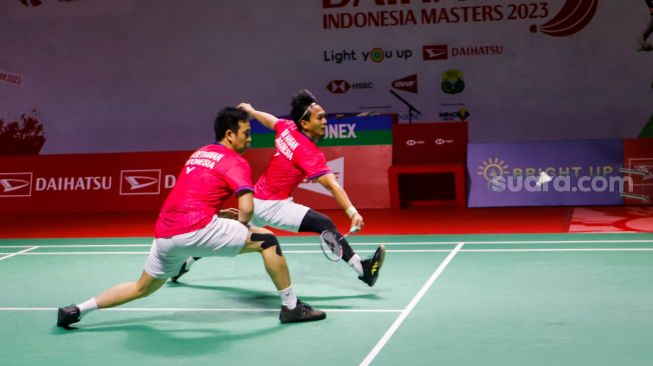 Indonesian men's doubles badminton players Mohammad Ahsan and Hendra Setiawan compete against Japanese men's doubles Akira Koga and Taichi Saito in the qualification round for the Daihatsu Indonesia Masters 2023 at Istora Senayan, Central Jakarta, Tuesday (24/1/2023).
Hendra/Ahsan did not mention in detail which tournaments they would take part in on the European tour. But the All England seems to be aiming for the world number three pair. In 2022, they had to settle for being runners-up after losing to fellow Indonesian representatives Muhammad Shohibul Fikri/Bagas Maula with a score of 19-21, 13-21.
"In the future there may be a European tour. We have to make preparations and practice again. Hopefully we can be maximal," said Hendra in a post-match press conference.
Also Read: Running Tight, India's Women's Doubles Eliminates Indonesian Representative Lanny / Rebekah
In today's match, Hendra/Ahsan failed to improve their achievements at the 2023 Indonesia Masters after losing to their juniors Leo Rolly Carnando/Daniel Marthin with a score of 14-21, 17-21.
This defeat was the fourth time Hendra/Ahsan against Leo/Daniel. In the previous match, The Daddies, nicknamed Hendra/Ahsan, were also eliminated by Leo/Daniel in the 2022 Singapore Open semifinals with a score of 9-21, 21-18, 22-20.
"Congratulations to Leo/Daniel who played better than us today, hopefully they can go even further," said Ahsan as published by Antara.
"Indeed they looked good. We lost from the front game. Our defense was easily penetrated," said Hendra.
Hendra/Ahsan admitted that they would conduct an evaluation so they could get better results in the next tournament on the Blue Continent.
Also Read: Indonesia Masters 2023: Throw Hendra / Ahsan, Leo / Daniel to the Quarterfinals
"I don't think fatigue is talking about. This is because our opponents have also appeared in three consecutive tournaments (previously the Malaysia Open and India Open). We will try to prepare ourselves again for the future," said Hendra.
Throughout this season, Hendra/Ahsan have played three tournaments. Previously they reached the quarter-finals at the Super 1000 Malaysia Open (10-15 January) and were eliminated in the first round of the Super 750 India Open (17-22 January).