Kevin Benavides sees a world reopening. Returning the time spent alongside Walkner, 23 minutes and 10, Kevin wins the stage and jumps to second place, 12 seconds behind Toby Price. Incredible final head-to-head
January 14, 2023
Al Hofuf14 January. We left the article published this morning with the result that arose from the official timings at the exit of the 13th and penultimate Special, to show how the reinsertion of a pawn can dramatically change the pattern on the chessboardand also to be clearer in the correction of events without denying the good that even the result of the first hour had produced.
Synthesizing. The key is at kilometer 54. Matthias Walknerat that moment among the fastest, falls disastrously and Kevin Banavidesfriend and teammate, stops to help him. The race is forgotten, or at least it goes into suspension. Some time later, when the GPS traces will tell, and rescue Walkner, Kevin repartee, more or less from the 50th position. Upon arrival we are already celebrating the unprecedented victory of Michael Docherty, one who comes from Rally2, and the finally solid leadership of Toby Price.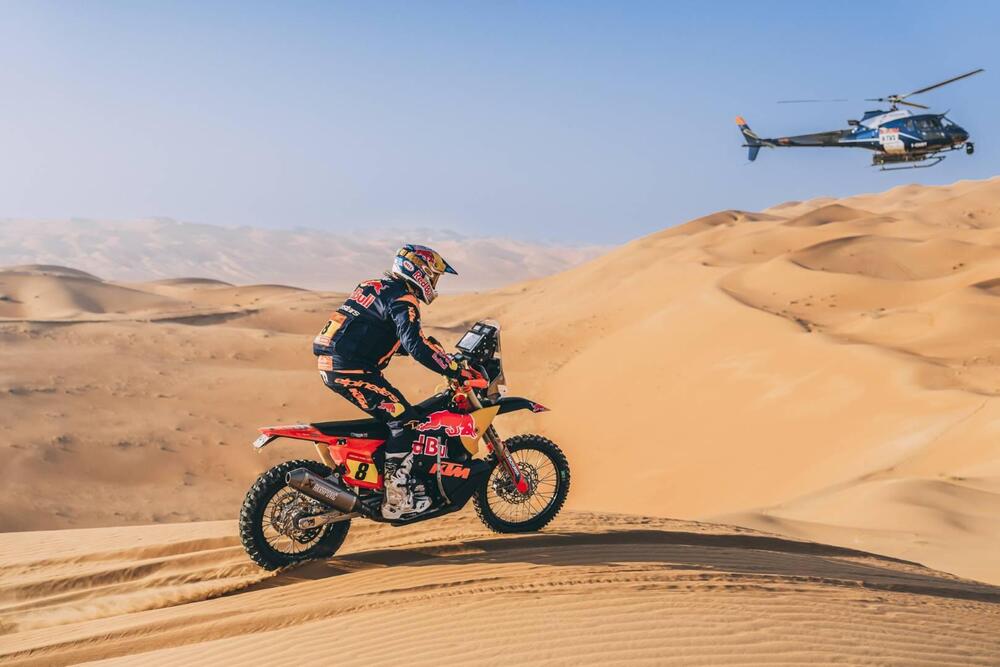 Time correction bulletins are coming by the competition jury. Luciano Benavides has a minute penalty and, above all, a Kevin Benavides the time to return for assistance to Walkner is calculated in 23 minutes and 10 seconds. Just enough to upset the rankings, of the day and General. With the correct timing Kevin Benavides wins the Special in front of Michael Docherty and Luciano Benavides. As long as nothing else changes. Long and exciting day.
Mostlywith the exploit of the penultimate day, Kevin Benavides forcefully gets back into the game for the final victory. Toby Price remains, in fact, in command of the Cors, but the Argentine is now second just 12 seconds behind the Australian! This means that the 45th Dakar of Motorcycles will be played on the 136 kilometers of the last Special in the Cross heat regime or Baja sprint between the two KTM Red Bull officers. Toby has already won twice, Kevin once. It being understood that it remains in the game "theoretically" too Skyler Howesthird a minute and a half behind Price.
© ASO Media Images, Red Bull Content Pool, DPPI