Docherty wins but Price finally stretches with confidence. The Motorcycle Race reveals a possible profile for the penultimate Special, games almost done. Howes "undecided" after a minute and a half, Van Beveren takes third place
January 14, 2023
Al Hofuf, 14 January. It is the penultimate stage, Shaybah-Al-Hofuf. Just 154 kilometers of special stage. House menu: dunes, fast sand, crossings. Can no longer be trusted. It was supposed to be a long uphill finish, instead it turned out to be a downhill epilogue of short stages and big sprints between dunes and plateaus. Beautiful, thank goodness. But whoever invested in the ending was wrong. It's an ending where you live for the day. Toby Price, KTM, moved into the lead. Half a minute I give margin. Anything. The most delicate tactic is up to him. He talked about it with Jordi Viladoms, the Catalan star player who was one of the greatest water carriers in history. To do that job, for those who won, you had to have technique, intelligence, tactical sense. All at the level of excellence. Today Jordi is the Team Manager of the KTM "Group" at the Dakar. We were saying, they talked about it the day before and came to a common conclusion. Very little room for strategy! It may just be a waste of time and attention. Price has come to a conclusion. "I'm fine, the bike is fine. No revolutionary tactics possible. Full throttle, the physicist sustaining the highest possible pace, the processor up there in booster mode, ready to process almost instantaneously. The experience is not bad, another boost!"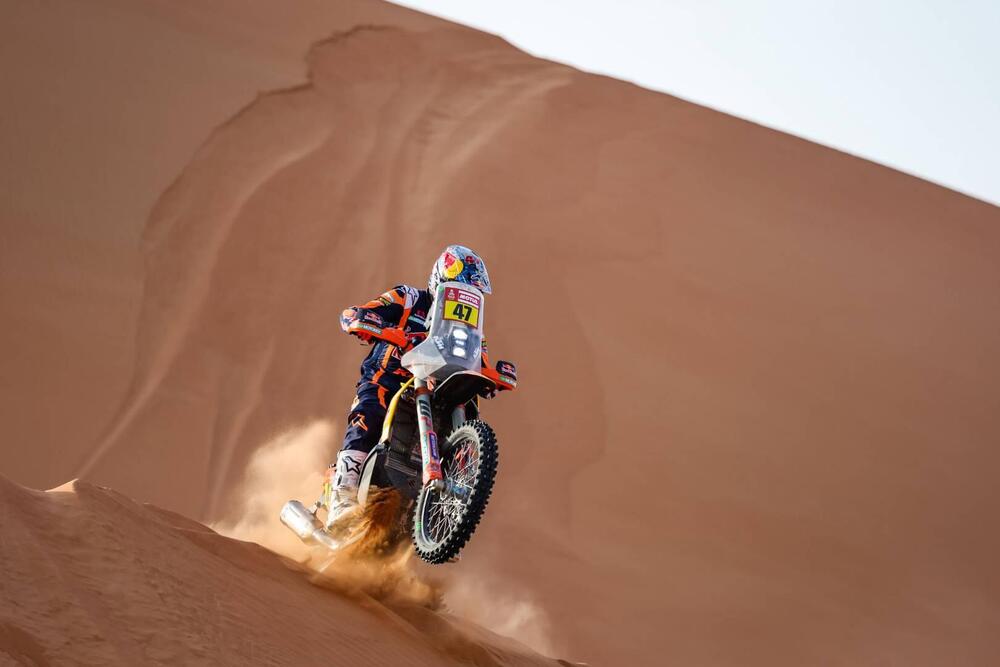 Special, the start as soon as the sun comes out. In towards the West to look for a key CP, turnaround, final towards the North-East, even a little against the sun. Then over 500 kilometers of transfer along the Persian Gulf and the border with the Emirates and Qatar. Cornejo, Honda, Sanders, GasGas, and Toby Price open. The Special is more difficult than expected, more technical, slower. The averages go down from 90 to 60. Klein did not leavewho from the ninth stage suffers neck pain (but it's nothing serious) and shortly after the 50 kilometer Walkner will fall badly, who had already left with a bad wrist. Back pain, he will be evacuated by helicopter and Kevin Benavides will stay with him until the doctors arrive. Sanders attacks Cornejo, Price attacks. Sanders reaches Cornejo in the middle of the Special, fromtwo-thirds is Price setting the pace pushing very hard.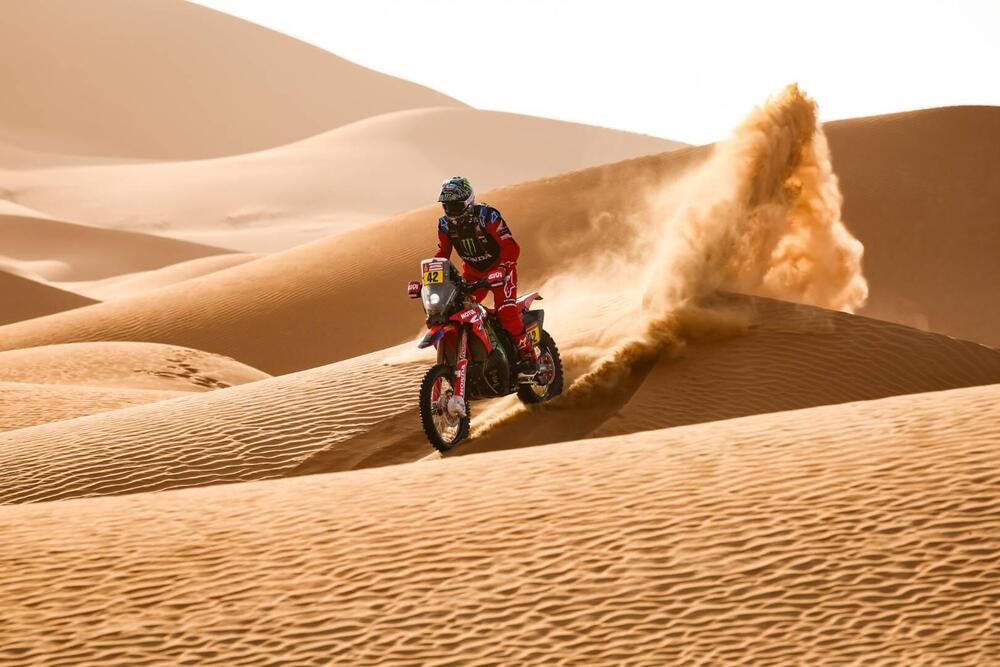 Times, of course, are built from behind. The strongest today and fastest is Michael Dochertythe South African who races in Rally2 literally unleashed, then there's the "usual", generous Luciano Benavides looking for results of the day. more surprising, or maybe not, as we should have expected, is Adrien Van Beveren's attack, which rises progressively. The three will finish in order at the finish line of Al-Hofuf. The lack of consistency of Howes, who must have decided not to risk it, is matched by the vehemence of Price's attack. The Australian is fourth ahead of Dumontier, another Rally2 and, of course, Howes.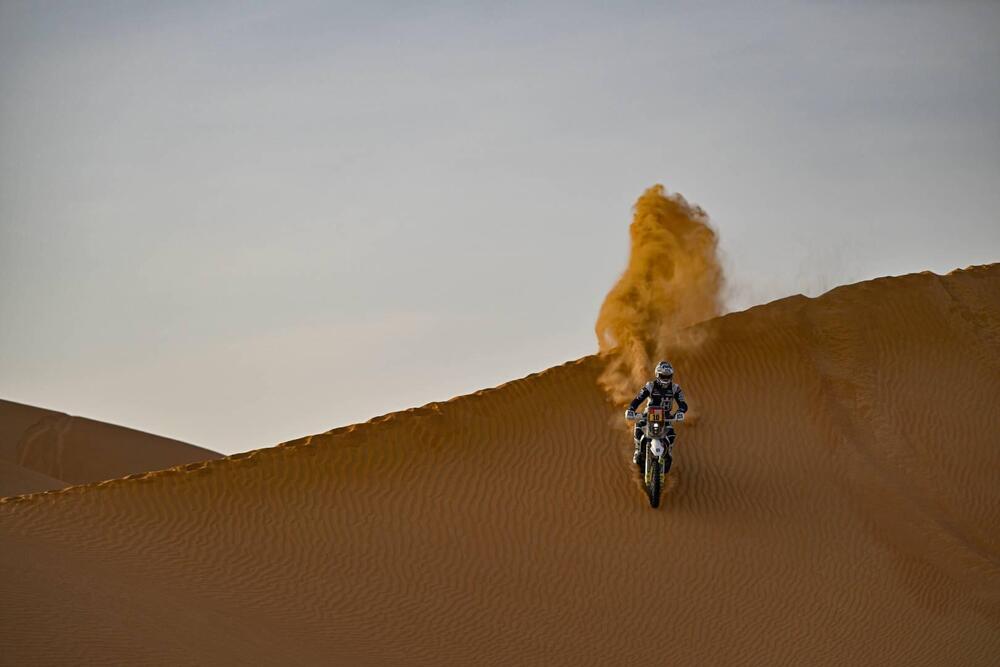 The effect of the penultimate Special Stage on the General classification allows you to finally open a window that doesn't constantly slam in the wind of the race. Toby Price, KTM, stretches ahead. Not too much, his advantage rises to a minute and a half, but solidifies the trend and we must consider that with the reverse starting order of the last Rally Price special he will be able to control his opponents better and more directly. Primo Toby Pricenow a hand on the Tuareg, according to Howes at one thirty. Al terzo posto sale Adrien Van Beveren who overtakes Pablo Quintanilla and climbs onto the podium. Paul Lucci stainless climbs one position, is 16th overall, now a great!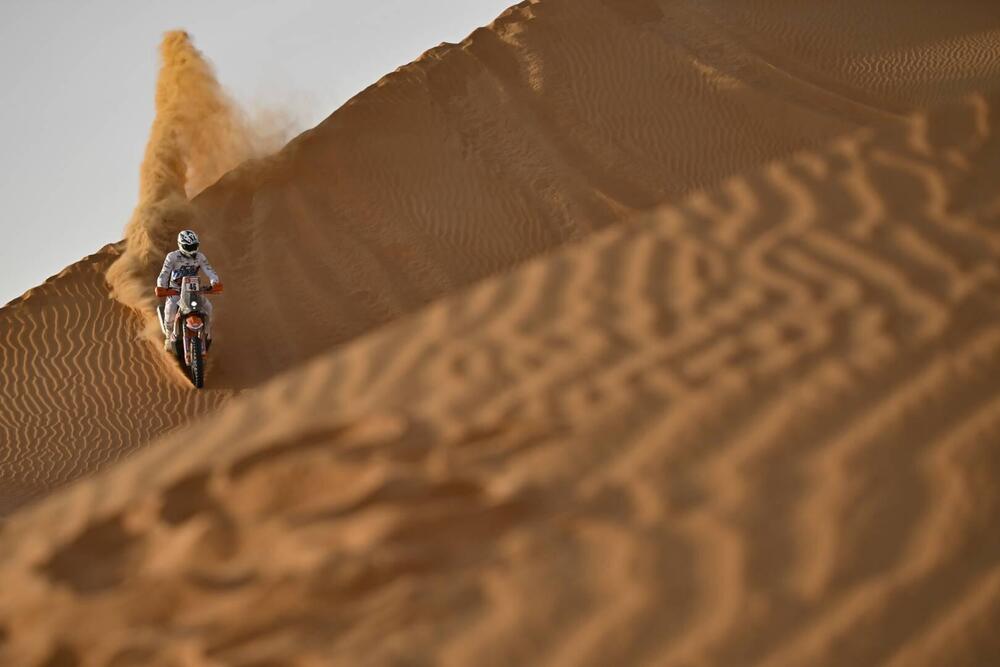 The Grand Finale is played towards Dammam. Special even shorter, 136 kilometres e starting order of the bikes reversed because in view of the podium command on TV. The cars in the order of the day, so the winning bikes will go on the podium first, then the winning cars. It is a plural little maiestatis, it is known that only one wins the Dakar, all the others have lost!
© ASO Media Images, Red Bull Content Pool, DPPI