The crisis atmosphere in Europe regarding migration continues. France and Italy are arguing over migrants being picked up by NGO boats in the Mediterranean, more and more migrants are entering Europe via the Western Balkans and countries such as Belgium and Austria are still struggling with overcrowded registration centres.
The route across the Mediterranean Sea is particularly popular with asylum seekers: Egyptians, Tunisians and Bengalis in particular get on boats in Libya or Tunisia and sail to Southern Europe. Ninety thousand people have already reached the European mainland via this route this year, an increase of 50 percent compared to 2021. Most of them are not eligible for a residence permit.
The European Commission believes that something urgently needs to be done about this. That is why Brussels came up with a plan on Monday, which the interior ministers of the member states will discuss in an emergency meeting on Friday.
These are the three ways Europe wants to reduce the number of asylum seekers. NRC presented them to Salvatore Nicolosi, assistant professor of international and European migration law at Utrecht University.
1. There must be guidelines for the NGO boats that rescue migrants off European coasts
The issue of NGO boats has escalated between Italy and France this fall. The new radical right-wing Italian government of Prime Minister Giorgia Meloni refused to admit several hundred boat migrants to the country. Italy was harsh about the boats of NGOs that pick up migrants in need. France eventually admitted several hundred boat migrants, but then refused to take several thousand other migrants from Italy, as previously agreed.
The southern member states of Italy, Greece, Cyprus and Malta believe that the countries under which the NGO boats sail – the so-called 'flag states' – should be given greater responsibility for the migrants who pick up the boats. This is not in accordance with international maritime law, says migration expert Nicolosi. There is a good reason that flag states are not responsible for the fate of rescued people at sea. The law states that the landing of drowning persons must be done in a practical manner, in a nearby port. That is not possible if the flag state is Germany, let alone the Bahamas."
Yet Brussels seems to be open to the Southern European suggestion. European Commissioner Ylva Johansson (Home Affairs) stated that there is still a lot of uncertainty about the role of private ships operating at sea. "The current challenges were not considered when maritime law was agreed."
Some commentators have already compared it to last year's situation in which Belarus deliberately sent migrants to the border to destabilize Europe. Then the border countries of Poland, Lithuania and Latvia received permission from the European Commission to return asylum seekers.
But with regard to the migration route across the Mediterranean, this is not so simple, says Nicolosi. "It is an established obligation under international law for the captain of any ship to rescue drowning persons. You cannot just make an exception to the humanitarian duty to protect the lives and safety of people. Solutions that have to do with stopping or returning migrants are not legally tenable."
2. There should be more cooperation with African and Asian countries to return migrants
In 2021, only one in five migrants who did not receive a residence permit will be returned to their country of origin. The Commission believes that this must be improved. European Commissioner Johansson has already traveled to Bangladesh to make arrangements for the return of (part of) the eleven thousand Bengalis who reached the EU this year. In return, legal routes to Europe must be created for foreign workers, including Bangladeshis. "We also need labor migration to the European Union, but it must be done in an orderly manner and not through this dangerous route," said Johansson.
The plan also includes 600 million euros going to North African countries to keep migrants there. This money comes on top of the expenditure that Europe already makes in countries such as Libya and Turkey to keep migrants there.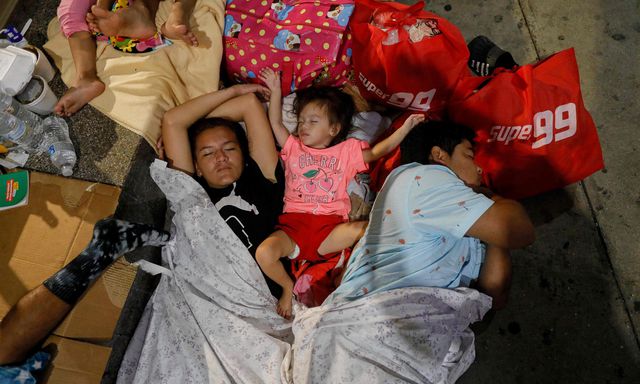 Read also: Asylum seekers adrift by conflict and attracted by visas
Nicolosi thinks that money for countries of origin of migrants can help, but also emphasizes that extra money for the government budget of Bangladesh will not prevent Bengalis from coming to Europe. There are also moral and legal objections to North Africa, according to the migration expert. Libya is a politically difficult country. We don't even know who is actually in power. Human rights are violated. Migrants mistreated by Libyan coast guards trained with European funds would have a good case with the European Court of Human Rights."
3. An existing plan to voluntarily relocate migrants within the EU should be better implemented
Southern Member States such as Italy and Greece receive a disproportionate number of migrants. In June of this year, several European countries agreed to redistribute some of these migrants. But this plan is barely being implemented: so far only 100 of the agreed 8,000 migrants have been housed in another country.
The failure of this redistribution policy shows how hard it is for Europe to reform its asylum policy. Brussels has been trying to do this since the large numbers of asylum seekers in 2015. But the European countries do not agree on reform of the Dublin Convention, which stipulates, among other things, that an asylum seeker may only apply for asylum in one country.
Nicolosi, himself an Italian, understands that his mother country feels disproportionately burdened with migrants. "It would be good if there was a group of states that created safe havens for boat migrants. The burden should not always rest on Italian shoulders. And if Italy were to receive guarantees that migrants would be taken over by other countries, it might also have fewer objections to allowing the drowning people to enter the country at all. That is why these redistribution agreements are so crucial for the success of the plan."
A version of this article also appeared in the newspaper of November 25, 2022