'You are only a real car enthusiast if you have owned an Alfa Romeo', you sometimes hear. The same goes for the Spider. Yet some view this sporty model as an old-fashioned, not particularly fast roadster that has been overtaken by our modern times. However, inveterate car enthusiasts see such an Alfa Romeo as a classic, unadulterated example of a simple, lightweight and pleasant to drive sporty convertible. Anyone who wants to know everything about the Alfa Romeo Spider is often a classic car enthusiast.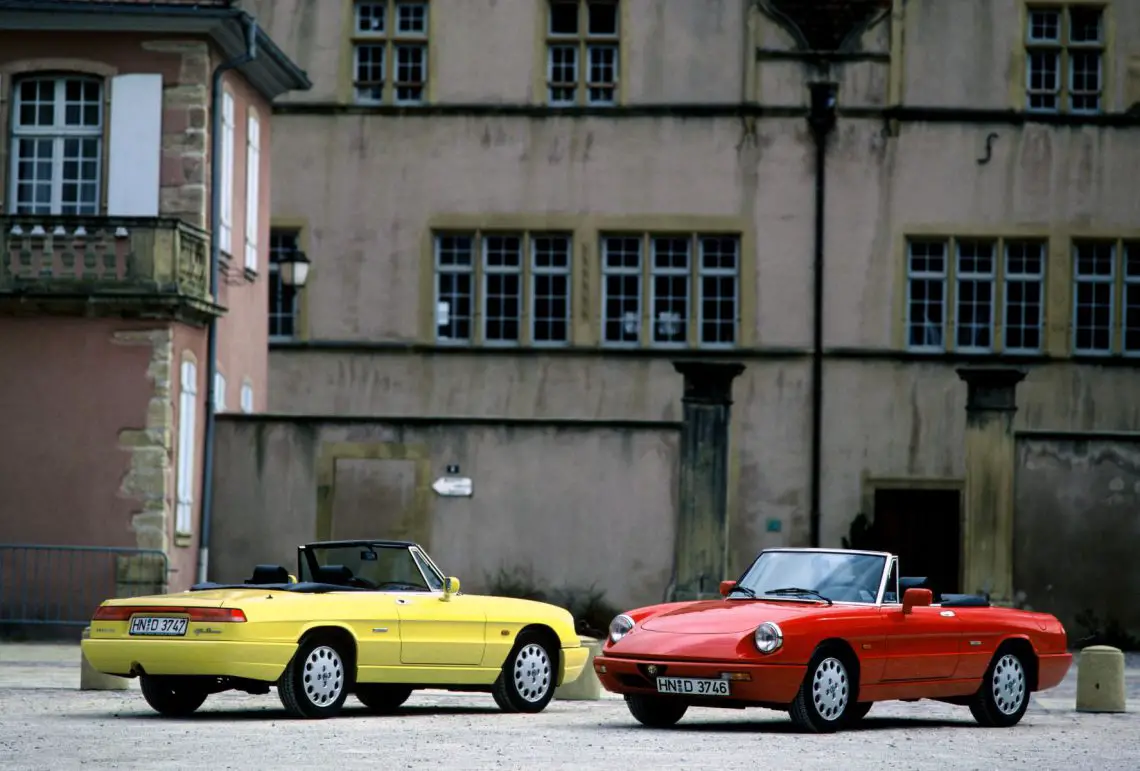 History
During the development of the Spider, Alfa Romeo unveiled some study models. The Italians saw this as inspiration for the final design of the new sports convertible. You see strong references in the Alfa Romeo Superflow (1956) and Superflow II coupe (1956), the Spider Super Sport (1959) and especially the Giulietta SS Spider Aerodinamica (1961).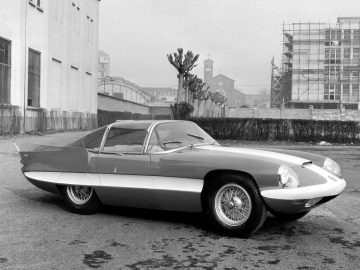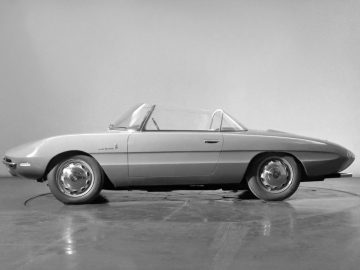 The final design for the first Spider was already completed in 1961. A faltering Italian economy delayed the start of production; it only got under way at the end of 1965.
1966-1969: Series 1 – 'Duet'
In 1966, Alfa Romeo showed the first Spider 1600 at the Geneva Motor Show. As you might have guessed, this Spider got a 1,600 cc four-cylinder, with 109 hp. After a competition, the model was christened Duetto. This car had the chassis of the Giulia 105, but with a body designed by Pininfarina. It was the last time Battista Pininfarina would draw a car herself.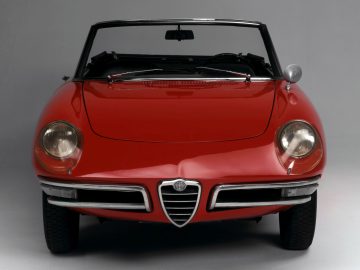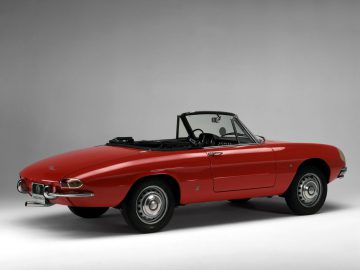 1970-1983: Series 2 – 'Coda Tronca'
After four years, in 1970, Alfa Romeo thought it was time for the second model series. It got a sportier and more modern-looking straight stern. Among Alfa drivers, this generation is known as the coda tronca.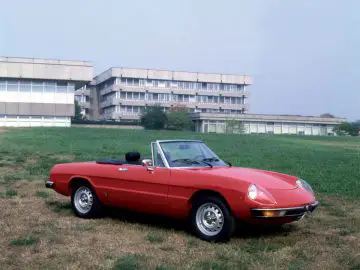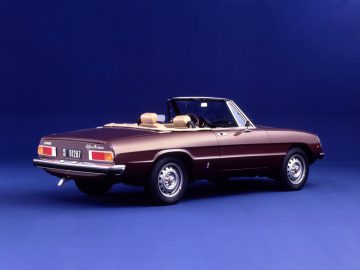 1983-1990: Serie 3 – 'Spoiler Spider'
In 1983, Alfa Romeo equipped the third generation with a large rubber spoiler and rear bumpers. Not all enthusiasts were equally enthusiastic about these design choices. This version is also called spoiler Spider.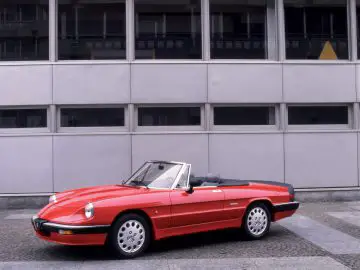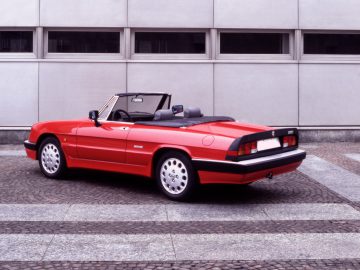 1990-1993: Serie 4
The most important development in the introduction of the fourth series of Spiders was electronic fuel injection. In terms of design, the Spider was pulled tight and smoothed out. It received fresh taillights, colored bumpers and air conditioning as standard. A five-speed manual was still standard; new was the option of an automatic gearbox.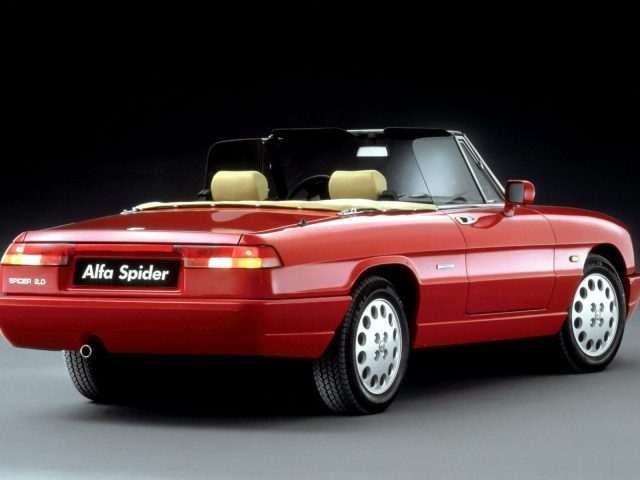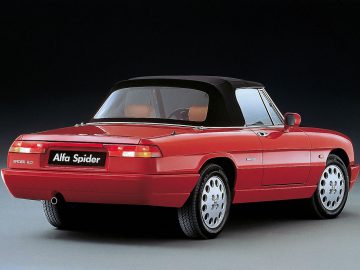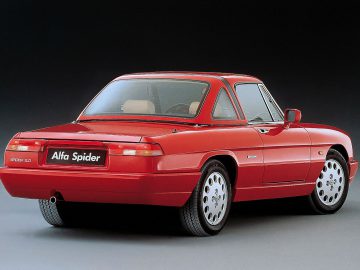 In total, Alfa Romeo produced around 124,000 Spiders between 1966 and 1993.
The engine
When it was introduced in 1966, the Spider was only available with a 109 hp 1,600 cc engine. A year later, models were equipped with a more powerful 1750 with 113 hp. The Spider 1300 Junior was the new entry-level model; this had a 1.3 liter four-cylinder with 89 hp. All models received a five-speed manual transmission, rear-wheel drive and disc brakes all around.
In the second model generation in 1970, the Spider got more powerful engines. The 2000 Spider Veloce with a 131 hp four-cylinder was the strongest. In addition, the 1750 was cancelled. A year later, the 1300 Junior was also exchanged for a 1,600 cc four-cylinder with 110 hp.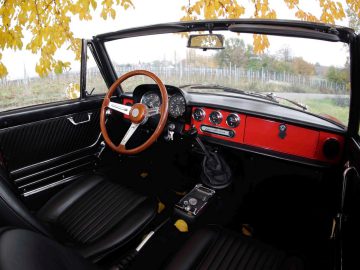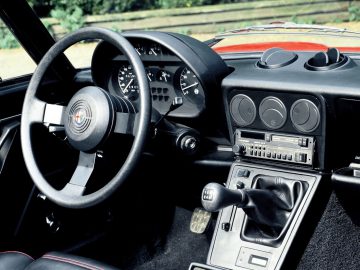 The third model series Spider (1982-1989) was equipped with a 1.6-liter four-cylinder with 104 hp or a more powerful 2.0-liter four-cylinder with 128 hp (later as Quadrifoglio Verde even 132 hp).
Famous riders
It was of course inevitable that Alfa Romeo Spiders could also be seen in films. In the 1967 film The Graduate, Dustin Hoffman drives around in a Spider Duetto. This had positive effects on Alfa Romeo's popularity in the United States.
Boxer Mohammed Ali and actress Bo Derek also once owned a Spider. Harry Styles chose a Spider for Golden's music video. Former Formula 1 driver Eddy Irvine bought this Alfa Romeo Spider after discovering that singer Lady Gaga would have been the previous owner.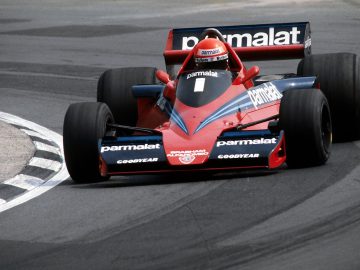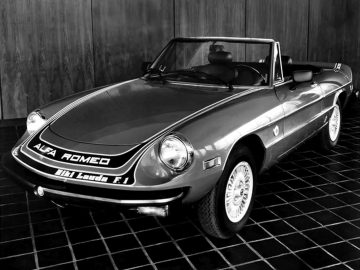 In 1978, Formula 1 driver Niki Lauda signed a contract with the Brabham Alfa Romeo team. To increase the fun, Alfa decided to release 350 Spiders as a special Niki Lauda edition. Lauda piloted the very first example around the track ahead of the 1978 Long Beach (USA) Grand Prix.
Alfa Romeo Spider as an occasion
Buying a second-hand Alfa Romeo Spider is the dream of many car enthusiasts. They are pleasant steering, beautifully designed and sporty sounding cars that are easily accessible and affordable for many people. If you keep a good copy in good condition, you will notice that a classic Spider has been a reasonably stable investment.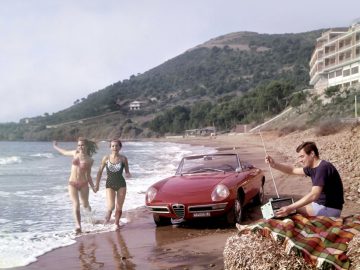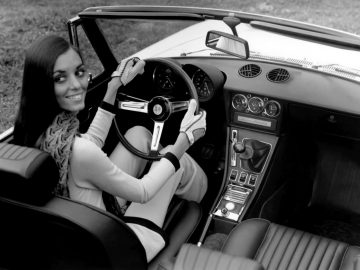 Such an Italian adventure requires some courage, guts and determination. Not all Italian cars from the 1970s and 1980s were equally solid. Also, some Spiders have trouble staying stainless. Fortunately, spare parts are readily available. There are also sufficient specialists in the Netherlands and abroad.
Points of attention Alfa Romeo Spider
If you want to know everything about Alfa Romeo Spider, pay attention to the following points when purchasing:
The roof of convertibles can start to leak over the years. Convertibles also change owners relatively often. In short: it pays to do proper research into the copy of your choice. It is better to keep a good copy stainless than to restore a rusty Spider. Some Spiders can make noise around the timing belt. This is a known property, but not always problematic. However, it is important to change the oil faithfully, preferably every 5,000 kilometers. The dashboard of a Spider can dry out or even crack if the car has been exposed to a hot and sunny climate for a long time.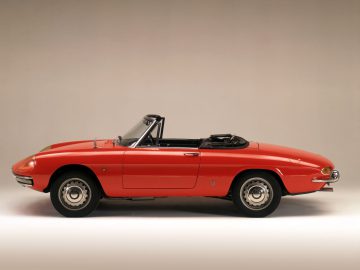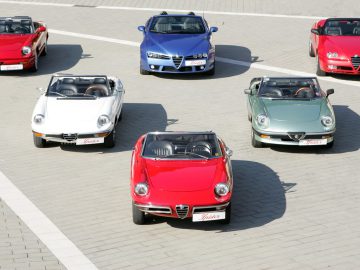 Successor
The classic Alfa Romeo Spider was succeeded in 1996 by open versions of the GTV Coupé (916). Convertible versions of the Brera and 4C were later introduced. But those are different cars; you can read more about this in separate articles.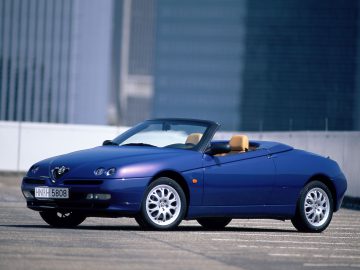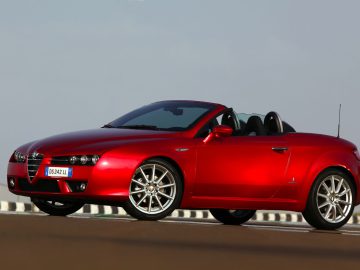 The message Alfa Romeo Spider – Everything you need to know appeared first on AutoRAI.nl.