The cheapest electric car a BMW? That could just happen, at least the cheapest electric car from a German premium brand. Oliver Zipse is CEO at BMW and says the brand will remain faithful to the affordable car, even as BMW is (more or less forced) on its way to an all-electric line-up.
Even as a premium car manufacturer, it is a bad idea to leave the lower market segment, Zipse says in conversation with news service Reuters. "The lower market segment will be the cornerstone of the company in the future," predicts the German CEO. Remarkable words. Especially because arch-rival Mercedes, according to earlier reports from the German business newspaper Handelsblatt, is considering sending the Mercedes A-Class and Mercedes B-Class to the eternal hunting grounds. There is simply more money to be made in the higher market segments, according to Mercedes-Benz. So it seems that BMW is taking a completely different course.
BMW's cheapest electric car is now BMW iX1
The cheapest car that BMW currently offers is the BMW 1 Series with a price of more than 35,000 euros. Whether that is affordable, we leave to you. The cheapest BMW electric car is now the new BMW iX1 with a starting price of almost 60 grand if you add a few options. You cannot possibly call that amount affordable. The cheaper BMW i3 is no longer available as a new electric car. You had that BMW i3 new around 40,000 euros. A lot more affordable but also not like you take it off the shelves of the Action.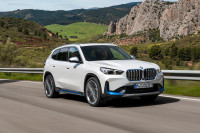 More electrical news from Germany?
Then sign up for the digital newsletter!
Electric Mini Countryman
Perhaps Zipse hints at a cheap electric car from Mini, part of BMW. With the study model Mini Aceman, Mini already showed what a future electric Mini Countryman could look like. The current electric Mini starts at just under 40,000 euros. So it remains to be seen what exactly Zipse is referring to when he talks about a cheap, affordable car. Incidentally, BMW – unlike many other car brands – has not yet mentioned a precise year in which it will be fully electric. The European Union says 2035.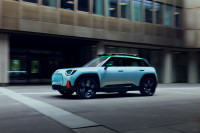 Hydrogen car the new trend?
Oliver Zipse often says something that makes many other car brands frown. Such as that an electric car on hydrogen will eventually become the new trend. And therefore hipper than an electric car with a battery. The CEO of BMW also calls it 'dangerous' to have one type of powertrain in the line-up, as the EU wants by 2035. This makes cars only for the rich, says Zipse. He is not a voice in the desert with this, Carlos Tavares, CEO at Stellantis, also warns against a middle-class car that will become too expensive for the average consumer due to electrification.