The first was released on November 4, 2002 Ratchet & Clankplatform / action developed by Insomniac Games over the years it has become an icon of Sony consoles. And 20 years have passed: to celebrate the event, the 20th Anniversary Armor Pack per Rift Apart, which will be available as a game update at no additional cost. The pack includes five armor inspired by the different episodes of the series:
Armor Fire at will, inspired by "Fire at will" Olo-Flux Armor, inspired by "A Crack in Time" Treasure Hunter Armor, inspired by "In search of treasure" Marauder Armor, inspired by "Gladiator" Armor Clank, for celebrate the robot shoulder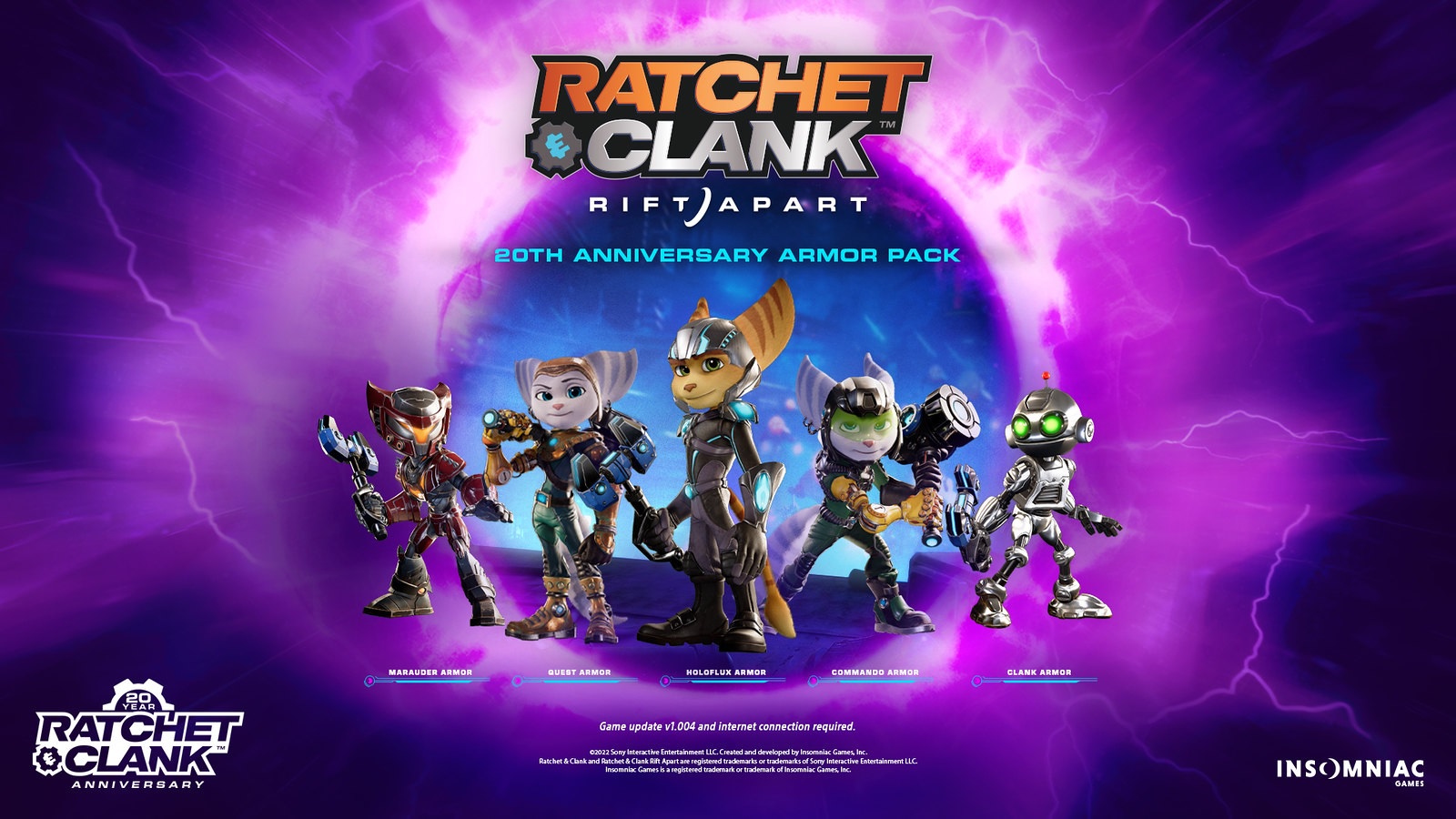 Additionally, it has been announced that more titles from the Ratchet & Clank franchise are coming up PlayStation Plus Premium on November 15.
Coming to PlayStation Plus Premium on November 15th:
Ratchet & Clank (PS3)
R&C: Going Commando (PS3)
R&C: Up Your Arsenal (PS3)
R&C: Deadlocked (PS3)
R&C Future: Tools of Destruction (PS3)
Which are added to the already present:
R&C Future: Quest for Booty (PS3)
R&C Future: A Crack in Time (PS3)
R&C: All 4 One (PS3)
R&C: Full Frontal Assault (PS3)
R&C: Into the Nexus (PS3)
These are the words of Ted Price, President of Insomniac Games:
"During the initial development phase of the first Ratchet & Clank, in 2001, we were trying to figure out which edge to take on the story. Brian Hastings came up with the concept for the game. From that, we quickly developed a prototype. But the tricky part was working out the right comic approach.
Since humor has never been my thing, I relied on Brian, John Lally and Oliver Wade, who collaborated on the script, to come up with a hilarious formula, but one that didn't lean too much on slapstick.
I remember when a small group of us found ourselves in front of an old CRT TV to review the first animated scene. It was the commercial for Al's Roboshack, in which Captain Qwark (voiced by the great Jim Ward) stated in his classic irreverent tone "There is nothing worse than examining a Blargian Beast … from the inside I mean". Even though I knew the script by heart, I didn't hold back a loud laugh. The joke, the acting, the animation, the vague social criticism… Everything clicked! As far as I'm concerned, it was on the basis of that scene that we worked out the formula for the entire series. "