The prices of the BYD Atto 3 are known. The electric SUV from China costs 42,998 euros. That is a bit more expensive than we first thought. Fortunately, you get a fully equipped car for your money.
The prices of the BYD Atto 3 give us an emotional rollercoaster ride. At the unveiling of the electric suv we made an 'educated guess' and aimed for about 40 grand. At the end of September, BYD came with good news: the European presale price was a decent 38,000 euros. We are now more than a month later and the configurator is online. The base price is now 42,998 euros.
That higher amount can partly be explained by the 3-phase charger (11 kW) that the Dutch copies receive. The European presale price of 38 grand was for an Atto 3 that charges with 1 phase. The fact that the Kia Niro EV – the competitor of the Atto 3 – has recently become 4000 euros more expensive and now costs 43,795 euros, is undoubtedly very good for BYD.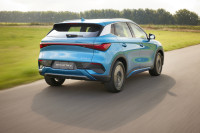 2 versions BYD Atto 3
There are two versions: the Comfort of 42,998 euros and the Design of 44,998 euros. To be fair, the Comfort version lives up to its name with comfortable equipment. The electrically adjustable front seats are heated, the roof has a panoramic sliding sunroof and the central 12.8-inch touchscreen can be turned portrait or landscape.
The safety equipment also leaves little to be desired. Adaptive cruise control is standard, as are lane assist and blind spot warning. The Atto 3 warns of traffic coming from the side and switches the high beams on or off automatically.
Do you want to stay informed about new electric cars?
Sign up for our free car newsletter!
The BYD Atto 3 is also always neat for the day with 18-inch light metal and metal paint in the colors blue, gray, red or white (without surcharge). It produces 204 hp and travels 420 kilometers (WLTP) on a net battery capacity of 60.49 kWh.
The 2000 euro more expensive Design version adds an electrically operated tailgate, a larger touchscreen (15.6 inches) and a Vehicle To Load connection. With this connection you can supply an electric barbecue or the patio heater with power.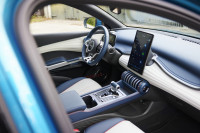 Waiting for driving test
In short, a nice laundry list of stuff, but the question is whether it all works well. Not all Chinese car brands offer the ease of use that we are used to in Europe. For example, the MG 5 Electric (review) uses tiny icons and the adaptive cruise control of the Aiways U5 (review) sometimes tilts. We have requested the BYD Atto 3 for extensive testing, so to be continued.