Maria has found a chain in a box among the things on the farm. She first goes to see her brother since she has a very similar one, after talking to him and seeing that her brother has the chain on, the young woman is very clear: it was Antonio who set the farm on fire.
María decides to confront Antonio and discovers that he is not wearing his chain: "You killed Italo," he points out. Antonio corners María: "Do you think someone is going to believe the burnt chain?" Antonio points out.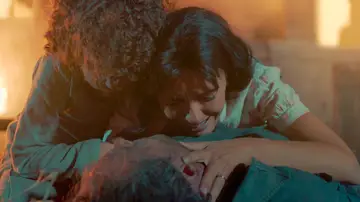 "You will pay for all the harm he is doing to us," María tells him. But Antonio threatens María: "I just have to make a call to the director of the center and the child will never come out, everything I have done, I have done for you".
Antonio tries to kiss María after telling her that everything he has done has been for her: "Everything I have done has been to have our son, our house, a happy life". Maria knocks him aside and Antonio falls to the ground.
"Your whole life depends on me, Maria," Antonio yells as Maria walks away. What kind of man is Antonio?