Nicki Nicole has been among the most listened to Spanish-speaking artists since 2019. For this reason, her arrival at 'El Hormiguero 3.0' was not long in coming. The Argentine attended the program on the occasion of the premiere of her latest album, 'Parte de mí'.
The program gave a lot of itself, but without a doubt, if there was a remarkable moment, that was the freestyle battle between the guest and Pablo Motos. The singer's 'flow' was clear from her first pattern, however, the presenter committed the most illegitimate act in this type of competition… writing the rhymes!
The surprise of the night was given by Petancas with his ingenuity for rapping at the moment. Nicki and the ant starred in a real moment as they blended perfectly on the base.
Your most special collaboration
If anyone has helped Nicki Nicole grow, it has been Bizarrap. The music producer was a participant in the guest's 'boom' thanks to the session he dedicated to her. She, aware of this, wanted to thank her for her help shortly before confessing that "people went crazy" after the premiere of her first single.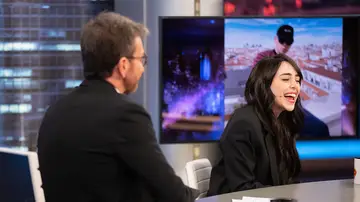 Nicki Nicole's confessions to Trancas y Petancas
Trancas and Petancas took advantage of the fact that they had an "international star" in the program to carry out one of their super committed tests. From how her negative comments affect him to the parties she throws for her video clips, nothing has escaped the ants, who got Nicki Nicole to open up live.