SpaceX is responsible for the largest constellation of telecommunications satellites on Earth. It currently has more than 2,700 devices in orbit and hopes to raise the number to more than 30,000 in the next few years to improve the worldwide coverage of Internet access offered through Starlink. However, the ambitious plan of the company founded by Elon Musk is generating concerns from NASA and also from the astronomer community.
In 2020, hundreds of the latter concluded that large constellations, such as Starlink, "will fundamentally change astronomical observation in the near-infrared (NIR) spectral region." SpaceX recognized this problem and began to test a series of solutions to avoid the reflection of sunlight on its satellites, although they did not prove to be entirely effective. Now, the company will test other alternatives in its new generation satellites.
Another solution to mitigate the problem
SpaceX explains in a document that its new solutions will make Starlink satellites "invisible to the naked eye when at their standard operating altitude". He even believes that part of these could be sold to other satellite operators to help mitigate the problem extensively. Let's see what these proposals are about and when they could begin to be implemented in the satellites of the Elon Musk company.
Starlink satellites can reflect sunlight when their orbit reaches the boundary between day and night. This means that they can be visible from Earth for a few hours after sunset and in the early hours before sunrise, which is a problem for twilight observations from astronomical facilities. "Nighttime images without the passage of an illuminated satellite will no longer be the norm," the astronomers say.
To mitigate the problem, SpaceX had devised a kind of "solar hood". This had been very effective in drastically reducing reflections from the sun, but it had a functionality problem: it interrupted laser communication between satellites, an essential feature to expand coverage in certain regions of the planet. In addition, the company explains, this caused greater atmospheric resistance and the satellites had to spend more fuel to stay in orbit.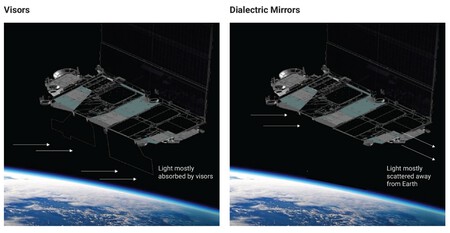 Thus, it was decided to take action on the matter with other proposals. Part of Starlink's second generation satellites will be coated with a dielectric mirror which promises to drastically reduce the reflective properties of these. Another change involves changing the color, and therefore the material, of the base of the satellites' solar panels. This was initially white, but will now be a dark red, which will also help reduce glare, according to the company.
The last change that will come to the new Starlink satellites consists of automatically move the solar panels when they reach a maximum point of reflection. SpaceX explains that this type of maneuver will reduce the energy available for operations by 25%. However, he assures that they will be designed to adapt to this type of change.
Also, as mentioned above, SpaceX plans to offer one of its solutions "at cost" to other satellite operators. This is the dielectric mirror that covers part of the devices in orbit. They also indicate that they will continue working to create new solutions and continue to improve existing ones. Over time we will know if SpaceX's proposals succeed and if other companies decide to implement them.
As for the launch of the second generation satellites, everything seems to indicate that we will still have to wait. These will be bigger and heavier than the current generation, so they cannot be launched from Falcon rockets. To put them into orbit, the company will need the Starship launch system, but it is not yet ready to start regular operations.
In Xataka | Amazon reserves 83 launches to put Kuiper satellites into orbit, its response to Starlink
#SpaceX #making #Starlink #satellites #invisible #annoy #astronomers