We spent a few hours wandering around the Royal Palace of Venaria. The reason? Video games, art and beyond …
Restored to its ancient splendor thanks to a painstaking restoration work, for about fifteen years Royal Palace of Venaria is back to being one of the flagships of the Piedmont region. Large halls adorned with statues and paintings, the royal lodgings, a "corridor" (even if it is almost offensive to define the Galleria Grande in this way) of stunning beauty and manicured gardens welcome visitors and transport them to the past. But the palace is not just the past. It is also present, with a series of events and exhibitions that are linked to the contemporary world. A world that this year concerns us closely, with a season entirely dedicated to the concept of play and, from July 22ndcon an exhibition that combines video games, art… and much more.
WHEN THE GAME MEETS THE MUSEUM
The 2022 of the Reggia di Venaria is, as already mentioned above, full of play. Yes, you got it right, just about the game. Game intended in many different forms, with a look that starts from the past up to the present. A path structured on different exhibitions, completely independent from each other but which, if you visit one after the other, create a real journey that illustrates how the concept of play has changed and how it has evolved with the passage of time.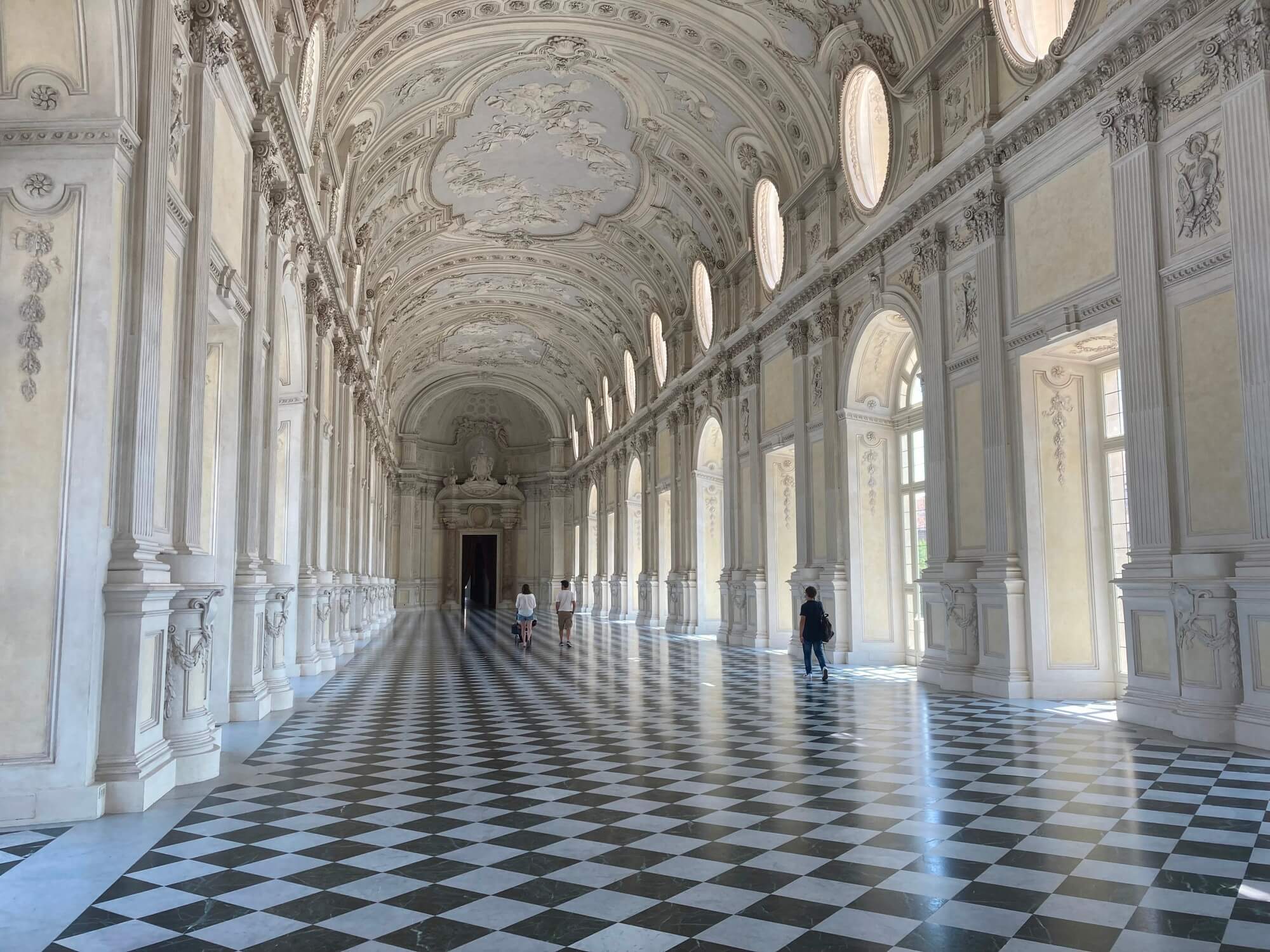 From Squares to Courts it is a journey that takes you back a few centuries, between the eighteenth and nineteenth centuries, with a rich and interesting collection of circus posters (we admit it, we were struck and intrigued by the one related to the "incombustible" horse) which is flanked by ancient puppets and various gadgets such as magic lanterns, optical boxes and ghosts. Photo in Game instead it is an exclusively photographic exhibition in which, through the works of eighteen Italian artists, the idea of ​​the game is examined starting from the second post-war period up to the present day. Room after room, over 120 shots follow one another, passing from black and white to color, from small to large formats, in which the concept of entertainment is expressed in many different ways. And then there is her, the one who for us was the real star of the day spent at the Royal Palace: Play – Videogame Art and Beyond. An exhibition itinerary that, from the first room, combines art and video games, with an ancient Hellenistic vase from the 6th century BC placed a few centimeters from a screen on which images of Apotheonan indie title developed by Alientrap inspired by ancient Greece.
The next steps lead to a world of screens and action figures, followed by walls in which priceless paintings and their respective videogame counterparts are hung next to each other. So here is that Chirico goes hand in hand with Ico, Kandinsky con Rez in a continuous bounce between inspired and inspirational. But the video game is not only a copy of pre-existing art, it is also a source of original works.
De Chirico goes hand in hand with Ico, Kandinsky with Rez in a continuous bounce between inspired and inspirational
And so, in addition to a Amiga on which you can admire a series of creations by Andy Warhol there is a hint of the in-game photographyto which are also added installations and statues by modern artists such as Tabor Robak e Bill Viola. Exciting, for those who love creative processes, the room dedicated to five developers, where production materials of considerable historical value are collected. While a television broadcast an interview with Yu Suzuki, we wandered among the various display cases with the classic look of a "child in a toy store". One wonders how it could be otherwise, in a space whose walls are adorned with prints of Yoshitaka Amano and post-its used by Christian Cantemessa in the script stage of Red Dead Redemption.

The exhibition continues with rooms where the relationship between video games and society is examined, with a selection of titles that offer reflections on topics such as war (This War of Mine), ecology (Flower) and immigration (Papers, Please), to then move towards the conclusion with a "lighter" and more interactive part. A series of reconstructed settings that propose a chronological path that, for the more seasoned visitors, will represent a real walk in their own existence.
WORD TO THE INSTITUTIONS
"La Venaria Reale celebrates its first 15 years of opening to the public this year: in conjunction with this important anniversary, we wanted to dedicate the entire annual schedule of exhibitions and activities to the theme of play, as the Royal Palace itself is historically a place deputy to leisure and entertainment, with a look also to the present and to everyone's desire to devote themselves to moments of lightheartedness. The Palace is in a phase of growth and development dictated by a new modern and open course: a piece is represented by the unpublished and courageous exhibition Play – Videogame Arte e Oltre, the culmination of this programming that aims to involve new audiences with the use of current languages ​​and tools of expression. I am convinced that this is the type of path to undertake for our reality that must not stop looking towards new perspectives and objectives ". With these words Michele BriamontePresident of Consortium of Savoy Royal Residencesintroduced the exhibition during the presentation press conference, clearly showing the desire to propose a journey that examines the concept of videogames in its many facets.
Concepts these also confirmed by Short GuideGeneral Director of the Consortium of Royal Savoy Residences, as well as co-curator of the exhibition: "Play – Videogame Arte e Oltre intends to investigate video games as the tenth form of art practiced by 3 billion people in the world, recognizing not only their artistic value but also their profound impacts on contemporary society: it is a real sector creative that can no longer be understood only as a world of playful escapism, but as a real outpost where ideas and visions are born, and more traditional art forms coexist with different approaches and multiple meanings ". Last but not least, he took the floor fabio violacurator of the exhibition as well as game designer, lecturer, essayist and founder of the international art collective TuoMuseo. Before acting as Cicero and guiding us in the exhibition path to illustrate how the exhibition was conceived and built, Fabio Viola underlined how one of the objectives with which Play – Videogame Arte e Oltre was born is that, more than providing answers, to ask the visitor questions. To push those who venture into the rooms to question themselves about the nature of the video game, its meaning and its function, without preconceptions and without prejudices.
FROM JULY TO JANUARY
Play – Videogame Arte e Oltre has been open to the public for a few days, from July 22, 2022and will close its doors on January 15, 2023. There is therefore plenty of time to go to the Reggia di Veneria and visit an exhibition which, it should be emphasized, it is not exclusively recommended for video game enthusiaststhe. Of course, those who are familiar with the subject will move more naturally among the rooms, but a visit could also help to unhinge some prejudices in the minds of those who, seeing a computer and a screen, think "oh well, they are just games". Why not, they are not just games …
Previous article
Bayonetta, a Queen of Celebrity ten years after 883