Double for Lidia San José! In the previous program, the actress barely managed to find the song in English that was playing on 'La Pista' in her duel against Ana Álvarez.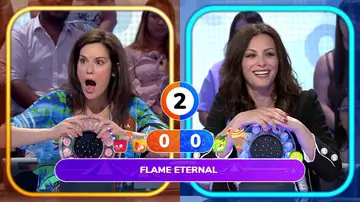 In this program, Lidia has done it again, despite the fact that neither of the two guests managed to find this famous song by Álvaro Soler… even Lidia herself has confused him with Sebastián Yatra!
It was in the last round and for two seconds, when the actress was ahead of Ana Álvarez and took a risk with the title of the song: "As it is, I'm going to dance it to the ground", the guest has promised.
And so it has been! When this song full of rhythm played, Lidia stood up and gave her all celebrating her victory. "One has spent a lot of time in Cuba", she assured after her spectacular dance.
David Carrillo's nod to Chanel Terrero to explain his last duel on 'La Pista'