After the interview with Rosario in 'El Hormiguero 3.0', Pablo Motos welcomed some of his colleagues to carry out a Comedy Tertulia. Cristina Pardo, Tamara Falcó, Nuria Roca and Juan del Val occupied the table to discuss current events at that time.
However, the conversation between the collaborators led to a surprising Nuria exclusive: she was premiering at the theater! This circumstance aroused the affectionate ridicule of her husband, Juan and Pablo Motos, for which she was forced to show her talents as an artist singing.
The presenter claimed that "he was doing it for her own good" and asked to dim the lights to make way for the collaborator. "I can't," she said just before venturing to sing one of the verses of her new play.
Don't miss this moment!
The visit of Jose Luis Martínez-Almeida
In addition, this program was full of surprises. One of them, the irruption of José Luis Martínez-Almeida to give explanations about the planning of Madrid during the snowfall of Filomena. Our particular mayor aroused the smile of Rosario and of all those present with an impeccable imitation.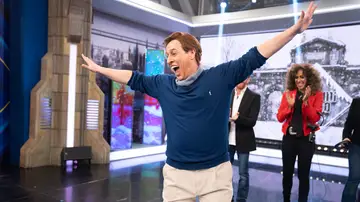 #Nuria #Roca #reveals #hidden #talent.. #Music