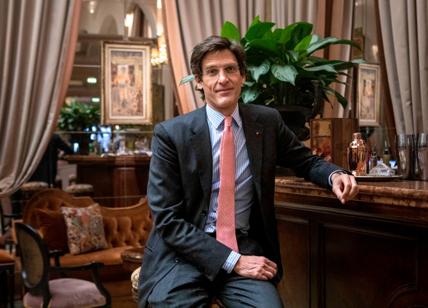 NICCOLO UBERTALLI HEAD OF ITALY UNICREDIT GROUP
Unicredit: "Italy's success is fundamental for that of our Group as well as their mutual alignment is essential"
The head of the division of Unicredit Italy, Niccolò Ubertallileaves the direction of the activities of the country after a year. Andrea Orcelcurrent CEO, will assume the role of Head of Italy, flanked by Remo Taricani who will lead the daily activities of the business under his supervision. Piazza Gae Aulenti communicates this in a letter signed directly by the CEO Orcel and the president Pier Carlo Padoansent this morning to the employees of the bank inspected by Adnkronos.
"In 2021, we read, we made the decision to make Italy a autonomous businessconfirming the fundamental importance that Italy holds within our Group, to guarantee it its own identity and the space necessary to grow and collect credit for their successes".
"This strategy, the leaders write, has been confirmed by achievements achieved in recent months and has allowed us to build the first solid steps for the construction of Unicredit Unlocked in Italy, whose plan is confirmed. The next stage of Unicredit Unlocked sees us ready to strengthen Italy's presence at Group level, allowing it to move faster in its transformation process and in the realization of our ambitions, even in a context that we know is volatile ".
"For this reason, it continues, the Board of Directors has decided to assign to themanaging director of the group the role of Head of Italy. The success of Italy is fundamental for that of our Group, just as their mutual alignment is essential. The move of the Italian business under the direct responsibility of the CEO it will make this alignment more effective and allow us to speed up the execution of our strategic plan. "
The current management team and regional managers, the letter reads, "Luisella Altare, Annalisa Areni, Marco Bortoletti, Andrea Burchi, Roberto Fiorini, Paola Garibotti, Salvatore MalandrinoI am the cornerstones of our Italian business and they will maintain their role, continuing to lead the business and serve customers as they have successfully done so far. Niccolò Ubertalli will then sell his assets with immediate effect. We want to thank him for his contribution to the growth of Unicredit with the roles covered in Eastern Europe and as Head of Italy. We therefore wish him all the best for the future, "they write Orcel and Padoan.
Subscribe to the newsletter
#Unicredit #Ubertalli #slams #door #leadership #Italy #passes #Orcel