Beyond what I could like its characters and fights when I was a child, it has been over the years that I have learned to appreciate all the details that Akira Toriyama included in Dragon Ball. The other Toriyama, the one in charge of the backdrop, seems to me an even more special artist.
Its cities, its filler enemies, the inventiveness behind its technological advances, the cars and motorcycles that you were looking forward to driving when you were a kid. Reflecting a reality is not easy, but shaping your own seems even more complicated.
I wish a Dragon Ball racing game
Today, after coming across an article on the subject of Jalopnik, I have approached the vehicles created by Toriyama with something more than the simplicity of that kid who had little understanding of brands, references and tributes.
I have done it out of curiosity, surprising myself with the close relationship of the genius with the motor world and wondering where that passion for industrial design came from. You get lost in his drawings and you can't help but think that this deserves a racing game with the cars, motorcycles and planes of Akira Toriyama.
It is not that there is not much room in the market for another cartoon racing game, I think we are close to saturation, but I will not deny that its classic car adaptations They would hook me to unlock all the vehicles there have been and to have.
It amazes me how the Land of Goku and company could be a glimpse into a future yet to come. The union of the new and the old, as if the world had moved on and part of the people had been left behind, gives a verisimilitude to his designs that amazes me.
The key, however, is that he managed to take each of the vehicles that appeared in his stories to his land. Whether in the form of a tribute or her own invention, it's one of the reasons seeing Bulma's bike racing against a Toyota MR2 from the mid-80s wouldn't be out of place at all.
Where does Toriyama's obsession with vehicles come from?
Where that passion was born from is precisely what has amazed me the most about this Toriyama parallel whose existence I did not know. If he liked vehicles so much it is precisely because, in a certain sense, he grew up among them.
With the passion for the motor world infected by his father, he began to draw them, but his passion for inventing machines would explode during a short period of his life in which his family ran a vehicle repair business. Despite this, he has recognized that he does not have mechanical experience or knowledge, he is simply someone who really likes cars.
His first jobs as a cartoonist already gave additional importance to the use of vehicles in the plot, from the Ferrari Dino futuristic Mr. Ho to the highly detailed tank in SandLand that ended up becoming a nightmare for him because he had to constantly draw it with that same level of detail.
From then on, the interest in drawing vehicles with his particular style increased, and the collaboration with Honda and Ayrton Senna took her even further. The mythical image of Goku over a formula 1 We owe it to the fact that the publisher under which Shonen Jump was published decided to become a sponsor of the McLaren team.
Thanks to the growing popularity of the Brazilian driver, the agreement was also closed with a manga by Toriyama on Formula 1 and the already mythical images of Goku on the car. Another of the vehicles Toriyama that, like all these that you will find below, we would love to see in that hypothetical racing game.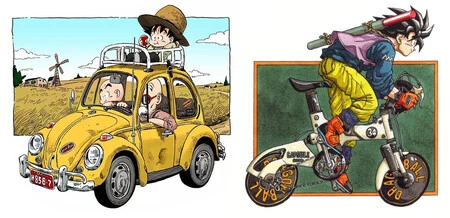 #Dragon #Ball #racing #game #Toriyamas #vehicles #Bulmas #Renault #Ayrton #Sennas #Formula