The stunt Günter Schachermayr got us used to the most reckless feats riding a Vespa and this time he wanted to set a track record.
June 23, 2022

G.ünter Schachermayr is the man of records on a Vespa and with an incredible imagination. This time, to turn the iconic scooter into a train, in addition to the technical difficulties, there were also bureaucratic ones. In fact, traveling on the train tracks is forbidden and if a permit is also obtained, any delay would involve incredible costs. If due to any unforeseen event, a breakage or a fall it caused even a minimal delay, the reckless Austrian stuntman could have received a fine of up to 70,000 euros … per minute! Schachermeyr didn't give up and eventually remembered that the solution was right under his nose. In the Prater, Vienna's playground famous for its Ferris wheel, there is also the Liliputbahn: a reduced-format railway built in 1928 and 3.9 km long.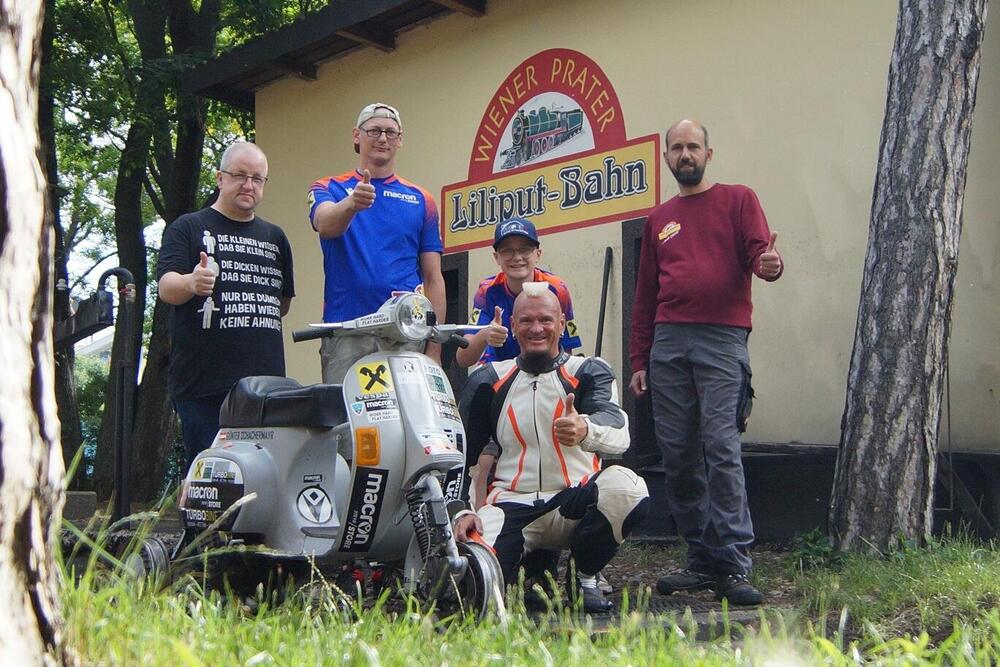 ORnow that he had found the tracks, the Vespa had to be transformed into a train. First of all an aluminum rim of suitable size was created on which a rubber layer was vulcanized to ensure traction on the rail; vehicle stability was achieved with a third wheel attached to the bodywork like that of a sidecar.
Got into the Schachermayr saddle he set a record of 10'25 "of permanence in the saddle. At the end, to add excitement to the emotions, the Viennese police also arrived … luckily Schachermayr had obtained the permission of the management of the Liliputbahn, avoiding the risk of a super fine.