To celebrate the Rupert Everett's 63rd birthday we republish an old article that tells in the smallest details (and occasionally letting go of enthusiasm) the meeting with the actor at the Lucca Film Festival in 2018, on the occasion of the Italian premiere of The Happy Prince.
Let's start this journey into the past and get ready to meet Rupert Everett!
For the fourth evening of the Lucca Film Festival an exceptional guest: Rupert Everett, invited to present his The Happy Prince, film about the life of Oscar Wilde, and to receive the Lifetime Achievement Award. In front of the Astra cinema in Lucca, on the evening of April 12, many fans were able to meet Dylan Dog as a person, the talented and, let's face it, beautiful actor Rupert Everett.
Unlike the evening with Martin Freemanthis time the weather has graced us and, instead of staying an hour all stuck together like sardines, with an umbrella in hand in a vain attempt not to get wet, we were stuck, but in a definitely more relaxed atmosphere.
At 8.30pm still no one had shown up, just a group of boys and girls parading back and forth on the red carpet, sporting nineteenth-century style clothes, certainly with the aim of recalling Wilde's era and the much loved dandy fashion. by the writer. It must be said, however, that as a true English gentleman, Rupert Everett even called the staff to report to the fans about his delay and underlining the great happiness of having been called to Lucca. "The actor will arrive late because he is stuck in traffic, but he is keen to let you know that he is looking forward to being here with you", exact words that have been reported to us. And the already incredibly high mood has reached stellar levels.
Then, and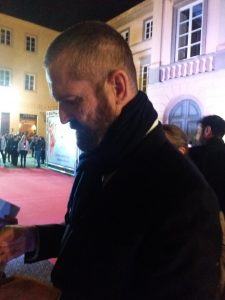 cco who arrives, gets out of the car and walks on the red carpet with an almost feline elegance, towering above anyone else from his meter and 93 in height. Extremely nice to everyone, he stopped by to sign autographs, take pictures and, above all, thank every single fan. Not so obvious for an actor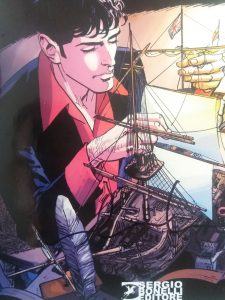 so famous. He didn't make any exceptions with me either and finally one of my big dreams came true. Dylan Dog signed by none other than Dylan Dog. Because, let's face it, Rupert Everett may have made all the movies he wants, but to me he will always remain Dylan Dog, a bit like Daniel Radcliffe Harry Potter or Hugh Jackman Wolverine. Which did not bother him even a little, on the contrary, he was delighted to sign under the face of his comic double.
A great way to introduce yourself, but the biggest surprise Rupert has saved for later
Before the screening of the film The Happy Prince, the actor received his lifetime achievement award and with this in his hands he gave the first show of an (almost) perfect Italian: "Thank you very much, I am very proud to receive this prize and also very surprised and happy to be here in Lucca ". No typos, exact words of the actor that did nothing but arouse a wave of affection from the whole audience and a good general laugh. A play on words that will not be fully successful, but which was certainly fun. What can I say, you were wrong, but at least you tried Rupert.
It must have been the initial emotion that confused the actor, because he continued the presentation of his film alternating English with a truly perfect Italian, sometimes also correcting the translator
Rupert Everett began by telling the film and his great love for Oscar Wilde, which goes back many years
Always with a lot of irony, but also with extreme seriousness, the actor talked about how the idea for the film was born: "Originally no one offered me more jobs as an actor, so I said to myself why not write a role myself in which one can shine! " he joked, "It took me a long time to make the film, so much so that at a certain point I got desperate, it became a deadly challenge. And I think this is the best way to approach my film, thinking of it as a struggle ".
Why Oscar Wilde? The actor also answered this question with great sincerity, also denouncing, in a veiled way, the strong gay discrimination, which is not absent in the world of cinema.
"For me Wilde is a source of inspiration. I think being a homosexual in a heavily heterosexual business has led me to feel closer to him. Also, I grew up in the 20th century, in a London where being gay had only been legal for seven years. I have always felt like I was walking in the footsteps of Oscar Wilde ".
The Happy Prince tells the last days of Oscar Wilde who, after the great theatrical and literary successes, was annihilated due to his trial for homosexuality
"I think it's fascinating to see how someone who was so famous got so quickly in the mud. He had admired the stars, but he ended up being a toothless and moneyless character ". But what is striking about Wilde's story, and which is highlighted very well in the film, is the enormous strength of spirit with which the writer continued to survive, making himself strong with the love of the few remaining friends and with the passion for writing. . Which Rupert Everett did not fail to emphasize: "Wilde never played the victim. I think one of the best things about Oscar Wilde is just that, even when he was cornered, he always kept his sense of humor, he always continued to create his works, he never compromised, not even with himself. ".
In the film Everett does a sublime job, not only as a screenwriter and director, but also as an actor. The Wilde of him is incredible; a character you love and hate, full of an extraordinary sensitivity, but also of the worst human defects
It could have been easy for a work of love, like Everett's, on a character felt so close by the director to lead to a fictional film. A distorted Wilde, too idealized or taken to extremes, a caricature of himself. But this did not happen. Everything is incredibly balanced. The worst sides, which are also revealed, do nothing but make him human. "For me Oscar Wilde is one sort of Christ. On the one hand he is a god, thanks to his genius, on the other he is also human. He has all the worst human vices: he's a snob, he's lazy, he's jealous. And maybe that's why he was so touching ".
Nothing to say then about the direction. Hats off to a novice director like Rupert Everett, who will have years of acting behind him, but little experience behind the camera. Still, the film is perfect.
What was it like making the film?
"Shooting it was certainly easier than getting the funds. I was surrounded by a very intelligent team, I was lucky with the cinematographer, I had fantastic producers, sublime actors. In a certain sense, they are the ones who have guided me ". And as for the actors, we undoubtedly endorse Everett's words. Just to name a few, the great Colin Firth, the young Colin Morgan and Emily Watson. He continued joking about his role as director: "It was almost boring at times because everyone knew what to do and I didn't even have to say "action" anymore, but I limited myself to the final "cuts" ".
Rupert Everett concluded his meeting with the public giving us one last satisfaction, showing himself very attached to our country
"I'm in Italy because I'm also shooting a television series, The Name of The rose, in Rome. I have come to Lucca many times, somewhere there is also my English teacher. It's an incredible city, in the UK we only have London "he said laughing" but here every city is beautiful ". The actor then greeted his fans one last time, to leave us to watch his film, also giving us a few other sentences in Italian, which certainly pleased us. Too bad we didn't have more time to chat with him and hear what else he had to say.
A memorable encounter, with a character who has a lot to say, who speaks excellent Italian and has a great future ahead of him as a director. A man we knew as a good actor and who, on the other hand, hides many other qualities.
Even if you won't be lucky enough to watch it in the company of Rupert Everett, who thanks to his sympathy and charm has added value to the film, The Happy Prince it is worth seeing.
Because whether you love Oscar Wilde or not, he will make you move and get to know a Wilde without masks and shown in all his true essence.