Summer is just around the corner and so many car enthusiasts are starting to get itchy. It is possible again: open driving. But with a little common sense you can't buy a convertible, right? You usually can't fit a shopping crate in it and you should always leave your children or friends at home. With the T-Roc Convertible, Volkswagen proves that you can enjoy the sun with the wind in your hair with the whole family.
Where has the affordable convertible gone?
Open driving, who wouldn't want that in the summer? It is unfortunately increasingly difficult to find a nice convertible. Not only used, they are also difficult to get new. They are hardly made anymore. Yes, at Bentley, Porsche, Ferrari and Lamborghini. Affordable brands such as Renault, Peugeot, Ford, Opel and Nissan no longer have convertibles in their price lists. Sun worshipers can still go to Volkswagen for a convertible.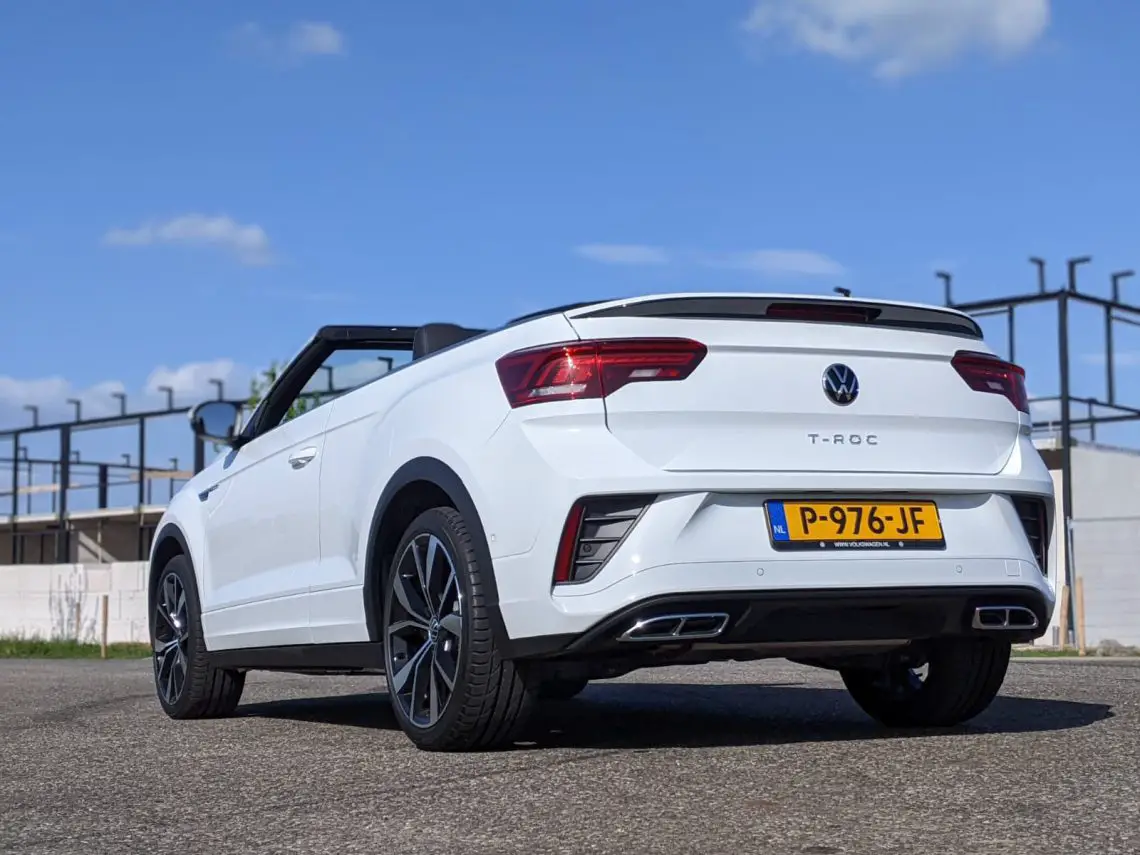 Volkswagen Golf Convertible
A Volkswagen convertible, you may immediately think of a Beetle or Golf. Unfortunately they no longer exist. The Beetle went out of production in 2019 and the sixth-generation Golf was the last you could get without a roof. But where the T-Roc is slowly taking over from the Golf as a popular family car, the T-Roc Cabrio is taking over from the Golf Cabrio.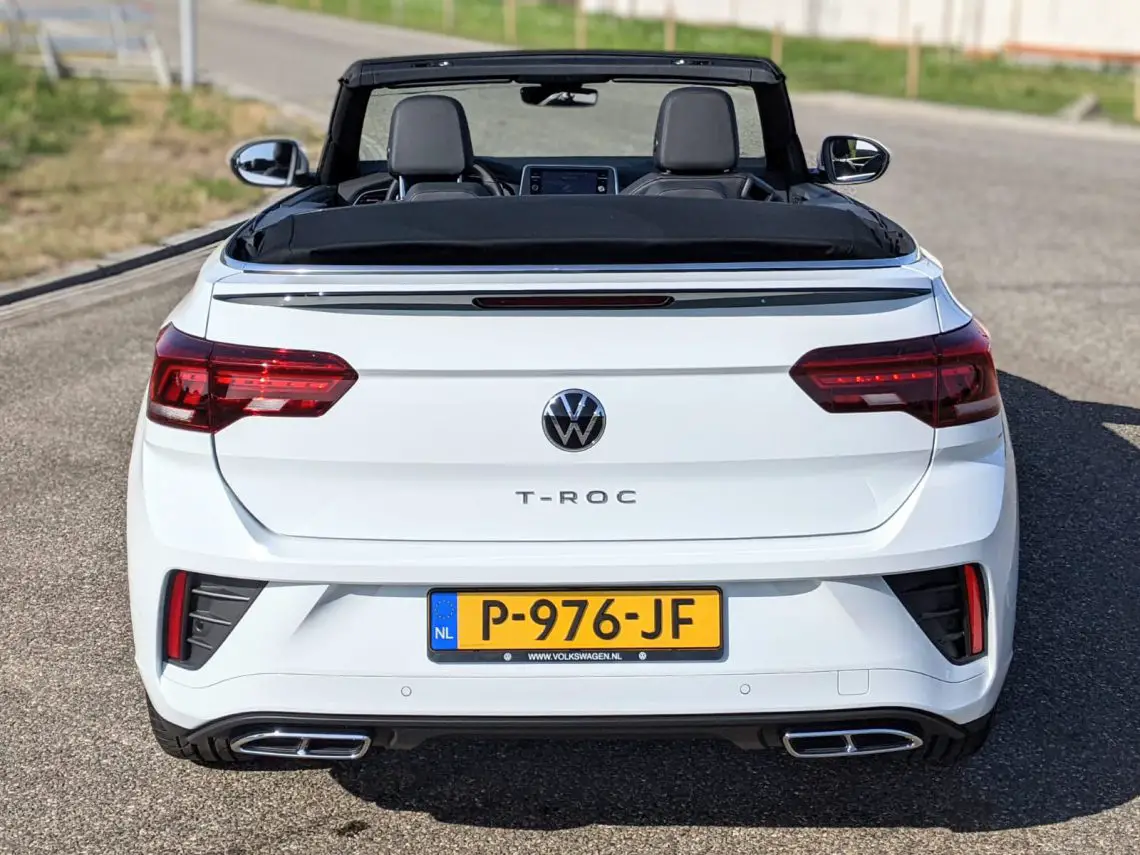 New Volkswagen T-Roc Convertible
Volkswagen pulled the curtain on the T-Roc Cabrio in 2020. It is still a young model, but it has already received a facelift. Not because he was already getting wrinkles, but because the regular T-Roc was ready for a makeover. Volkswagen has also taken care of the Cabrio immediately.
The new T-Roc Convertible can be recognized by the grille, among other things. That is something different and you can now get it with a continuous LED strip, as we already know from the Golf 8 and all ID models. Our test car does not have that and has to make do with a chrome trim.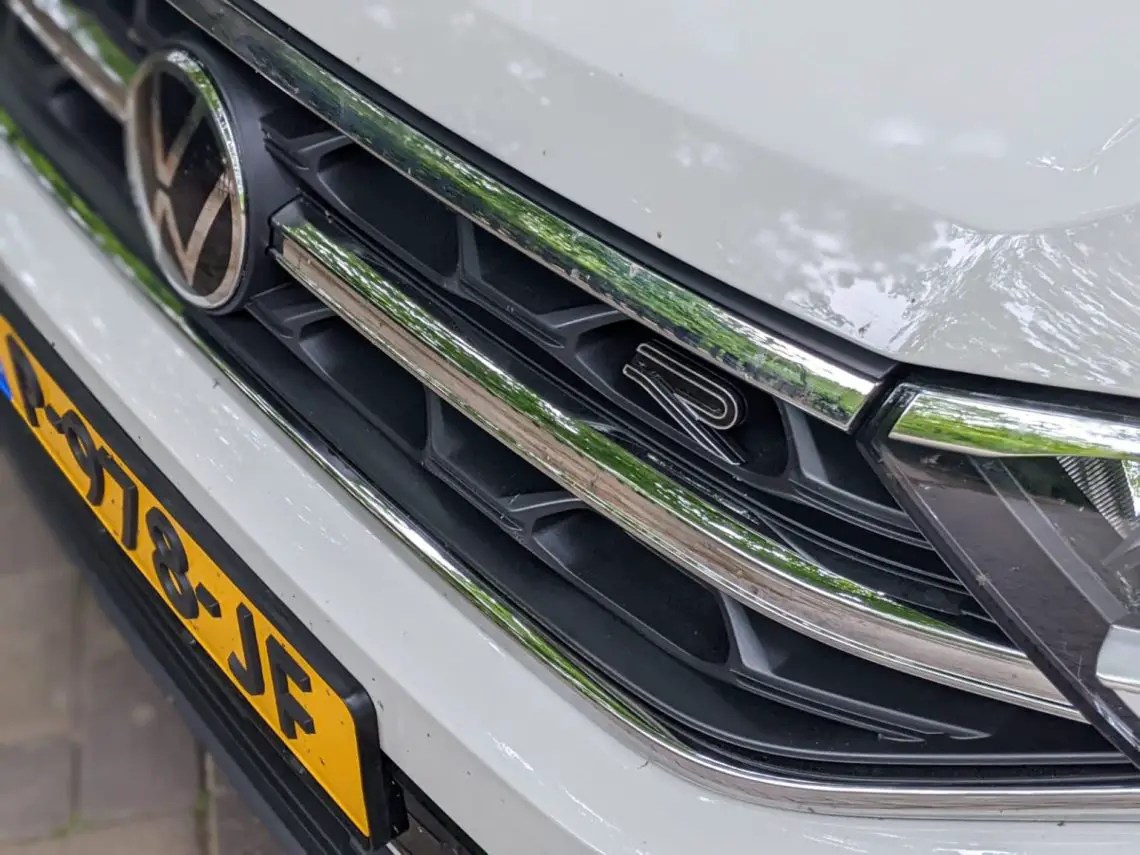 From now on you get standard LED lighting on all models, but matrix LED headlights are also available. The hard plastic that was previously in the interior has been replaced by many soft materials and plastic with a high-gloss black finish. Furthermore, you will now receive standard digital instruments in the interior, on which you can view the navigation map, among other things.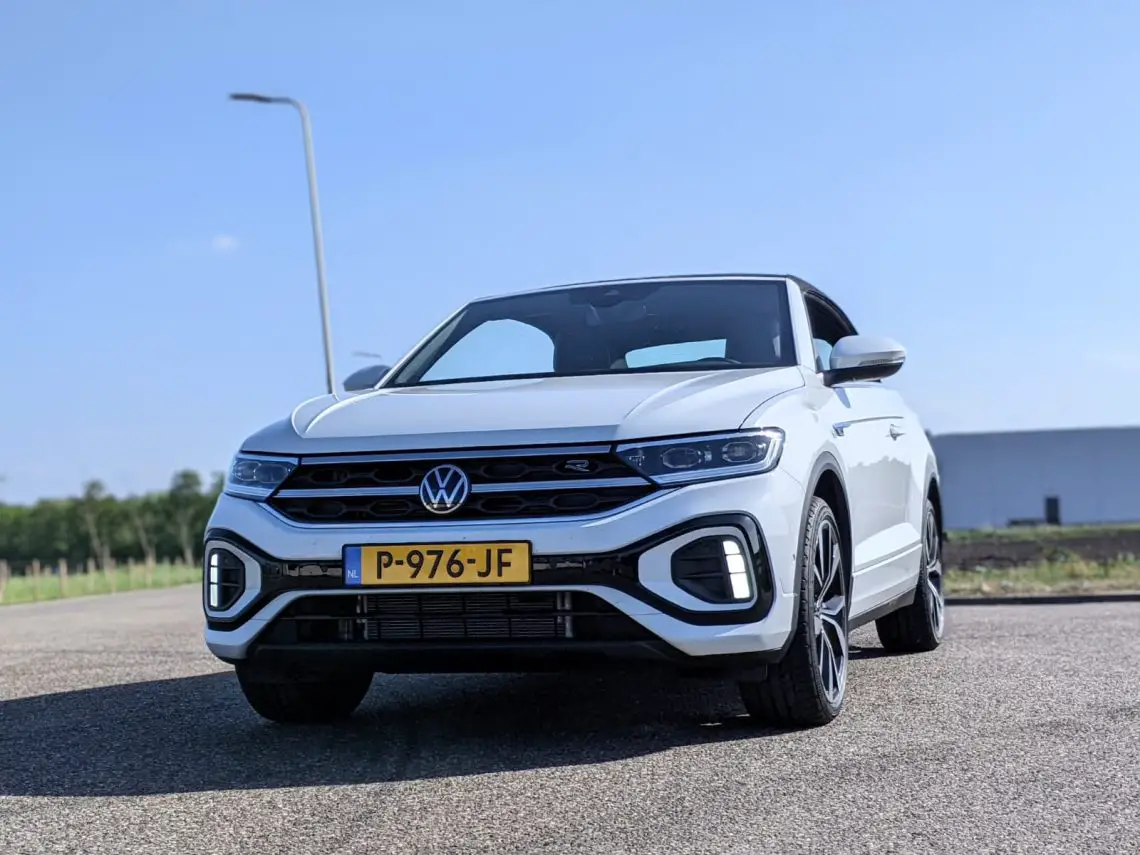 The infotainment screen is also new and in a different location. It sits higher than before, so you no longer have to look down when you want to operate or read it. You can read all the other things that are new on the T-Roc and the T-Roc convertible in our driving test of the renewed 2022 Volkswagen T-Roc.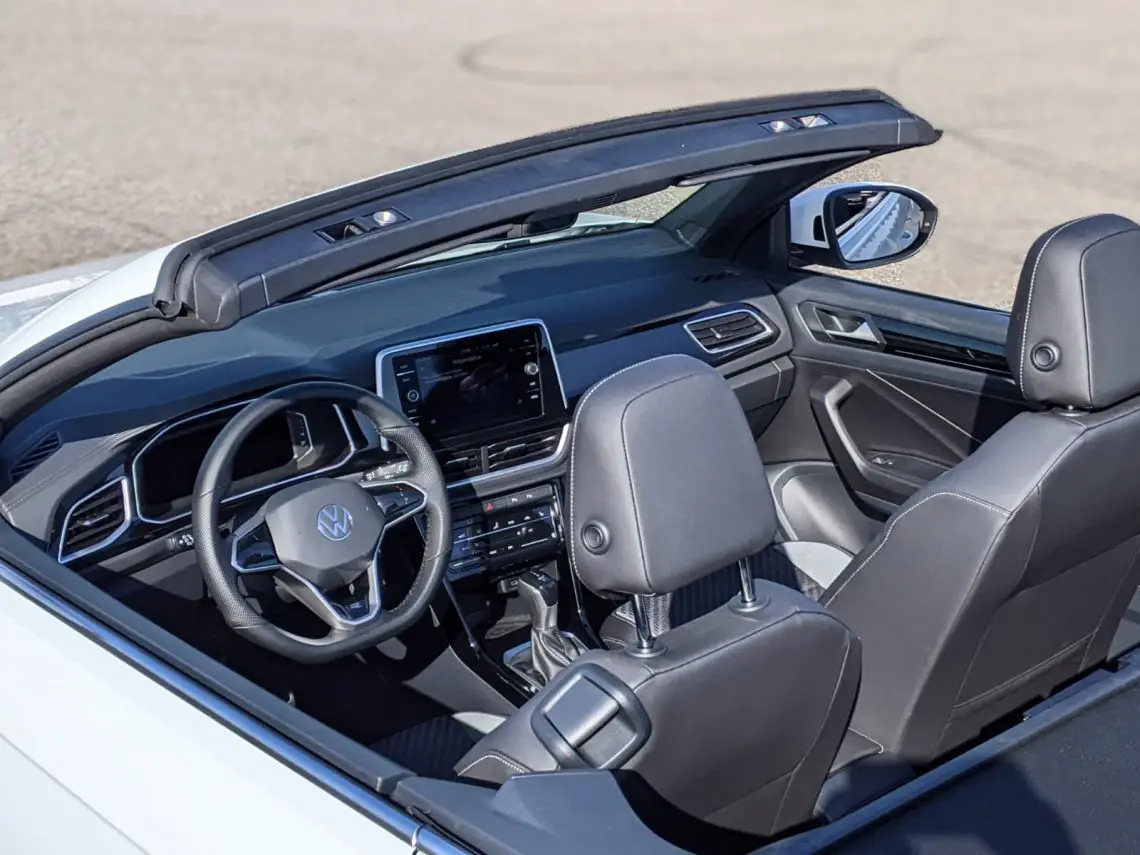 high entry
It is logical that Volkswagen prefers the T-Roc over the Golf as a convertible model. High-entry cars have become extremely popular in recent years. Then why not bring a high-legged convertible onto the market? SUVs are now not only popular among the elderly – because of the high entry level – but young people are also happy to see them. But secretly, the elderly target group is of course interesting. They love convertibles and a high entry. So they can put the T-Roc Convertible high on their list.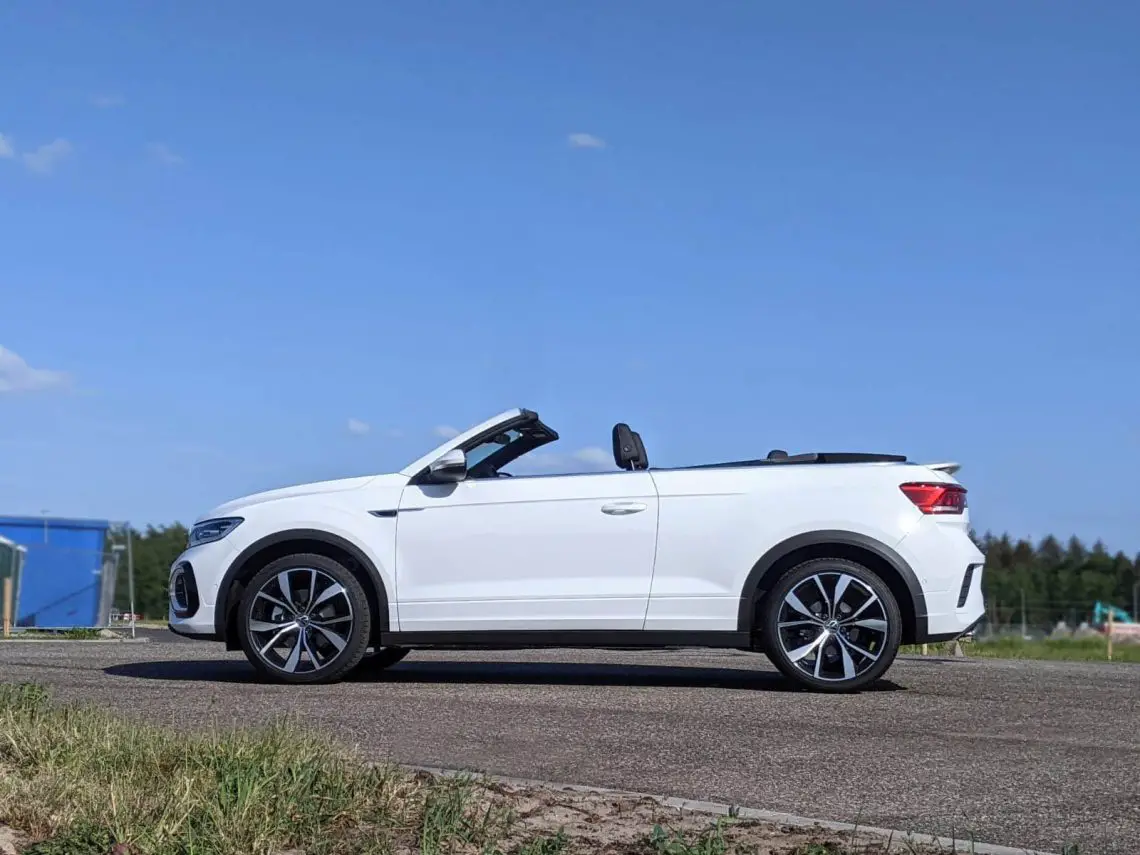 Practical usability
Convertibles have two major drawbacks: small luggage space and limited seating comfort in the back. The T-Roc does not suffer from these matters. Of course it is considerably less practical than a regular T-Roc, but for a convertible it is a space miracle in all respects. The T-Roc Convertible easily takes 284 liters of luggage. Enough for a few suitcases and a large weekend bag for every member of the family. In addition, you can fold down the rear seats. Quite unique for a convertible.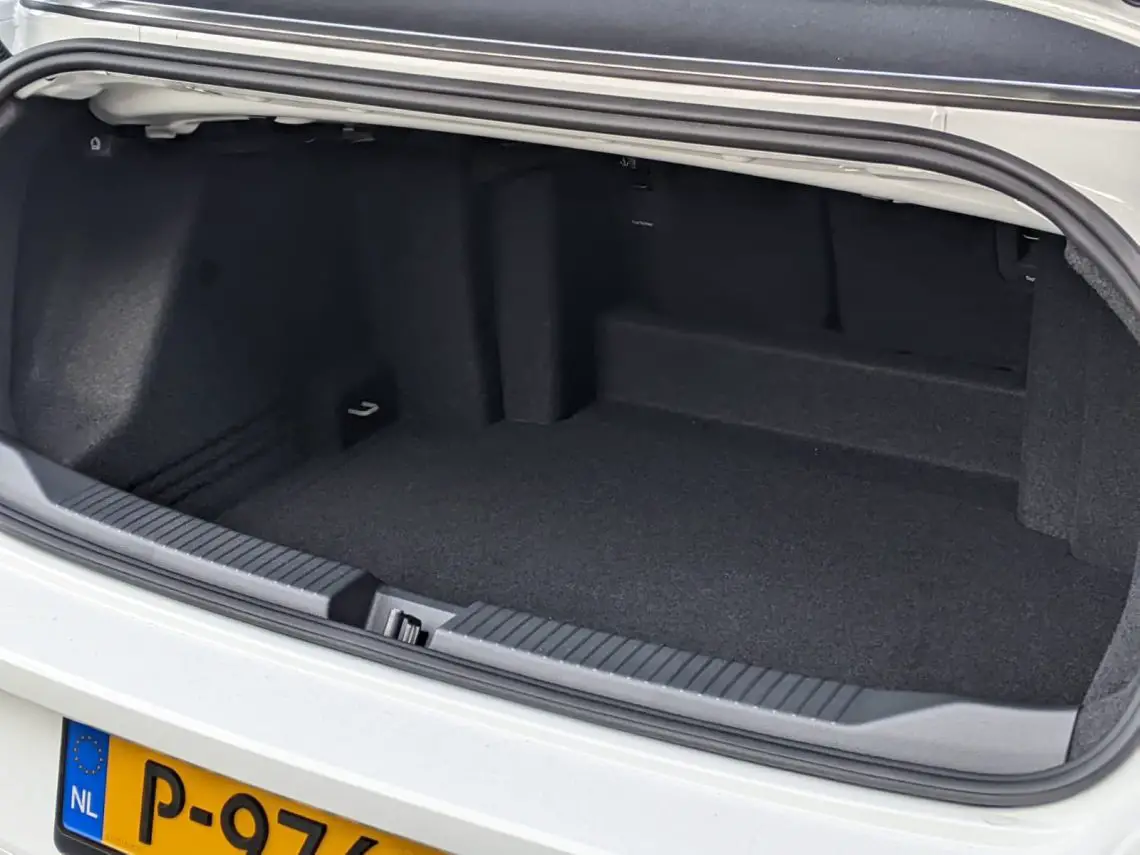 Four real seats
If you leave the rear seat upright, two adults can actually sit there. That is also unique for a convertible. Usually you sit in the back with your knees behind your neck. Volkswagen has extended the wheelbase (+40 mm), creating sufficient legroom in the second row of seats. As soon as the roof closes, you obviously have less headroom compared to its five-door brother, but you can live with that too.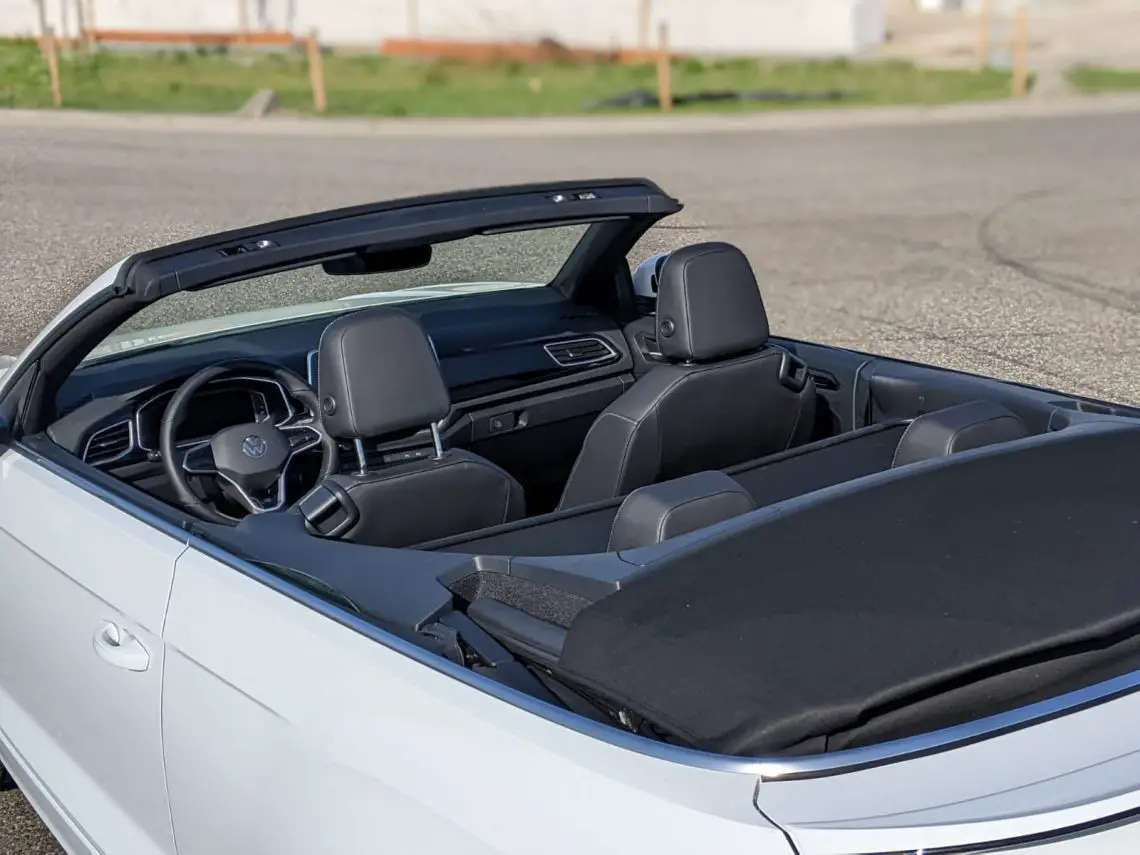 Surprisingly quiet
If you have the hood closed, you can drive to the South of France in one line without any problems. Obviously more noise from outside enters the cabin compared to the closed version, but for a convertible the T-Roc is surprisingly quiet. The soft top consists of three layers and the brand you. Of course you can also just keep the roof open on a long drive to the sun, even on the highway. Because you sit relatively low in the car and the windows next to you are therefore quite high, you are not bothered by the wind. In addition, you can fold up a windshield, so that you are even better out of the wind.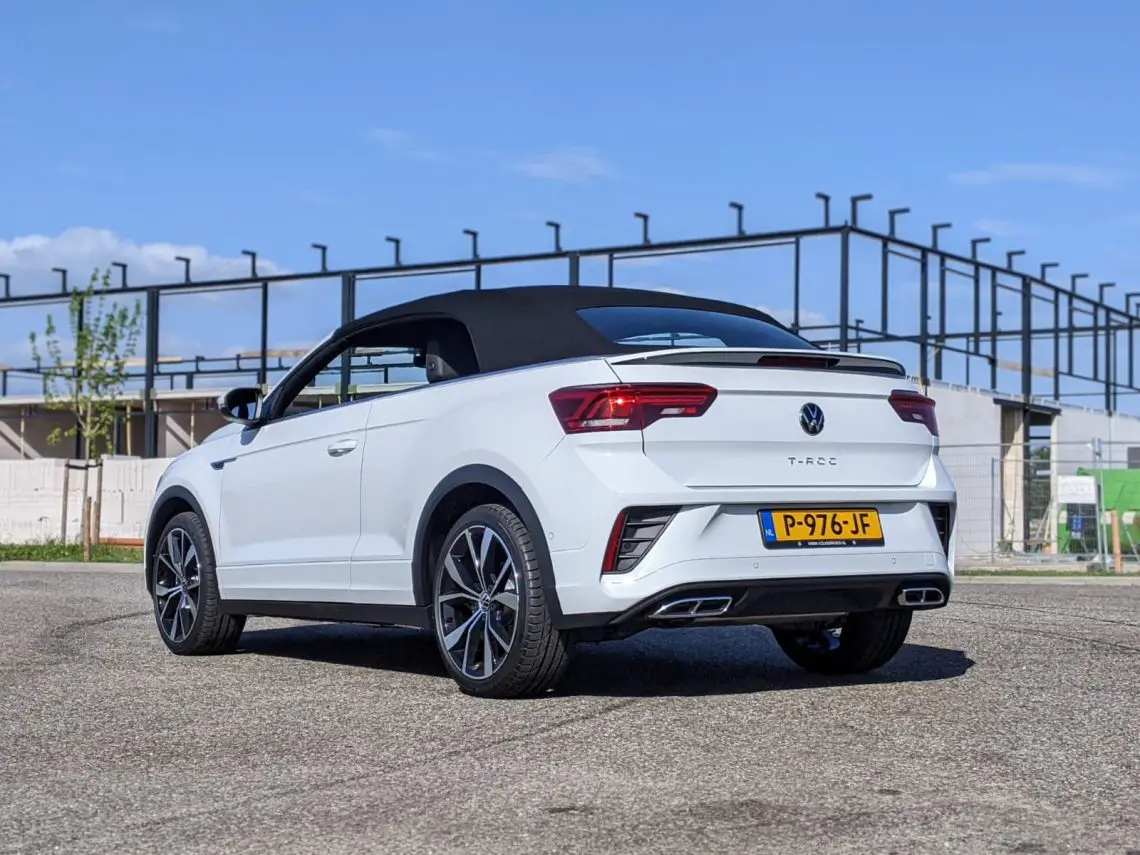 Two flavors
Two versions are available in our country: the Style and the R-Line version. The Style is equipped with a 110 hp 1.0-litre three-cylinder and a six-speed manual gearbox. For this version, Volkswagen asks 41,290 euros. Unfortunately, still a solid price for a convertible, but it does not fall into the 'priceless' category. A regular T-Roc with the same drivetrain is available from 32,790 euros.
You can also get a 1.5-litre petrol engine that produces 150 horsepower. This engine is our preference. The convertible is a bit heavier than the regular T-Roc and thanks to the extra power you can easily get away from the traffic light. In addition, this version is equipped with an automatic transmission as standard. Which is nice, if you are enjoying carefree in your convertible. For this version you pay 45,540 euros. The extra sporty T-Roc Cabrio 1.5 TSI DSG R-Line is available from 49,390 euros. In the video below we tell you more about the renewed T-Roc and T-Roc Convertible.

#Volkswagen #TRoc #Convertible #affordable #allround #fourseason #convertible