This third day had a purely motorcycle-like cut of the trip. Mind you, we have seen beautiful things in terms of landscape, but today nothing has been able to overcome the pleasure of driving
May 24, 2022

TOWe left Bonifacio a little reluctantly as the port was very animated by dances and music and above all because with the morning light the bastion was perfectly illuminated and with the drone we were able to obtain those images that yesterday afternoon it was impossible for us to realize. The first real step today, climbing into the center of Corsicais Sartène, defined by Prosper Mérimée as "the most Corsican of Corsican cities", Sartène stands on a rocky spur with imposing dark granite houses connected by alleys and covered passages.
It is positioned in the most rustic area of ​​Corsica, the one that has best preserved the social characteristics of the island, perhaps precisely by virtue of its geographical isolation. And let's not forget that it remains the first gateway to Col de Bavella, our next stop. The road that leads to one of the most spectacular areas of Corsica is a real delirium for motorcycliststhe curves follow one after the other with an asphalt at times excellent revealing, especially at the end, landscapes that are nothing short of breathtaking.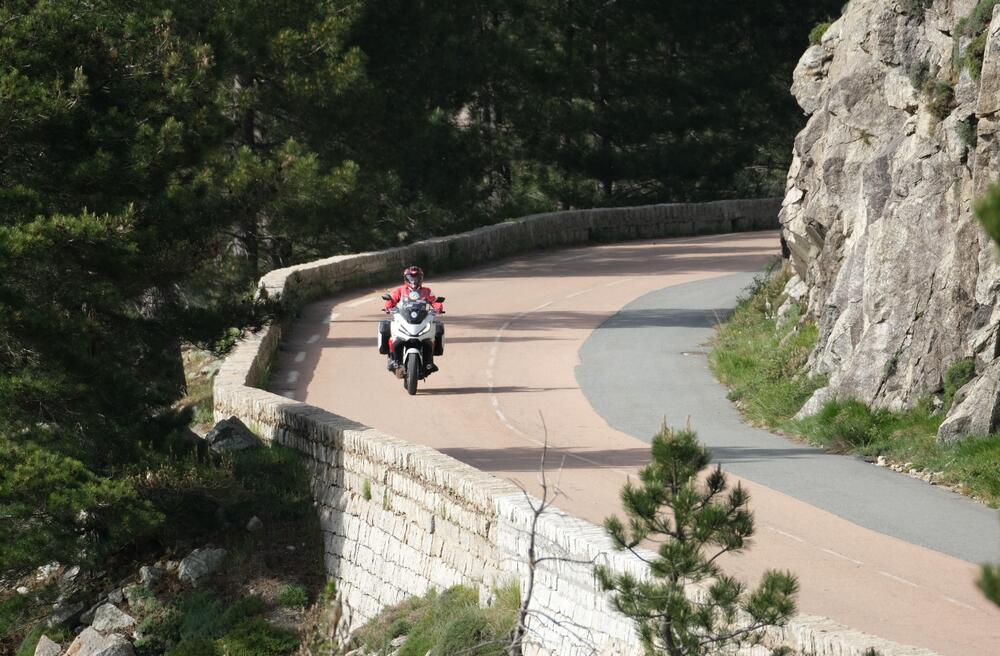 TOnzi, be careful not to get too distracted! With the NT-1100 if we go to a cruising pace we manage very well by virtue of the excellent pull of the engine also given the cubature, if instead we think of driving it in sport mode the commitment increases considerably, the weight begins to be felt and the changes of direction are certainly not lightning-fast.
Past the city of Zonza the majestic scenery of Col de Bavella begins to emerge which at a glance vaguely recall our Dolomites. Jagged peaks, large rocky ridges and larch pine forests twisted by the wind create a truly surreal scenario, a masterpiece of mother nature. At the center of the massif are the seven towers of Asinau, the spiers of Bavella that exceed 1,800 meters above sea level.
Text and photos (landscapes) by Luca Bracali
Photo (motorcycle) by Francesco Pierini
Video Francesco Pierini and Ernesto Mangone
Planet Explorer 15: Corsica – Day 3: Bonifacio – Sartène – Col de Bavella