Autovisie is always looking for used cars for the enthusiast and that's why you go through the lists of sales site Gasmetaal.nl. This time we found a Peugeot 508 SW PSE.
Autovisie drove the sports sedan and station wagon last year. "Every new sporty Peugeot has a tough job. It is not so much the competition with competitors, but rather the challenge of filling the big shoes of the ancestors. Legendary predecessors such as the 309 GTI 16V have set the bar high."
From Peugeot 508 SW PSE
"If the men and women of Peugeot Sport put 'GTI' somewhere, it has to be really good, they owe it to their booth. So we have to count on something other than a GTI, that much is certain with this PSE. These are different times and so our main question flares up even further: where should you place the 508 PSE in that rich family tradition and how does it compare to the competition? It is the most powerful production Peugeot ever, say the makers of the 508 PSE. But that seems more like a marketing slogan than an engineering promise."
Like a bitcoin
"The Peugeot Sport technicians also know very well that power is very different in this (hybrid or fully) electric era. The horsepower back then was rock solid 'currency' and even had emotional value. The origin of today's horsepower, like a bitcoin, is the hard-to-grasp result of mining from combined power sources. Just as you no longer want to convert the euro into guilders (or in this case French francs perhaps), you also have to put that high capital into perspective."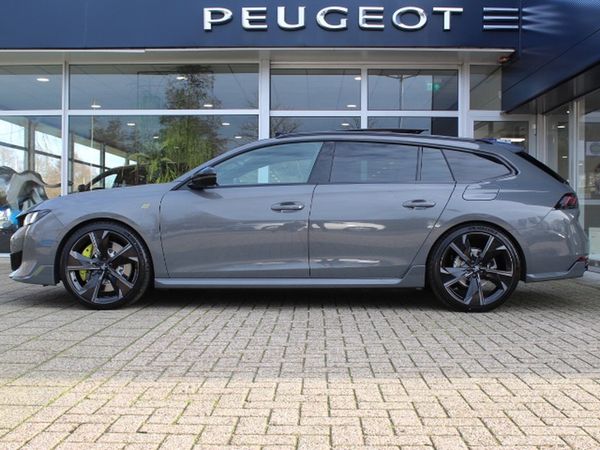 "The 1.6-turbo petrol engine is now 200 hp strong. Add to that an 81 hp electric motor, which is integrated into the automatic eight-speed transmission, and an 83 hp strong one that 'operates' the rear axle, and you have an engine alliance that coughs up 360 hp and 530 newton meters. The 508 PSE accelerates as a front-wheel drive towards the horizon, where it 'runs' into the limiter at 250 km/h." The Peugeot sprints from 0 to 100 km/h in 5.2 seconds. "The French national anthem will also be played after the intermediate sprints, because the 508 PSE shows that it is fast: 80-120 km/h takes 3.5 seconds."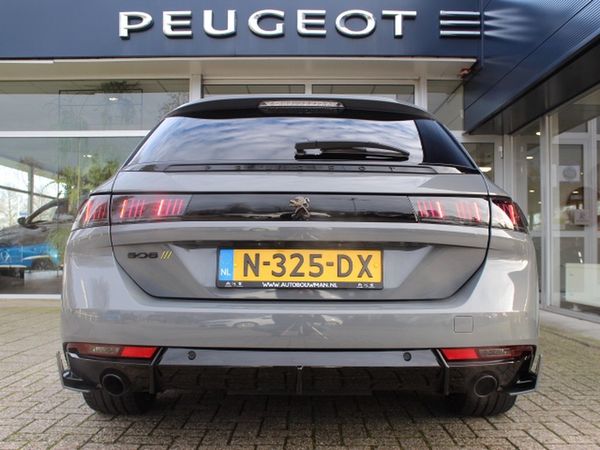 "Is it just a 'gilded lion' or is it a fighter? It's not about the glimmers here, but about the driving experience. And that is quite adapted compared to the standard 508, which you can not call a dusty sedan, both in appearance and ride quality. The 508 is not, like some of its predecessors, the benchmark in its segment, but cornering is not a fight but a given for him. And the elegantly designed saloon deals with that as it should. The body control is good, but the feedback could be better, was our first and final test verdict."
Peugeot 508 SW PSE used
Autovisie finds such a fast Peugeot 508 SW PSE as an occasion in Ommen in Overijssel.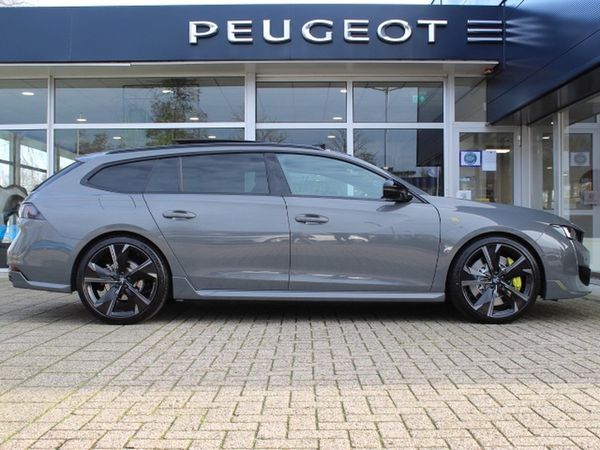 The Peugeot 508 comes from 2021 and has less than 10,000 kilometers on the counter. The seller asks 86,950 euros for the Frenchman.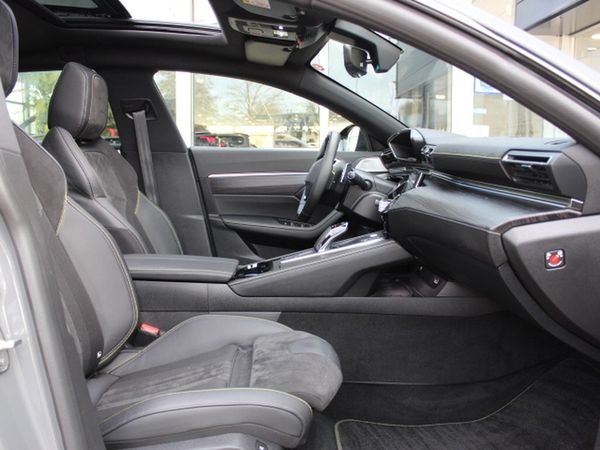 How sporty can a plug-in hybrid be? – Peugeot 508 PSE – Test
Seen a mistake? Mail us. We are grateful to you.
Occasions


6 mei 2022,

You want this occasion: Peugeot 208 GTi, 'better than a Fiesta'

Occasions


3 mei 2022,

Unknown occasion for us: Honda Accord Crosstour, unjustly unsuccessful

Classics


29 apr 2022,

You want this occasion: BMW 635 CSi E24, only for the real enthusiast

Occasions


28 apr 2022,

Dutch government offers Jeep Grand Cherokee SRT

News


27 apr 2022,

You want this occasion: Saab 96, "a car to have"

Classics


21 apr 2022,

You want this occasion: Lancia Beta, an affordable tasteful classic

Occasions


20 apr 2022,

You want this occasion: Volkswagen Atlas VR6, a gigantic American

News


16 apr 2022,

You want the used car: Mercedes CLS, 'an enrichment of the streetscape'
window.didomiOnReady = window.didomiOnReady || []; window.didomiOnReady.push(function (Didomi) { window.tc_vars = {
// Add Didomi variables didomiGDPRApplies: window.didomiState.didomiGDPRApplies, didomiIABConsent: window.didomiState.didomiIABConsent, didomiVendorsConsent: window.didomiState.didomiVendorsConsent, didomiVendorsConsentUnknown: window.didomiState.didomiVendorsConsentUnknown, didomiVendorsConsentDenied: window.didomiState.didomiVendorsConsentDenied, didomiPurposesConsent: window.didomiState.didomiPurposesConsent, didomiPurposesConsentUnknown: window.didomiState.didomiPurposesConsentUnknown, didomiPurposesConsentDenied: window.didomiState.didomiPurposesConsentDenied, didomiExperimentId: window.didomiState.didomiExperimentId, didomiExperimentUserGroup: window.didomiState.didomiExperimentUserGroup, }; if(tc_vars.didomiPurposesConsent != ''){ console.log( 'cookiewall okay'); consentLevel = 3; loadAllScripts(); } });
window.didomiEventListeners = window.didomiEventListeners || []; window.didomiEventListeners.push({ event: 'notice.clickagree', listener: function () { console.log('clicked agree'); consentLevel =3; loadAllScripts(); return false; } }); window.didomiEventListeners.push({ event: 'preferences.clickagreetoall', listener: function () { console.log('clicked agree'); consentLevel =3; loadAllScripts(); return false; } }); window.didomiEventListeners.push({ event: 'preferences.clicksavechoices', listener: function () { console.log('clicked agree'); consentLevel = 3; loadAllScripts(); return false; } });
function loadAllScripts(){ console.log('start loading all scripts 2.19'); console.log(tc_vars.didomiPurposesConsentDenied);
var deniedConsent = tc_vars.didomiPurposesConsentDenied; if(deniedConsent.indexOf('cookies') == -1){
//SETTING VARIABLES var wpk_tags = dataLayer[0].Tags; if (wpk_tags != undefined) { var wpk_tags_array = wpk_tags.split(','); }else{ var wpk_tags_array = []; }
var sales_keywords = dataLayer[0].sales_keywords; if(sales_keywords == undefined){ sales_keywords=""; }else{ sales_keywords = sales_keywords.replace(/_/g, ''); sales_keywords = sales_keywords.replace(/&/g, '_'); sales_keywords = sales_keywords.replace(/&/g, '_'); }
if (typeof dataLayer[0].Site !== 'undefined') { var site_name = dataLayer[0].Site.toLowerCase(); }else{ var site_name=""; }
site_name = site_name.split(".");
//SETTING VARIABLES
var script = document.createElement("script"); script.src = "https://shared.mediahuis.be/cxense/cxense.autovisie.min.js"; script.type = "didomi/javascript"; script.setAttribute('data-vendor','iab:412');
console.log('ads: '+deniedConsent.indexOf('create_ads_profile')); console.log('content: '+deniedConsent.indexOf('select_personalized_content'));
if(deniedConsent.indexOf('create_ads_profile') < 0 && deniedConsent.indexOf('select_personalized_content') < 0){ document.head.appendChild(script); console.log('load cxense!!!'); }else{ console.log('NOT load cxense!!'); } if (dataLayer[0].show_banners == 1) { // console.log('fillSlots'); setTimeout(function(){ fillSlots(); }, 1000); } if(deniedConsent.indexOf('social_media') < 0){ var y = document.getElementsByClassName("social-media-no-consent-box"); var i; for (i = 0; i < y.length; i++) { y[i].style.display = "none"; } var x_fb_post = document.getElementsByClassName("fb-post-no-consent"); while(x_fb_post.length > 0) { x_fb_post[0].className = "fb-post"; }
var x_fb_video = document.getElementsByClassName("fb-video-no-consent"); var i; while(x_fb_video.length > 0) { x_fb_video[0].className = "fb-video"; }
var x_twitter = document.getElementsByClassName("twitter-tweet-no-consent"); while(x_twitter.length > 0) { x_twitter[0].className = "twitter-tweet"; }
var xi = document.getElementsByClassName("instagram-media-no-consent"); while(xi.length > 0) { xi[0].className = "instagram-media"; }
var script = document.createElement("script"); script.src = "https://platform.twitter.com/widgets.js"; document.head.appendChild(script);
var script = document.createElement("script"); script.src = "https://www.instagram.com/embed.js"; document.head.appendChild(script);
var script = document.createElement("script"); script.innerHTML = "window.instgrm.Embeds.process();"; document.head.appendChild(script);
var script = document.createElement("script"); script.src = "https://connect.facebook.net/nl_NL/sdk.js#xfbml=1&version=v8.0";
var facebookDiv = document.createElement('script'); facebookDiv.innerHTML =`window.fbAsyncInit = function() {FB.init({ xfbml : true, version : 'v5.0' });}; `; document.head.appendChild(facebookDiv);
var my_awesome_script = document.createElement('script'); my_awesome_script.setAttribute('src','https://connect.facebook.net/en_US/sdk.js'); my_awesome_script.async="true"; my_awesome_script.defer="true"; document.head.appendChild(my_awesome_script);
}
} }
if (navigator.userAgent.toLowerCase().indexOf('cxensebot') != -1) {
loadAllScripts();
}