Only two copies of the 300 SLR Uhlenhaut exist and they have been part of the Mercedes-Benz collection since the construction of the two civil racing cars. Nevertheless, the carmaker has now said goodbye to one of the two copies for the astronomical amount of 135 million euros! RM Sotheby's had the honor of selling the sports coupe through an official auction.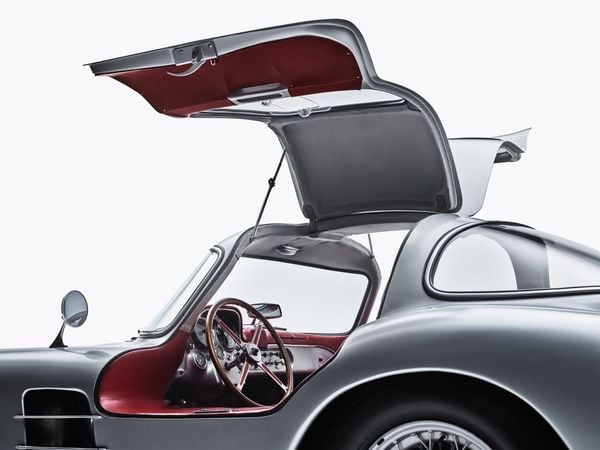 The news that Mercedes-Benz would have sold the legendary 'Uhlenhaut Coupé' trickled out last week. The manufacturer and the auction house kept quiet. Still, the two companies are now officially announcing that the 300 SLR has changed hands. And that for the sweet sum of 135 million euros. It was known that the value of the 300 SLR Uhlenhaut was extremely high. However, no one knew how precious the car was, as it was never put up for sale. And no one thought that would ever happen.
Sjoerds Facts #92: This car transporter reached 160 km/h!
Mercedes-Benz Fund
The current CEO of Mercedes-Benz, the Swede Ola Källenius, will go down in the history books as the person who divested part of Mercedes' history. He comments: "The 300 SLR Uhlenhaut Coupés are milestones in the development of sports cars and important historical elements that have shaped our brand. The decision to sell one of these two unique sports cars was made with very good reasoning, for the benefit of a good cause. The proceeds of the auction will fund a worldwide scholarship program. With the 'Mercedes-Benz Fund' we want to encourage a new generation to follow in the innovative footsteps of Rudolf Uhlenhaut and develop amazing new technologies." The money goes specifically to students and children who otherwise would not have the opportunity to follow such studies.
With this promotion, Ola Källenius will also go down in the history books as the person who made a Mercedes model by far the most valuable car in the world. Never before has more than 100 million been paid for a car at an auction. In fact, according to RM Sotheby's, the 300 SLR is one of the most expensive items ever auctioned!
Sjoerds Weetjes Mercedes-Benz 300 SLR Uhlenhaut
You can hear in an earlier episode of Sjoerds Weetjes what makes the Mercedes-Benz 300 SLR Uhlenhaut so special.
Restoration
The auctioned model has a rich history and was partly for that reason restored in the 1980s. From January to July 1986, the coupe was restored by restorer Tony Merrick. After that, the 300 SLR Uhlenhaut appeared several times at exhibitions and car events, such as Goodwood Festival of Speed, the 1999 German Grand Prix in Hockenheim and the Pebble Beach Concours d'Elegance in 2001. The car was also used during the launch of the Mercedes -Benz SLR McLaren, the photos of which were used in the brochure.
Seen a mistake? Mail us. We are grateful to you.
window.didomiOnReady = window.didomiOnReady || []; window.didomiOnReady.push(function (Didomi) { window.tc_vars = {
// Add Didomi variables didomiGDPRApplies: window.didomiState.didomiGDPRApplies, didomiIABConsent: window.didomiState.didomiIABConsent, didomiVendorsConsent: window.didomiState.didomiVendorsConsent, didomiVendorsConsentUnknown: window.didomiState.didomiVendorsConsentUnknown, didomiVendorsConsentDenied: window.didomiState.didomiVendorsConsentDenied, didomiPurposesConsent: window.didomiState.didomiPurposesConsent, didomiPurposesConsentUnknown: window.didomiState.didomiPurposesConsentUnknown, didomiPurposesConsentDenied: window.didomiState.didomiPurposesConsentDenied, didomiExperimentId: window.didomiState.didomiExperimentId, didomiExperimentUserGroup: window.didomiState.didomiExperimentUserGroup, }; if(tc_vars.didomiPurposesConsent != ''){ console.log( 'cookiewall okay'); consentLevel = 3; loadAllScripts(); } });
window.didomiEventListeners = window.didomiEventListeners || []; window.didomiEventListeners.push({ event: 'notice.clickagree', listener: function () { console.log('clicked agree'); consentLevel =3; loadAllScripts(); return false; } }); window.didomiEventListeners.push({ event: 'preferences.clickagreetoall', listener: function () { console.log('clicked agree'); consentLevel =3; loadAllScripts(); return false; } }); window.didomiEventListeners.push({ event: 'preferences.clicksavechoices', listener: function () { console.log('clicked agree'); consentLevel = 3; loadAllScripts(); return false; } });
function loadAllScripts(){ console.log('start loading all scripts 2.19'); console.log(tc_vars.didomiPurposesConsentDenied);
var deniedConsent = tc_vars.didomiPurposesConsentDenied; if(deniedConsent.indexOf('cookies') == -1){
//SETTING VARIABLES var wpk_tags = dataLayer[0].Tags; if (wpk_tags != undefined) { var wpk_tags_array = wpk_tags.split(','); }else{ var wpk_tags_array = []; }
var sales_keywords = dataLayer[0].sales_keywords; if(sales_keywords == undefined){ sales_keywords=""; }else{ sales_keywords = sales_keywords.replace(/_/g, ''); sales_keywords = sales_keywords.replace(/&/g, '_'); sales_keywords = sales_keywords.replace(/&/g, '_'); }
if (typeof dataLayer[0].Site !== 'undefined') { var site_name = dataLayer[0].Site.toLowerCase(); }else{ var site_name=""; }
site_name = site_name.split(".");
//SETTING VARIABLES
var script = document.createElement("script"); script.src = "https://shared.mediahuis.be/cxense/cxense.autovisie.min.js"; script.type = "didomi/javascript"; script.setAttribute('data-vendor','iab:412');
console.log('ads: '+deniedConsent.indexOf('create_ads_profile')); console.log('content: '+deniedConsent.indexOf('select_personalized_content'));
if(deniedConsent.indexOf('create_ads_profile') < 0 && deniedConsent.indexOf('select_personalized_content') < 0){ document.head.appendChild(script); console.log('load cxense!!!'); }else{ console.log('NOT load cxense!!'); } if (dataLayer[0].show_banners == 1) { // console.log('fillSlots'); setTimeout(function(){ fillSlots(); }, 1000); } if(deniedConsent.indexOf('social_media') < 0){ var y = document.getElementsByClassName("social-media-no-consent-box"); var i; for (i = 0; i < y.length; i++) { y[i].style.display = "none"; } var x_fb_post = document.getElementsByClassName("fb-post-no-consent"); while(x_fb_post.length > 0) { x_fb_post[0].className = "fb-post"; }
var x_fb_video = document.getElementsByClassName("fb-video-no-consent"); var i; while(x_fb_video.length > 0) { x_fb_video[0].className = "fb-video"; }
var x_twitter = document.getElementsByClassName("twitter-tweet-no-consent"); while(x_twitter.length > 0) { x_twitter[0].className = "twitter-tweet"; }
var xi = document.getElementsByClassName("instagram-media-no-consent"); while(xi.length > 0) { xi[0].className = "instagram-media"; }
var script = document.createElement("script"); script.src = "https://platform.twitter.com/widgets.js"; document.head.appendChild(script);
var script = document.createElement("script"); script.src = "https://www.instagram.com/embed.js"; document.head.appendChild(script);
var script = document.createElement("script"); script.innerHTML = "window.instgrm.Embeds.process();"; document.head.appendChild(script);
var script = document.createElement("script"); script.src = "https://connect.facebook.net/nl_NL/sdk.js#xfbml=1&version=v8.0";
var facebookDiv = document.createElement('script'); facebookDiv.innerHTML =`window.fbAsyncInit = function() {FB.init({ xfbml : true, version : 'v5.0' });}; `; document.head.appendChild(facebookDiv);
var my_awesome_script = document.createElement('script'); my_awesome_script.setAttribute('src','https://connect.facebook.net/en_US/sdk.js'); my_awesome_script.async="true"; my_awesome_script.defer="true"; document.head.appendChild(my_awesome_script);
}
} }
if (navigator.userAgent.toLowerCase().indexOf('cxensebot') != -1) {
loadAllScripts();
}