BMW recently caused a stir again with the design of the new 7-Series. But you don't have to worry that every Bavarian car will have such a nose.
They dare, there at BMW. After the 4-Series and iX, the new 7-Series also caused a lot of commotion. In particular, the nose with separate light units could count on a lot of reactions. But don't be afraid that more BMWs with such a grille will appear soon.
Only the top models
BMW deliberately chooses to give its absolute top models this specific face. In addition to the 7-Series, the facelifted X7 also gets such a similar front. The upcoming XM from BMW M GmbH will also have a nose to match the 7-Series and X7. And thus really get the largest models of BMW such a comparable nose.
Why the BMW 7-Series only comes as a long variant
The BMW 3-Series, which will soon undergo a facelift, will therefore not have such a front. That car, which is one of the most important models for the brand, will undergo a fairly conventional facelift. The new X1 that will appear soon, also fits into the family of more compact BMWs. An electric version of that model also immediately appears, which bears the name iX1. It will, like the i7 and i4, have a similar appearance to the versions with combustion engine.
Little difference
All in all, BMW wants to differentiate more and more between product lines. Previously, the car manufacturer was criticized for the fact that many different models looked too similar. The 3 and 5 Series were not easy to distinguish from each other, and that was true for more models in the range. By giving each product group a strong individual appearance, all these models also get a clear identity. BMW's Board of Management for Marketing and Sales, the Dutchman Pieter Nota, informed Autovisie that the Chinese customer in the higher segment in particular wants to distinguish itself from the lower-positioned models. That is why the design department has come up with its own face for the large models in the highest segment.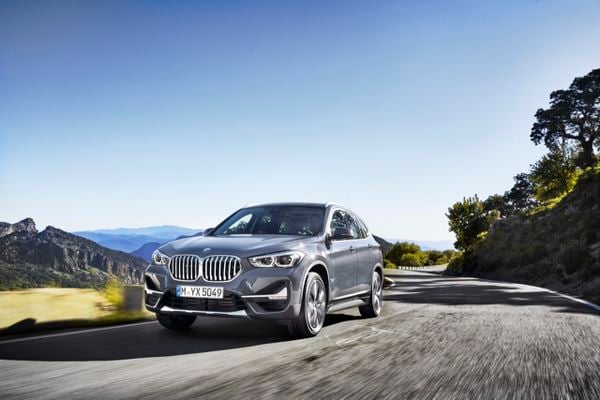 The BMW 7-Series will not appear on the market until the end of this year. First and only as a 2.7-ton electric i7. This is followed by a diesel variant, as well as two plug-in hybrids. Those models are not on the roll until 2023.
Seen a mistake? Mail us. We are grateful to you.
News

Yesterday,

Dacia is a multi-millionaire

News

Yesterday,

Big surprise for fattest Toyota Supra

News

Yesterday,

All details Porsche 911 Sport Classic | Sjoerds Weetjes 291

News

Yesterday,

Porsche 911 Sport Classic: 550 hp, manual transmission, rear-wheel drive!

News


27 apr 2022,

Technical Ferrari man becomes boss McLaren Automotive

News


27 apr 2022,

You want this occasion: Saab 96, "a car to have"

News


27 apr 2022,

Dive into the price list: orange cars!

News


27 apr 2022,

13 years without Pontiac: four cars we (don't) miss
window.didomiOnReady = window.didomiOnReady || []; window.didomiOnReady.push(function (Didomi) { window.tc_vars = {
// Add Didomi variables didomiGDPRApplies: window.didomiState.didomiGDPRApplies, didomiIABConsent: window.didomiState.didomiIABConsent, didomiVendorsConsent: window.didomiState.didomiVendorsConsent, didomiVendorsConsentUnknown: window.didomiState.didomiVendorsConsentUnknown, didomiVendorsConsentDenied: window.didomiState.didomiVendorsConsentDenied, didomiPurposesConsent: window.didomiState.didomiPurposesConsent, didomiPurposesConsentUnknown: window.didomiState.didomiPurposesConsentUnknown, didomiPurposesConsentDenied: window.didomiState.didomiPurposesConsentDenied, didomiExperimentId: window.didomiState.didomiExperimentId, didomiExperimentUserGroup: window.didomiState.didomiExperimentUserGroup, }; if(tc_vars.didomiPurposesConsent != ''){ console.log( 'cookiewall okay'); consentLevel = 3; loadAllScripts(); } });
window.didomiEventListeners = window.didomiEventListeners || []; window.didomiEventListeners.push({ event: 'notice.clickagree', listener: function () { console.log('clicked agree'); consentLevel =3; loadAllScripts(); return false; } }); window.didomiEventListeners.push({ event: 'preferences.clickagreetoall', listener: function () { console.log('clicked agree'); consentLevel =3; loadAllScripts(); return false; } }); window.didomiEventListeners.push({ event: 'preferences.clicksavechoices', listener: function () { console.log('clicked agree'); consentLevel = 3; loadAllScripts(); return false; } });
function loadAllScripts(){ console.log('start loading all scripts 2.19'); console.log(tc_vars.didomiPurposesConsentDenied);
var deniedConsent = tc_vars.didomiPurposesConsentDenied; if(deniedConsent.indexOf('cookies') == -1){
//SETTING VARIABLES var wpk_tags = dataLayer[0].Tags; if (wpk_tags != undefined) { var wpk_tags_array = wpk_tags.split(','); }else{ var wpk_tags_array = []; }
var sales_keywords = dataLayer[0].sales_keywords; if(sales_keywords == undefined){ sales_keywords=""; }else{ sales_keywords = sales_keywords.replace(/_/g, ''); sales_keywords = sales_keywords.replace(/&/g, '_'); sales_keywords = sales_keywords.replace(/&/g, '_'); }
if (typeof dataLayer[0].Site !== 'undefined') { var site_name = dataLayer[0].Site.toLowerCase(); }else{ var site_name=""; }
site_name = site_name.split(".");
//SETTING VARIABLES
var script = document.createElement("script"); script.src = "https://shared.mediahuis.be/cxense/cxense.autovisie.min.js"; script.type = "didomi/javascript"; script.setAttribute('data-vendor','iab:412');
console.log('ads: '+deniedConsent.indexOf('create_ads_profile')); console.log('content: '+deniedConsent.indexOf('select_personalized_content'));
if(deniedConsent.indexOf('create_ads_profile') < 0 && deniedConsent.indexOf('select_personalized_content') < 0){ document.head.appendChild(script); console.log('load cxense!!!'); }else{ console.log('NOT load cxense!!'); } if (dataLayer[0].show_banners == 1) { // console.log('fillSlots'); setTimeout(function(){ fillSlots(); }, 1000); } if(deniedConsent.indexOf('social_media') < 0){ var y = document.getElementsByClassName("social-media-no-consent-box"); var i; for (i = 0; i < y.length; i++) { y[i].style.display = "none"; } var x_fb_post = document.getElementsByClassName("fb-post-no-consent"); while(x_fb_post.length > 0) { x_fb_post[0].className = "fb-post"; }
var x_fb_video = document.getElementsByClassName("fb-video-no-consent"); var i; while(x_fb_video.length > 0) { x_fb_video[0].className = "fb-video"; }
var x_twitter = document.getElementsByClassName("twitter-tweet-no-consent"); while(x_twitter.length > 0) { x_twitter[0].className = "twitter-tweet"; }
var xi = document.getElementsByClassName("instagram-media-no-consent"); while(xi.length > 0) { xi[0].className = "instagram-media"; }
var script = document.createElement("script"); script.src = "https://platform.twitter.com/widgets.js"; document.head.appendChild(script);
var script = document.createElement("script"); script.src = "https://www.instagram.com/embed.js"; document.head.appendChild(script);
var script = document.createElement("script"); script.innerHTML = "window.instgrm.Embeds.process();"; document.head.appendChild(script);
var script = document.createElement("script"); script.src = "https://connect.facebook.net/nl_NL/sdk.js#xfbml=1&version=v8.0";
var facebookDiv = document.createElement('script'); facebookDiv.innerHTML =`window.fbAsyncInit = function() {FB.init({ xfbml : true, version : 'v5.0' });}; `; document.head.appendChild(facebookDiv);
var my_awesome_script = document.createElement('script'); my_awesome_script.setAttribute('src','https://connect.facebook.net/en_US/sdk.js'); my_awesome_script.async="true"; my_awesome_script.defer="true"; document.head.appendChild(my_awesome_script);
}
} }
if (navigator.userAgent.toLowerCase().indexOf('cxensebot') != -1) {
loadAllScripts();
}