For many, a car is not only a means of transport, but also a status symbol. To say that a beautiful car can attract the attention of both men and women is an understatement. But what is the most attractive car brand? We have another wonderfully representative and useful survey for you.
The British company Moneybarn conducted research among 2000 people of different age groups and of different sexes. One brand is clearly at the top when asked for the most attractive car brand.
German car brands score well
Women in particular find German cars attractive, according to the research. Audi, BMW and Mercedes-Benz are high in the list. Yet there can only be one winner, and that is Audi. With 14.73 percent of the vote for women and 13.56 percent for men, it's best to pick up your date in a car built Ingolstadt.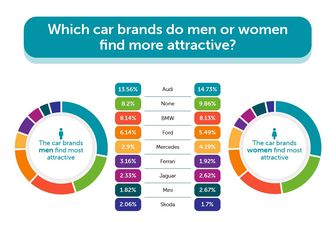 BMW also scores very well with 8.14 percent among men and 8.13 percent among women. It is striking that Ferrari only impresses 1.92 percent of the women and brands such as Porsche and Lamborghini do not appear in the list at all.
Impress with driving skills
Do you want to make an unforgettable impression? Then you have to park the car of German manufacture perfectly in parallel parking. More than 60 percent of those surveyed indicated that parking your car in parallel between two others is an attractive maneuver. So if you're not very good at parallel parking, it's better to avoid it on an exciting first date to avoid embarrassing moments.
A clean car from a German brand
Something that doesn't require you to invest a lot of money in a German car and not be able to drive it well is the third habit that makes you a more attractive driver. 47.41 percent of the respondents find having a clean car attractive. A clean car would be a sign of structure and organization. If you can take good care of your car, so can your partner, so the reasoning will be solid.
Occasions: three sexy city minis tipped for a maximum of € 8,000
window.didomiOnReady = window.didomiOnReady || []; window.didomiOnReady.push(function (Didomi) { window.tc_vars = {
// Add Didomi variables didomiGDPRApplies: window.didomiState.didomiGDPRApplies, didomiIABConsent: window.didomiState.didomiIABConsent, didomiVendorsConsent: window.didomiState.didomiVendorsConsent, didomiVendorsConsentUnknown: window.didomiState.didomiVendorsConsentUnknown, didomiVendorsConsentDenied: window.didomiState.didomiVendorsConsentDenied, didomiPurposesConsent: window.didomiState.didomiPurposesConsent, didomiPurposesConsentUnknown: window.didomiState.didomiPurposesConsentUnknown, didomiPurposesConsentDenied: window.didomiState.didomiPurposesConsentDenied, didomiExperimentId: window.didomiState.didomiExperimentId, didomiExperimentUserGroup: window.didomiState.didomiExperimentUserGroup, }; if(tc_vars.didomiPurposesConsent != ''){ console.log( 'cookiewall okay'); consentLevel = 3; loadAllScripts(); } });
window.didomiEventListeners = window.didomiEventListeners || []; window.didomiEventListeners.push({ event: 'notice.clickagree', listener: function () { console.log('clicked agree'); consentLevel =3; loadAllScripts(); return false; } }); window.didomiEventListeners.push({ event: 'preferences.clickagreetoall', listener: function () { console.log('clicked agree'); consentLevel =3; loadAllScripts(); return false; } }); window.didomiEventListeners.push({ event: 'preferences.clicksavechoices', listener: function () { console.log('clicked agree'); consentLevel = 3; loadAllScripts(); return false; } });
function loadAllScripts(){ console.log('start loading all scripts 2.19'); console.log(tc_vars.didomiPurposesConsentDenied);
var deniedConsent = tc_vars.didomiPurposesConsentDenied; if(deniedConsent.indexOf('cookies') == -1){
//SETTING VARIABLES var wpk_tags = dataLayer[0].Tags; if (wpk_tags != undefined) { var wpk_tags_array = wpk_tags.split(','); }else{ var wpk_tags_array = []; }
var sales_keywords = dataLayer[0].sales_keywords; if(sales_keywords == undefined){ sales_keywords=""; }else{ sales_keywords = sales_keywords.replace(/_/g, ''); sales_keywords = sales_keywords.replace(/&/g, '_'); sales_keywords = sales_keywords.replace(/&/g, '_'); }
if (typeof dataLayer[0].Site !== 'undefined') { var site_name = dataLayer[0].Site.toLowerCase(); }else{ var site_name=""; }
site_name = site_name.split(".");
//SETTING VARIABLES
var script = document.createElement("script"); script.src = "https://shared.mediahuis.be/cxense/cxense.autovisie.min.js"; script.type = "didomi/javascript"; script.setAttribute('data-vendor','iab:412');
console.log('ads: '+deniedConsent.indexOf('create_ads_profile')); console.log('content: '+deniedConsent.indexOf('select_personalized_content'));
if(deniedConsent.indexOf('create_ads_profile') < 0 && deniedConsent.indexOf('select_personalized_content') < 0){ document.head.appendChild(script); console.log('load cxense!!!'); }else{ console.log('NOT load cxense!!'); } if (dataLayer[0].show_banners == 1) { // console.log('fillSlots'); setTimeout(function(){ fillSlots(); }, 1000); } if(deniedConsent.indexOf('social_media') < 0){ var y = document.getElementsByClassName("social-media-no-consent-box"); var i; for (i = 0; i < y.length; i++) { y[i].style.display = "none"; } var x_fb_post = document.getElementsByClassName("fb-post-no-consent"); while(x_fb_post.length > 0) { x_fb_post[0].className = "fb-post"; }
var x_fb_video = document.getElementsByClassName("fb-video-no-consent"); var i; while(x_fb_video.length > 0) { x_fb_video[0].className = "fb-video"; }
var x_twitter = document.getElementsByClassName("twitter-tweet-no-consent"); while(x_twitter.length > 0) { x_twitter[0].className = "twitter-tweet"; }
var xi = document.getElementsByClassName("instagram-media-no-consent"); while(xi.length > 0) { xi[0].className = "instagram-media"; }
var script = document.createElement("script"); script.src = "https://platform.twitter.com/widgets.js"; document.head.appendChild(script);
var script = document.createElement("script"); script.src = "https://www.instagram.com/embed.js"; document.head.appendChild(script);
var script = document.createElement("script"); script.innerHTML = "window.instgrm.Embeds.process();"; document.head.appendChild(script);
var script = document.createElement("script"); script.src = "https://connect.facebook.net/nl_NL/sdk.js#xfbml=1&version=v8.0";
var facebookDiv = document.createElement('script'); facebookDiv.innerHTML =`window.fbAsyncInit = function() {FB.init({ xfbml : true, version : 'v5.0' });}; `; document.head.appendChild(facebookDiv);
var my_awesome_script = document.createElement('script'); my_awesome_script.setAttribute('src','https://connect.facebook.net/en_US/sdk.js'); my_awesome_script.async="true"; my_awesome_script.defer="true"; document.head.appendChild(my_awesome_script);
}
} }
if (navigator.userAgent.toLowerCase().indexOf('cxensebot') != -1) {
loadAllScripts();
}