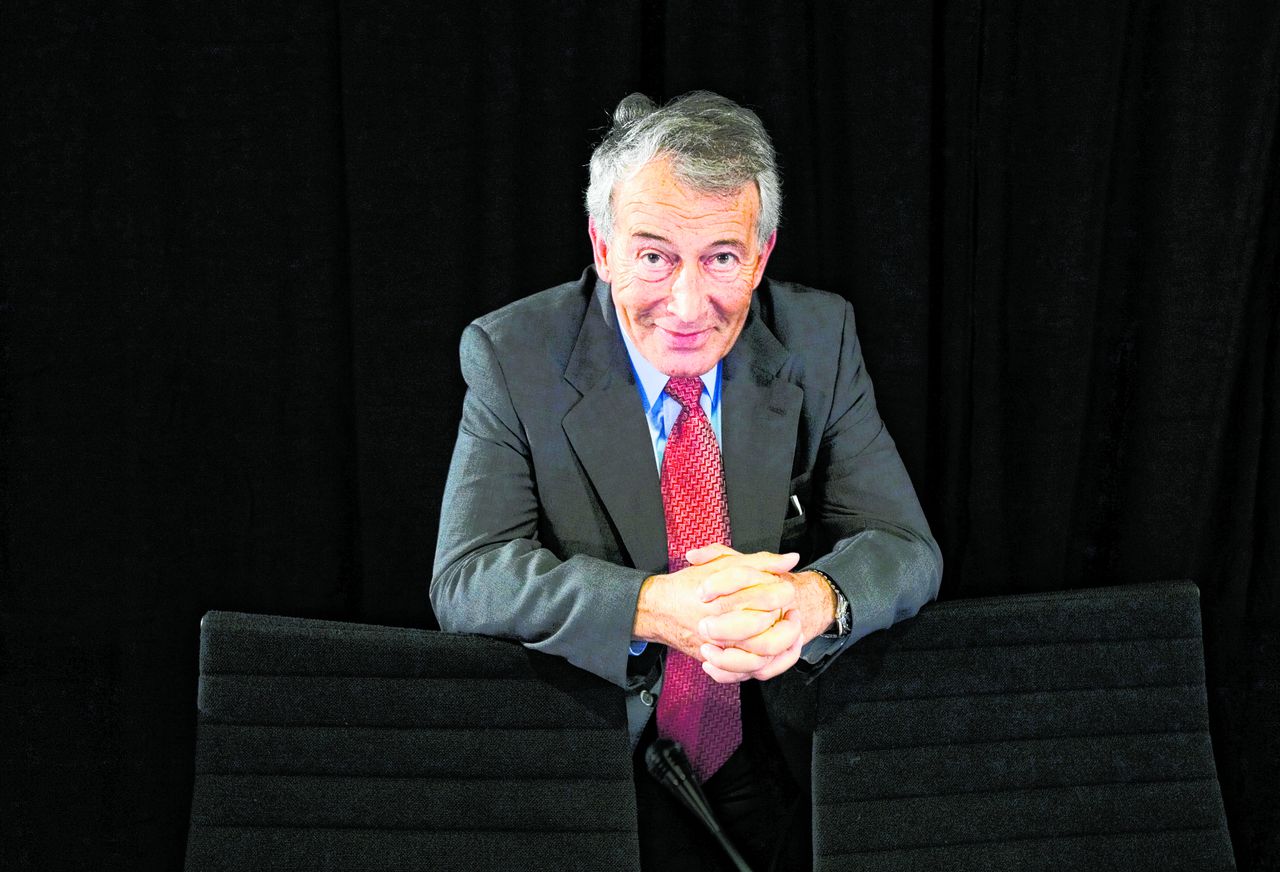 René Dahan wanted a 'Beppie' as a parting gift when he left Ahold's chairman of the board in 2013. A 'Beppie', that's what they call the statue of a woman with shopping bags in the hall of the head office at Ahold in Zaandam (now Ahold Delhaize). "Lest we forget for whom we work," is the caption.
Dahan, a key figure in Ahold's recent turbulent history, passed away last weekend at the age of 80. When Dahan left, Dick Boer, CEO of the company until 2018, asked what he wanted for his farewell. The choice for a replica of the statue – donated to Ahold by Ab Hein, the grandson of Albert Heijn – is characteristic of Dahan's vision of the company, says Boer: find roots again."
When Dahan, a Moroccan-born Dutchman, was brought from the United States to Ahold in 2004, those roots had disappeared from view. The group almost collapsed after an accounting scandal at the American subsidiary US Foodservice and at other foreign subsidiaries. Turnover figures appeared to have been artificially inflated, shareholders had lost billions of euros, confidence in Ahold had evaporated.
Under Dahan, confidence was gradually restored. A chairman of the supervisory board does not make day-to-day decisions, but can – certainly in or immediately after a crisis situation – provide direction. And Dahan did well, says Boer. Before he became CEO of Ahold in 2010, Boer was instructed by Dahan to carry out a strategic review. As a result, the company would henceforth only be active in markets where it could be number one or two. US Foodservice was divested.
Driver out of the way
Dahan was not afraid to dismiss poorly functioning drivers. That happened with Anders Moberg, CEO until 2007. It was "better for his career to take a step outside the group", Dahan summarized his message to Moberg at the time. Ahold did not make major international acquisitions in Dahan's years, but it did take over bol.com in 2012, which is now being floated independently on the stock exchange.
Above all, don't make any major new mistakes after the accounting ebacle, that was the motto under Dahan. In an interview with The Financial Times in 2013, Dahan himself said: "If you give me the choice between being risk averse and avoiding accidents or operating risky and accepting that you will have an accident here and there, then I know. We have no room for accidents."
As the highest commissioner, Dahan was "on top of it", says Jan Hommen, his successor after 2013, on the phone. Hommen came from ING, where he had been chairman of the board. Before that, Hommen had been on Ahold's supervisory board together with Dahan for several years. Hommen speaks of "strong discipline" and "control" from Dahan, with which the company overcame the chaos of the accounting affair. Both Boer and Hommen describe Dahan as "direct" and "clear", but also as charming person.
Driver out of the way
It was also someone who could lose his temper at times. In 2012, he clashed during a shareholders' meeting with American activists, who had come to the Netherlands to protest against the way the American Ahold subsidiary Giant Carlisle treated its employees. Employees should not be allowed to join a union. A cashier from Virginia received a business-like, but fierce, response from Dahan. "You know you would have the opportunity to join the union. We do not harass people. You know that. I do not accept the allegations." To continue coldly: "You didn't have to make this trip to the Netherlands."
Dahan's life is anything but standard for someone at the top of the Dutch business community. He was born in 1941 in Fez, Morocco. Dahan followed a seaman's training in France and served in the port of Rotterdam in the 1960s as a helmsman.
He fell in love with a Dutch woman and went to work for Esso. Dahan started out as a technical manager at a refinery in Rotterdam, and eventually rose to the position of ExxonMobil's second man worldwide in the US. Boer calls Dahan a "citizen of the world". He spoke Arabic, French, Spanish, Dutch and English.
Also read this interview (1991) with René Dahan: CEO Esso: West will soon become even more dependent on OPEC Proven oil reserves in the Middle East are still increasing

Admiration for VS
During his American years he had come to admire the United States. In an interview with NRC in 2004, shortly after joining Ahold, he said that the European welfare state "deprives the individual of any initiative." In the US, he said, "the workers themselves take responsibility for jobs and income, while in Europe people often think that someone else will tell them what to do."
In his early years at Ahold, Dahan brought three American board members to the company. These were three women, which briefly made them the majority on Ahold's supervisory board. At the time (2006) this was exceptional, although it is still not very common today.
Dahan was strongly committed to diversity in the supervisory board, he said in an interview with entrepreneur news site in 2010. MT/Sprout. "In purchasing decisions (…) you see that women are often decisive (…) With a group of men you might have come to a different point of view, you might have found some elements less important."
And his own diverse background, did it play a role in his career? "When I refer to myself, I have never related my role and input and the why of my success in certain places to the fact that I am from Morocco," he said in the same interview. "Honestly, I don't think I would appreciate it if someone" gutsy good decoration with my Moroccan roots would make."
A version of this article also appeared in NRC in the morning of November 30, 2021