Peter Heijkoop is out. He will soon send his daughter Olivia (3.5 years) to De Regenboog, the primary school right next to his residential area. Other parents from his neighborhood cycle in the morning with their cargo bikes along De Regenboog to schools a long way away. There are many children of parents with higher incomes.
At De Regenboog, the children come from another adjacent district, where the incomes are much lower than in the Heijkoop district. Sandra Nederlof (34), director of De Regenboog, thinks it is a shame that parents cycle past her school. She calls it a multicultural school on the edge of the center of Dordrecht. According to official definitions, many children in her school are at high risk of falling behind. She herself says that they are "unbelievably promising children" who have "less stimulating home conditions". The personal contribution for parents at De Regenboog is 25 euros, says Heijkoop. "It is hundreds of euros at the schools that the parents cycle to."
Nederlof: "Our school is located next to a few chic neighbourhoods, but we mainly get a lot of children from the neighborhood where there are flats and social housing." That is a shame, according to Nederlof, because children cannot pull themselves together in this way. And De Regenboog is good at raising children's levels, she says.
No guinea pig
Peter Heijkoop (38) is not just a Dordrecht parent. He has been alderman for education (CDA) for more than five years in the city of almost 120,000 inhabitants. "My daughter is not a guinea pig," Heijkoop told Nederlof during a joint interview about education in Dordrecht. "We are really convinced that De Regenboog is the right school for her."
The fact that Heijkoop has a lot of confidence in De Regenboog is also due to a plan that he devised himself. It should reduce the difference in opportunities between children. Eleven schools in vulnerable neighborhoods will receive extra money from the municipality over the next ten years: a total of 27.4 million euros. Schools have been able to spend that money, about 20 percent on top of their regular teaching budget, since the beginning of this school year. On average, the schools receive about three hundred thousand euros per year, depending on the number of students. Roughly speaking, this means that schools can provide about five hours of extra lessons.
"These are schools where a relatively large number of children with a migration background attend, often children who grow up in less stable families, where there is sometimes also poverty," says Heijkoop. "These children often have incredible opportunities, but they don't get the opportunities. We think that at these eleven schools we can get more out of these children. That is good for the children, the families, the neighborhood and ultimately for the entire city."
It is special, according to Heijkoop, that a municipality itself invests so much money in teaching. "In the beginning, school boards said to me: Alderman, that's not your business." Municipalities normally deal with school buildings and overcoming learning disadvantages – through playgroups. There are other cities that donate money from their own budget to clearing backlogs in primary schools, such as Amsterdam with more than ten million euros per year. But according to the alderman, what Dordrecht does is different. "It is unique that a municipality makes so much of its own money available for a long time."
A rich city
The municipality will pay for the plan with money from the sale of shares in energy company Eneco: 370 million euros. "We didn't just want to put that in beautiful buildings, but also in people." Good for the children, says Heijkoop, but also crazy. "Dordrecht is rich. Most cities cannot afford this. The Ministry of Education should of course just arrange this." Incidentally, these kinds of schools already receive more money from the central government than other schools, but according to Heijkoop not enough.
According to the municipality, 22 percent of the ten thousand Dordrecht children between the ages of 2 and 12 are at risk of educational disadvantage. This estimate is based on the education of the parents, whether they are undergoing debt restructuring, and whether they have a migration background.
Also read: No 'quick fix' for learning disabilities

In consultation with the municipality, the schools can decide how they spend the money. Suzanne van Burik (53), director of primary school De Albatros, starts beaming when she explains what she is going to do with the money during a tour of her school. "We are a neighborhood school in a deprived area. We have many nationalities. At home there is poverty, no computer and no Dutch is spoken. So children often have to do it alone."
Van Burik wants to set up a broad school academy with the money from the municipality, for children who need it from all schools in the district. It has already been done in Schiedam and Utrecht, she says. "With proven results. We invite children who demonstrate mathematically that they have sufficient intelligence, but do not develop properly due to their language delay." Two days a week they receive two extra hours of lessons to work on their vocabulary and reading comprehension.
Language lessons for parents
Parents also receive extra lessons at De Albatros. They learn how to install the school app, what is expected of them as a parent, and how to read the letters and the app. Van Burik: "In this way we try to involve the parents. The threshold to start a conversation with the teacher is sometimes very high."
Parent involvement is important, says Heijkoop. "Some parents did not know what the intention was when schools closed during the lockdown. Some have even gone abroad." That is why the segregation in Dordrecht schools is such a shame, in Heijkoop's opinion, because it is precisely in these kinds of schools that the organizational strength is needed from wealthy parents who are now cycling past the schools. Van Burik: "We can't find reading mothers, they don't speak Dutch."
Director Nederlof of De Regenboog is also full of plans: language theater once a week for the youngest groups, for example. "The theater teachers practice the words from the lessons. It sticks better in fun activities." Every child at De Regenboog receives 2 to 2.5 hours of extra language lessons per week. In addition, De Regenboog provides another 2 to 3 hours of extra lessons per week for children who really need it: language, maths, homework support, learning to plan. "We send the parents a letter that we have a unique opportunity for their child. The response is actually 100 percent."
Not all eleven schools are participating yet, two have yet to make plans. But Heijkoop's optimism is great. De Regenboog gets a new location, De Albatros a whole new schoolyard. "These schools are becoming more attractive. There will be a fantastic curriculum. Also in my neighborhood they start thinking: wow. This will seduce parents, I am really convinced of that." He says to the two directors: "You will soon receive letters from people who want to work here."
erratic money
The two school directors are critical of that other bucket of extra money that schools receive: 8.5 billion euros from the cabinet's national education program to make up for corona arrears. Teachers at disadvantaged schools receive a temporary salary increase of an average of 8 percent. The schools must spend the money within 2.5 years. "Then I can offer something for 2.5 years and then it stops again," says Nederlof. "You give children opportunities and you drop them again. That's how it goes all the time." The eleven schools have been financing their plans for a considerable part with government money for two years now, after which they use the city's pot. Van Burik: "I am so happy with the municipality, we can now build for ten years."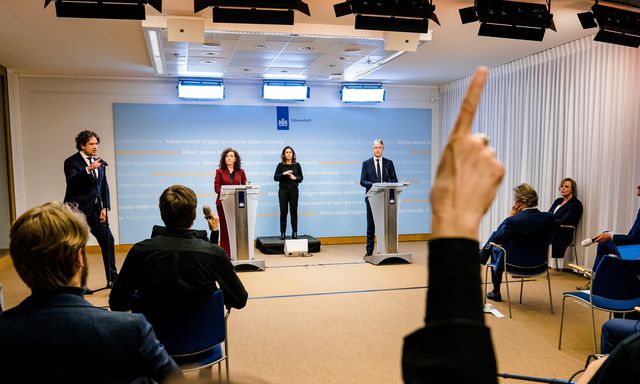 Also read: Ministries sharply criticize billion-dollar education plan

Van Burik and Nederlof have just enough staff to carry out the plans, with the help of music teachers and theater people who can also provide language training. At the Nederlof school, the teachers will work extra hours. In the meantime, the 8.5 billion euros threatens to disrupt that delicate balance, Heijkoop sees. "There will not be more teachers, but more money." The result is that teachers are bought away by secondment agencies. Schools can then hire them again for a lot of money. "Suddenly vulnerable schools are in trouble because teachers are being removed." Nederlof: "I recently received an invoice of 600 euros for someone who had come in for one day."
Heijkoop wants to see results after ten years: the Citoscore must rise. But the schools cannot solve the inequality of opportunity, the directors say. The children come to school with such a backlog of vocabulary, it is impossible to catch up. Nederlof: "We are committed to making the gap as small as possible."
According to Heijkoop, if you really want to reduce the inequality of opportunity, policy outside the school is also necessary. "Schools are a source of other problems: debt, poverty. We have all kinds of minimum policies, but that's sticking plasters. Rather ensure livelihood security: increase social assistance and the minimum wage." And teach adults the language, says Heijkoop. "A lot has been cut back on help with low literacy. And this cabinet barely added any money."
Due to the integration law of the cabinet Rutte I (VVD, CDA, tolerance support PVV) newcomers had to borrow money to learn Dutch. "That flopped. We often talk about migrant children in this issue. If the parents get off to a bad start here, it will have consequences for the children."