"This evening has crawled through the eye of the needle," says comedian and philosopher Tim Fransen at the start of his last performance before the evening lockdown. "Tonight is the official premiere, but where a premiere usually marks the start of a tour…" He doesn't have to finish the sentence.
With title of his third show The human and me Fransen makes known two incompatible entities: this performance is about his former struggle to see something constructive in the actions of humanity. Because even though some scientists think that we can now call ourselves the 'Homo sapiens sapiens' ('loosely translated: the fucking wise man'), according to Fransen: 'our knowledge has grown enormously in recent centuries, but our wisdom has lagged behind considerably. . In order to keep his struggle livable, in the past he adopted a "merry pessimistic" attitude.
Until recently he was visited in his dreams by aliens. They wanted a definitive answer from him: does humanity add more good or more miserable to the universe?
You go to Tim Fransen for a round performance with a clear structure and philosophical insights to better cope with life. How pleasant are his legal handles in these uncertain times: does he welcome the audience again in peace? Is he going to say this performance again that he graduated cum laude in both psychology and philosophy? Is there another supermarket product on the wing that he doesn't understand exists? Yes, thank you French, there are still certainties. You can also feel the outcome of his typical French jokes coming, but that is part of the security package. You can put the smile on your mouth.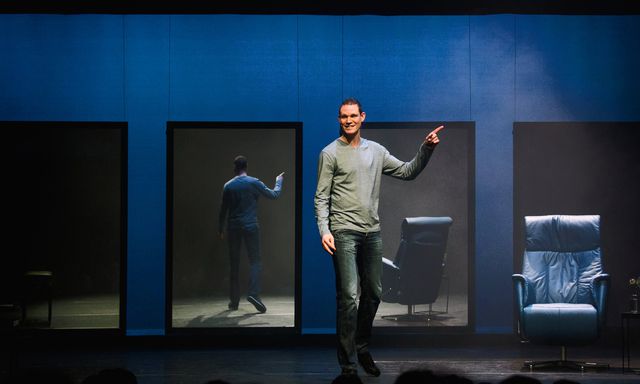 Also read: Tim Fransen looks for answers with Kant, Napoleon and Beethoven

Good or bad
But, that clear structure is in The human and me a bit harder to find than in his previous shows. The gigantic main question 'is human actions good or bad' must be divided into so many sub-questions and examples (including strong recent examples of riots and conspiracy theorists), that it is more difficult to see the line in Fransen's argument. The philosophical insights and mitigating circumstances only pile up at the end of the performance, and so quickly that it is difficult to process all the answers. It makes it a challenging performance that is probably best seen again, which is fine under normal circumstances, but now…
On the other hand The human and me is Fransen's most fairytale-like performance to date, with exciting low drones and light effects, and, rather rich in contrast, Disney songs sung by himself.
Fortunately, another certainty: the non-cum laude graduates for whom it all goes a bit fast serves Fransen with dick jokes. This performance has a manageable one, something with a whale and three meters, service-oriented proclaimed as the show's dick joke.