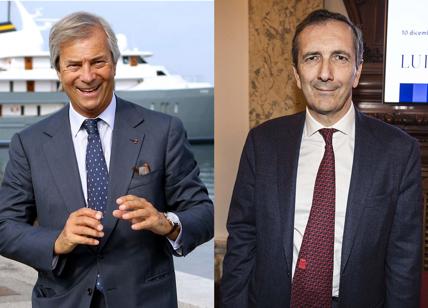 Vincent Bolloré and Luigi Gubitosi
The match of the governance in Tim
The countdown to the extraordinary board of directors tomorrow's Tim asked by the majority of directors who expressed concern about the performance of the business of the ex Sip and that could lead to a third profit warning in just five months. With obvious repercussions on the stock on the stock exchange.
While the board of statutory auditors to work on the alignment between numbers, prospective estimates and target companies, it is no mystery that the largest shareholder (with 23.75%) Vivendi wants introduce yourself to board of tomorrow to impale the CEO Luigi Gubitosi. To be discouraged by building a consensus in the board to pass a motion to this, consent that if before the officialization of the ambitions on the company of the American fund Kkr was taking shape, with the extraordinary operation ofOpa on the horizon and in the midst of operational uncertainty, it seems to leave room for a considerations of opportunity: perhaps it is better to take time and not expose the group to overturns in the governance.
It is not even a mystery that the Draghi government has welcomed positively the will of the New York fund to invest in Italy, enhancing Tim about 11 billion, valuations that according to some rumors would also go up on cascading consequences that could derive from the blitz to stars and stripes in terms of spin-off regarding theownership structure of the network.
Technology and infrastructure represent the country's central match for grounding the 222 billion euro Recovery Plan. Opportunities that the national economy cannot afford to waste. The investment of Kkr in Tim obviously it is blessed also from White House that has in Mario Draghi a reliable interlocutor within the Atlantic Pact.
It is already international considerations swoop into each other Tim-Vivendi-Kkr 24 hours after the signature of the Quirinal Treaty between France and Italy with Emmanuel Macron already in Rome this morning, some financial sources close to the affair point out how equal international considerations could do from stone guest in the overturn in the button room in Team, with the handover driving theex Sip, dove Vivendi, according to what appears to Affaritaliani.it, wants place 54-year-old Tim Brasil boss Pietro Labriola.
The reason? While in Italy Gubitosi cut the Chinese out of Huawei, the technology supplier of the Dragon unwelcome to the United States and European secret services, both from the race for the 5G network and from that for updating the central part of the Tim network, over the ocean Labriola has instead enlisted the Chinese tech champion as a supplier (with Nokia and Ericsson) to 4G technology from Tim Brasil and now he has included them in the 5G test. Appearance that may not go unnoticed in the States. A few hours before the board, the situation is still fluid.