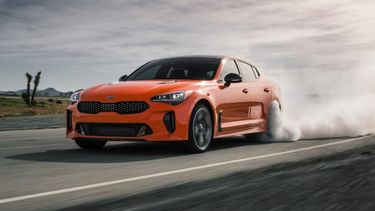 The question is whether the Kia Stinger will get a successor. In conversation with the English medium AutoCar, the design boss of the brand indicates that the EV6 GT can be seen as the new Stinger.
Kia's design chief Karim Habib, formerly of BMW, told AutoCar at the Los Angeles International Auto Show that "the spirit of the Stinger remains and will remain. I love that the EV6 has the genes of the Stinger. We are in the process of turning that into a GT, and the top-of-the-line version has the Stinger genes."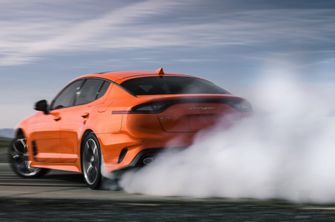 European idea
The Stinger has only been on the market for four years, but the car was already presented as a concept at the beginning of the previous decade. The model stems from an idea of ​​the design department, for which the international design chief Peter Schreyer and the European design boss Gregory Guillaume are responsible. It took an unprecedented long time before Kia's management gave the green light for the large sports sedan. He came there as an image builder for the brand. The absolute top model of the Stinger family bears the GT designation and has a V6 engine.
Precision weapon
Although the car was good for Kia's image and received positive reviews, large sales volumes were not forthcoming. The total sales do not help Kia to develop a successor immediately. The South Koreans prefer to look to the future and see a potent electric car as the standard-bearer for the model range. The EV6 will be assigned the role, albeit as a GT version. "The Stinger has been a car that has transformed itself, showing a whole new perspective on what Kia can be: sporty and a precision driving weapon. The EV6 now does the same," explains Habib.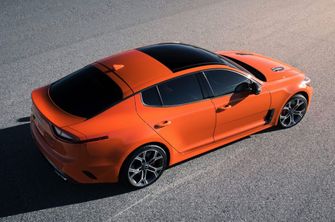 Only as V6
For the time being, Kia continues to build the Stinger. In the Netherlands, the sports sedan with Maserati appearance is available in a stripped-down delivery program. Only a V6 engine is available to drive the model, the well-known 3.3 V6 with 366 hp. The four-cylinder petrol and diesel engines are gone. Kia is reportedly making the Stinger for another two years.
Sjoerds Weetjes Kia Stinger GT
When asked why Kia took seven years to develop the Stinger from concept version to production model, Autovisie editor Sjoerd van Bilsen gives you the answer.
window.didomiOnReady = window.didomiOnReady || []; window.didomiOnReady.push(function (Didomi) { window.tc_vars = {
// Add Didomi variables didomiGDPRApplies: window.didomiState.didomiGDPRApplies, didomiIABConsent: window.didomiState.didomiIABConsent, didomiVendorsConsent: window.didomiState.didomiVendorsConsent, didomiVendorsConsentUnknown: window.didomiState.didomiVendorsConsentUnknown, didomiVendorsConsentDenied: window.didomiState.didomiVendorsConsentDenied, didomiPurposesConsent: window.didomiState.didomiPurposesConsent, didomiPurposesConsentUnknown: window.didomiState.didomiPurposesConsentUnknown, didomiPurposesConsentDenied: window.didomiState.didomiPurposesConsentDenied, didomiExperimentId: window.didomiState.didomiExperimentId, didomiExperimentUserGroup: window.didomiState.didomiExperimentUserGroup, }; if(tc_vars.didomiPurposesConsent != ''){ console.log( 'cookiewall okay'); consentLevel = 3; loadAllScripts(); } });
window.didomiEventListeners = window.didomiEventListeners || []; window.didomiEventListeners.push({ event: 'notice.clickagree', listener: function () { console.log('clicked agree'); consentLevel =3; loadAllScripts(); return false; } }); window.didomiEventListeners.push({ event: 'preferences.clickagreetoall', listener: function () { console.log('clicked agree'); consentLevel =3; loadAllScripts(); return false; } }); window.didomiEventListeners.push({ event: 'preferences.clicksavechoices', listener: function () { console.log('clicked agree'); consentLevel = 3; loadAllScripts(); return false; } });
function loadAllScripts(){ console.log('start loading all scripts 2.19'); console.log(tc_vars.didomiPurposesConsentDenied);
var deniedConsent = tc_vars.didomiPurposesConsentDenied; if(deniedConsent.indexOf('cookies') == -1){
//SETTING VARIABLES var wpk_tags = dataLayer[0].Tags; if (wpk_tags != undefined) { var wpk_tags_array = wpk_tags.split(','); }else{ var wpk_tags_array = []; }
var sales_keywords = dataLayer[0].sales_keywords; if(sales_keywords == undefined){ sales_keywords=""; }else{ sales_keywords = sales_keywords.replace(/_/g, ''); sales_keywords = sales_keywords.replace(/&/g, '_'); sales_keywords = sales_keywords.replace(/&/g, '_'); }
if (typeof dataLayer[0].Site !== 'undefined') { var site_name = dataLayer[0].Site.toLowerCase(); }else{ var site_name=""; }
site_name = site_name.split(".");
//SETTING VARIABLES
var script = document.createElement("script"); script.src = "https://shared.mediahuis.be/cxense/cxense.autovisie.min.js"; script.type = "didomi/javascript"; script.setAttribute('data-vendor','iab:412');
console.log('ads: '+deniedConsent.indexOf('create_ads_profile')); console.log('content: '+deniedConsent.indexOf('select_personalized_content'));
if(deniedConsent.indexOf('create_ads_profile') < 0 && deniedConsent.indexOf('select_personalized_content') < 0){ document.head.appendChild(script); console.log('load cxense!!!'); }else{ console.log('NOT load cxense!!'); } if (dataLayer[0].show_banners == 1) { // console.log('fillSlots'); setTimeout(function(){ fillSlots(); }, 1000); } if(deniedConsent.indexOf('social_media') < 0){ var y = document.getElementsByClassName("social-media-no-consent-box"); var i; for (i = 0; i < y.length; i++) { y[i].style.display = "none"; } var x_fb_post = document.getElementsByClassName("fb-post-no-consent"); while(x_fb_post.length > 0) { x_fb_post[0].className = "fb-post"; }
var x_fb_video = document.getElementsByClassName("fb-video-no-consent"); var i; while(x_fb_video.length > 0) { x_fb_video[0].className = "fb-video"; }
var x_twitter = document.getElementsByClassName("twitter-tweet-no-consent"); while(x_twitter.length > 0) { x_twitter[0].className = "twitter-tweet"; }
var xi = document.getElementsByClassName("instagram-media-no-consent"); while(xi.length > 0) { xi[0].className = "instagram-media"; }
var script = document.createElement("script"); script.src = "https://platform.twitter.com/widgets.js"; document.head.appendChild(script);
var script = document.createElement("script"); script.src = "https://www.instagram.com/embed.js"; document.head.appendChild(script);
var script = document.createElement("script"); script.innerHTML = "window.instgrm.Embeds.process();"; document.head.appendChild(script);
var script = document.createElement("script"); script.src = "https://connect.facebook.net/nl_NL/sdk.js#xfbml=1&version=v8.0";
var facebookDiv = document.createElement('script'); facebookDiv.innerHTML =`window.fbAsyncInit = function() {FB.init({ xfbml : true, version : 'v5.0' });}; `; document.head.appendChild(facebookDiv);
var my_awesome_script = document.createElement('script'); my_awesome_script.setAttribute('src','https://connect.facebook.net/en_US/sdk.js'); my_awesome_script.async="true"; my_awesome_script.defer="true"; document.head.appendChild(my_awesome_script);
}
} }
if (navigator.userAgent.toLowerCase().indexOf('cxensebot') != -1) {
loadAllScripts();
}