The police will deploy twenty detectives to identify and arrest suspects of the riots in Rotterdam on Friday evening and during the night from Friday to Saturday. This was announced by the police on Sunday evening. So far 51 people have been arrested in the riots.
The riots on and around the Coolsingel broke out after a demonstration against the government's corona measures. Several people threw heavy fireworks and other objects at police officers. Several police cars were also set ablaze. Officers were forced to draw their weapons and fire shots at the rioters.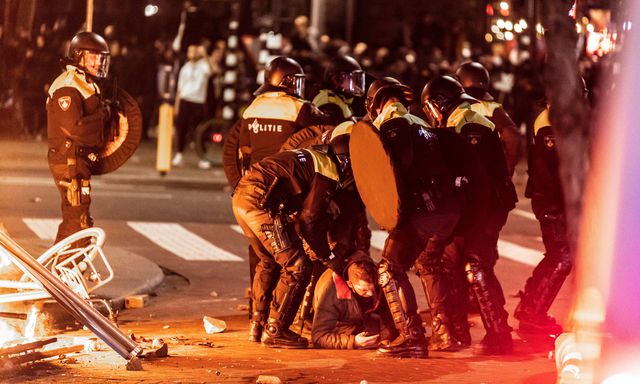 Also read our report: What went wrong in Rotterdam?

TGO
The so-called Large-Scale Performance Team (TGO) announced on Sunday will analyze photos, videos and messages on social media, among other things, with the aim of identifying suspects and then arresting them. Not everyone who was guilty of, among other things, public violence on Friday has yet been arrested. According to the police, the rioters are not only from Rotterdam, but from various parts of the Netherlands. The TGO is headed by the Public Prosecution Service.
The people arrested so far are suspected of "open assault, sedition and violation of the emergency order". Three people were hit by a police bullet and several injured are still in hospital. The police repeated on Sunday evening that there were no deaths in the disturbances, about which disinformation had previously been spread via social media.
Several police officers were also injured and a journalist was attacked. Police are calling on eyewitnesses to share information with the police.