Five young men – coiffed hair, freshly shaved necks, tight partings, a little gel – sit opposite the judges in the courtroom in Lelystad. They misbehaved that night in Mallorca, they admit. "This should never have happened," says Kaan B. (18), "I should have run away." Sanil B. (19), dressed in a fitted dark green shirt, shakes his head: "It is impossible to realize how intense this is," he says. "We had a very nice week. But an innocent nightlife squabble has exploded into chaos."
An innocent nightlife quarrel has exploded into chaos

Sanil B. suspect
In an "adrenalinerush"After the first fight, other quarrels also broke out, says dark blond Daan van S. (18). And Hein B., tall and reddish, in a big gray sweater, 'came in later', was afraid, so he kicked 'someone' in the upper body.
All five have been detained in recent months, pending this pro forma hearing, in which it is decided that Kaan B. and Daan van S. can await the substantive treatment, which will only start in 2022. Sanil B., Hein B. and Mees T. remain detained. They are suspected by the Public Prosecution Service of being involved in the death of Carlo Heuvelman from Waddinxveen. In addition, all five are suspected of attempted manslaughter and suspects Sanil B. and Mees T. are also suspected of a second attempted manslaughter. Yes, they have been punched, but they all deny that they attacked Heuvelman. "I have no idea what happened to Carlo," says Mees T. (18). "I just haven't experienced it."
I have no idea what happened to Carlo. I just haven't experienced it
The president of the court asks Daan van S. whether it is true that they were euphoric when they walked back to their residence. Is it true that they shouted "we won"?
"You're glad you walked away unharmed," says S. "When you see the consequences, you can't be happy about it anymore."
much unclear
The investigation into the violence is still ongoing. Although 60 witness statements have been made and some incidents have been videotaped at night, much is still unclear. Earlier this month, the Public Prosecution Service offered 15,000 euros for the golden tip, but that has not led to anything yet.
The chairman explains what is known. The group from Hilversum will go out on the evening of 13 July. The boulevard of El Arenal is divided into Dutch, German and English cafes. A portion goes to the Dutch café De Zaak. Another part is a little further away in The Pub. Due to corona measures, a limited number of people are allowed. In some places you can sit alone, and there are owners who charge a minimum amount of drinks per hour. Everything must be closed at two o'clock.
In De Zaak 'hassle' arises between the Hilversum group and another group of Dutch young people from the Heerhugowaard area. "Chairs are stolen and taken away," says Hoekstra. "The owner puts a few people out. They wait outside."
called
The members of the Hilversum group call members in the pub "because apparently a confrontation is expected when they leave De Zaak". For De Zaak, the first battle arises, some of which are images. Members of the group from Heerhugowaard have reported abuse: a broken nose, broken thumb, and neck injury in a woman who tried to intervene.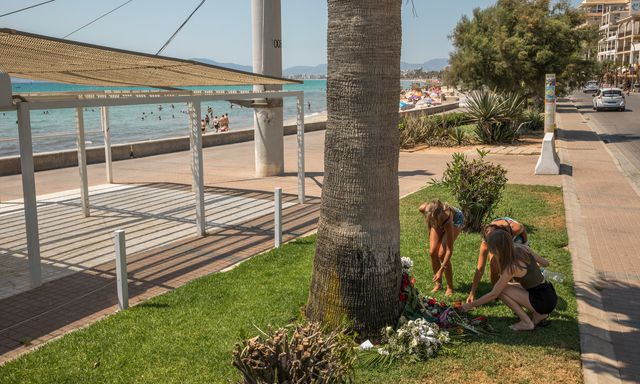 Also read: Mallorca is known for nightlife, so brutal and sadistic is rarely seen

One of those victims says he was still beaten and kicked while lying on the ground. That is the first attempted manslaughter of which Sanil, Mees, Kaan and Daan are suspected. Then the group walks back to the pub, which is closed. A member of the group is still being held there because he cannot pay the bill of 800 to 1,000 euros alone. Other members pay. A large number of people linger on the boulevard, also in front of the BierExpress café. There is a group of men from Waddinxveen, including Carlo Heuvelman. According to the chairman of the court, one of the members of that group is angry.
"There's something about the bill, it's hitting shutters. Friends try to calm him down." The group from Hilversum comes by, according to comments back and forth, there would have been spat. "It ends in a fight between Hilversum group members and Waddinxveen. A man becomes unconscious, the images of which are distributed via the GeenStijl website. A little further on, Carlo ends up on the ground. He is seriously injured in the head and later dies. There are no images of that, but there are witnesses who have testified.
The majority of the suspects had just started a college degree or are about to start. They come from stable families, their lawyers say. Only with Mees T. is the risk of a relapse, according to the probation service, because, according to the chairman, he has "an easy attitude towards violence".
"Nobody knows who has cheated," Sanil B. writes after the violence in a WhatsApp. DNA from Heuvelman was found on his shoe. How did that get there, the chairman wants to know. "I leave that explanation to my lawyer," says Sanil B.
Witnesses state that they have seen Carlo get kicked in the head, but there are also people who have seen him fall with the back of his head on a sidewalk. If that is the cause of death, the crime could also result in "assassination leading to death," says Sanil B.'s attorney Peter Plasman. "It doesn't matter to Carlo's relatives, but it does to the business."
'Unsatisfactory'
Carlo's relatives follow the case via a video connection at another location. What is being stated is "unsatisfactory," says their lawyer Bosch. Many of the suspects' relatives are in the public gallery above the courtroom. Mees T. sends a kiss on the hand when he enters. According to his lawyer, he is the one who decided to go home earlier than planned. "Because he knew it was very wrong," says his lawyer S. Hof.
The lawsuits of three other suspects of the violence in Mallorca have not yet started. A sixth man from Hilversum is no longer in pre-trial detention, but is still suspected of being involved in the death and of attempted manslaughter. In addition, he and a seventh and eighth man are suspected of committing open violence on the boulevard of El Arenal. During the pro forma hearing, only the cases of the five suspects who are in pre-trial detention are discussed.
"Many suspects do not show the back of their tongue," the public prosecutor says punitively. "By not witnessing, they draw a line on their further life." Moments later, the officer quotes a saying. "In the courtroom of conscience there is always a session." In other words: "For yourself you will always know what is the truth, and what others know about you. It will continue to haunt you."