For many lovers of hot hatchbacks, the Peugeot 205 GTI is the absolute holy grail. British Tolman Engineering has built the ultimate version.
This is the Peugeot 205 GTI of your dreams. Almost completely original, as the French let it roll off the line in the 80s. But with a number of important points for improvement to let it participate in modern times.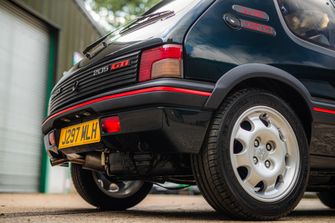 Sorrento Green
Of course, the base is an original Peugeot 205 GTI, which was bought by founder Christopher Tolman. He has been fascinated by sporty Talbots and Peugeots since childhood. In 2014 he bought a copy painted in the iconic Sorrento Green via Ebay. The plan was to bring that car in completely original condition, but that wouldn't be special enough for Tolman in the end.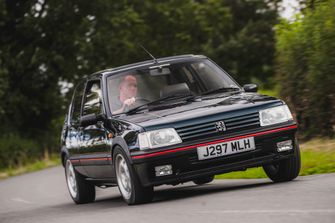 "When you reminisce about an old car, you always wear rose-colored glasses. If we were to restore the 205 to its original specifications, it wouldn't be very impressive, especially in today's market where modern cars have so many new features."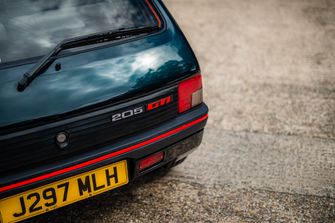 Bluetooth
Tolman decided to modernize the 205 GTI on specific points. However, don't worry that too much has been done to the French icon. For example, the Peugeot now has Bluetooth and smartphone connectivity, but not in the form of a large and modern infotainment screen. Instead, there's a Blaupunkt retro audio system in the 205, matching the otherwise original eighties interior.
You want this occasion: Peugeot 406 Coupé with Ferrari design
The British have mainly tackled the 205 subcutaneously. For example, the complete wheel suspension has been overhauled and where necessary modernized, so that the Peugeot has an even better road holding, without losing any of the throw-and-throw character of the 205. A new cylinder head and an improved camshaft setting and a modern ECU also ensure that the original 1.6-litre four-cylinder engine delivers more than 130 hp (instead of 105 hp). Connoisseurs know that that is the powertrain that you want in a 205 GTI due to, among other things, its shorter transmissions. Not the larger and slightly stronger 1.9-litre. But the good thing is: thanks to that power upgrade from Tolman, the 1.6-litre has just as much power and torque as the original 1.9.
Ideal Peugeot 205 GTI
A very nice restomod, this 205 GTI from Tolman Engineering. It also tastes like more for the company, because a next Peugeot has already been taken care of. In addition, it reports that it is an "intriguing opportunity" to build 205s made especially for each customer. That means that in the near future you can knock on Tolman's door for your personal and ideal 205 GTI. You have to dig deep for that, because prices are around 40,000 pounds.
You want this occasion: Peugeot 309 GTI 16 – snowed under by the 205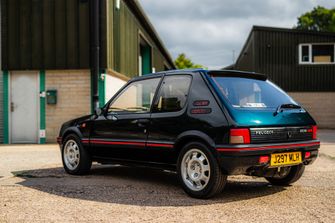 window.didomiOnReady = window.didomiOnReady || []; window.didomiOnReady.push(function (Didomi) { window.tc_vars = {
// Add Didomi variables didomiGDPRApplies: window.didomiState.didomiGDPRApplies, didomiIABConsent: window.didomiState.didomiIABConsent, didomiVendorsConsent: window.didomiState.didomiVendorsConsent, didomiVendorsConsentUnknown: window.didomiState.didomiVendorsConsentUnknown, didomiVendorsConsentDenied: window.didomiState.didomiVendorsConsentDenied, didomiPurposesConsent: window.didomiState.didomiPurposesConsent, didomiPurposesConsentUnknown: window.didomiState.didomiPurposesConsentUnknown, didomiPurposesConsentDenied: window.didomiState.didomiPurposesConsentDenied, didomiExperimentId: window.didomiState.didomiExperimentId, didomiExperimentUserGroup: window.didomiState.didomiExperimentUserGroup, }; if(tc_vars.didomiPurposesConsent != ''){ console.log( 'cookiewall okay'); consentLevel = 3; loadAllScripts(); } });
window.didomiEventListeners = window.didomiEventListeners || []; window.didomiEventListeners.push({ event: 'notice.clickagree', listener: function () { console.log('clicked agree'); consentLevel =3; loadAllScripts(); return false; } }); window.didomiEventListeners.push({ event: 'preferences.clickagreetoall', listener: function () { console.log('clicked agree'); consentLevel =3; loadAllScripts(); return false; } }); window.didomiEventListeners.push({ event: 'preferences.clicksavechoices', listener: function () { console.log('clicked agree'); consentLevel = 3; loadAllScripts(); return false; } });
function loadAllScripts(){ console.log('start loading all scripts 2.19'); console.log(tc_vars.didomiPurposesConsentDenied);
var deniedConsent = tc_vars.didomiPurposesConsentDenied; if(deniedConsent.indexOf('cookies') == -1){
//SETTING VARIABLES var wpk_tags = dataLayer[0].Tags; if (wpk_tags != undefined) { var wpk_tags_array = wpk_tags.split(','); }else{ var wpk_tags_array = []; }
var sales_keywords = dataLayer[0].sales_keywords; if(sales_keywords == undefined){ sales_keywords=""; }else{ sales_keywords = sales_keywords.replace(/_/g, ''); sales_keywords = sales_keywords.replace(/&/g, '_'); sales_keywords = sales_keywords.replace(/&/g, '_'); }
if (typeof dataLayer[0].Site !== 'undefined') { var site_name = dataLayer[0].Site.toLowerCase(); }else{ var site_name=""; }
site_name = site_name.split(".");
//SETTING VARIABLES
var script = document.createElement("script"); script.src = "https://shared.mediahuis.be/cxense/cxense.autovisie.min.js"; script.type = "didomi/javascript"; script.setAttribute('data-vendor','iab:412');
console.log('ads: '+deniedConsent.indexOf('create_ads_profile')); console.log('content: '+deniedConsent.indexOf('select_personalized_content'));
if(deniedConsent.indexOf('create_ads_profile') < 0 && deniedConsent.indexOf('select_personalized_content') < 0){ document.head.appendChild(script); console.log('load cxense!!!'); }else{ console.log('NOT load cxense!!'); } if (dataLayer[0].show_banners == 1) { // console.log('fillSlots'); setTimeout(function(){ fillSlots(); }, 1000); } if(deniedConsent.indexOf('social_media') < 0){ var y = document.getElementsByClassName("social-media-no-consent-box"); var i; for (i = 0; i < y.length; i++) { y[i].style.display = "none"; } var x_fb_post = document.getElementsByClassName("fb-post-no-consent"); while(x_fb_post.length > 0) { x_fb_post[0].className = "fb-post"; }
var x_fb_video = document.getElementsByClassName("fb-video-no-consent"); var i; while(x_fb_video.length > 0) { x_fb_video[0].className = "fb-video"; }
var x_twitter = document.getElementsByClassName("twitter-tweet-no-consent"); while(x_twitter.length > 0) { x_twitter[0].className = "twitter-tweet"; }
var xi = document.getElementsByClassName("instagram-media-no-consent"); while(xi.length > 0) { xi[0].className = "instagram-media"; }
var script = document.createElement("script"); script.src = "https://platform.twitter.com/widgets.js"; document.head.appendChild(script);
var script = document.createElement("script"); script.src = "https://www.instagram.com/embed.js"; document.head.appendChild(script);
var script = document.createElement("script"); script.innerHTML = "window.instgrm.Embeds.process();"; document.head.appendChild(script);
var script = document.createElement("script"); script.src = "https://connect.facebook.net/nl_NL/sdk.js#xfbml=1&version=v8.0";
var facebookDiv = document.createElement('script'); facebookDiv.innerHTML =`window.fbAsyncInit = function() {FB.init({ xfbml : true, version : 'v5.0' });}; `; document.head.appendChild(facebookDiv);
var my_awesome_script = document.createElement('script'); my_awesome_script.setAttribute('src','https://connect.facebook.net/en_US/sdk.js'); my_awesome_script.async="true"; my_awesome_script.defer="true"; document.head.appendChild(my_awesome_script);
}
} }
if (navigator.userAgent.toLowerCase().indexOf('cxensebot') != -1) {
loadAllScripts();
}