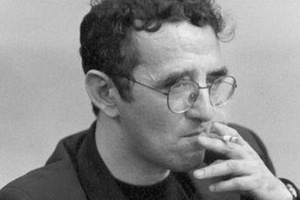 In the 103rd edition of the podcast on Page Five:
– Chat with Schneider Carpeggiani about the work of Chilean author Roberto Bolaño.
– The 5th edition of Flipelô.
– The Tortoise Finalists.
– "Memória de Mim", by Teresa Cárdenas (Figure of Language), and "Atalho", by Carlos Canhameiro (Mireveja), in the releases.
Highlights of the chat with Schneider:
haunted by the dictatorship
My generation was not there during Latin America's military dictatorships, something that unites us all. But we have memories of our parents, the people who lived through that. And we are haunted by the memories of that military dictatorship. We always heard about it, but we weren't quite sure what had happened. We lived in phantom territory. Bolaño, as an author, helped to liberate and make us better deal with this haunted territory that the dictatorships in Latin America left for us.
Bolaño and the boom
He didn't deny the boom generation, but he traded with it. There was a relationship of interest, but also of patricidal, in relation to the canon. When I came across, I thought: here I am seeing someone who is actually doing something new, who is bringing freshness to Latin American literature and making people understand what it is like to live in a country that has had a dictatorship for decades, which is a haunting.
politics of affections
Roberto Bolaño helped me to read Brazilian literature itself, especially from the 80s and 90s, which I thought – and many people also think – that it didn't have much to do with the dictatorship. It awakened me to another perspective. It made me think of the idea of ​​politics as a politics of affections as well. Reading Roberto Bolaño, I better understood how, for example, Caio Fernando Abreu or Ana Cristina Cesar treated dictatorships in their works.
Bolañista
Anyone who reads Bolaño even has an expression that I think is wonderful, withthe Bolañista. I've seen people in Spain putting buttons: "Yo soy un bolañista". Bolaño has a lifelong relationship with literature that ends up attracting very young readers.
Biography of Bolanian
There was preparation during his entire career to create a myth. Not only did he write one of the great works of the late 20th century, but he also created one of the great personas of the late 20th century. He lied a lot in interviews. No one really knows what happened to him in the late 70s. His biography is a Bolaño work…
He created this myth of a man who knew himself to be sick, who somehow would have survived and exiled himself from the Pinochet dictatorship, and who was preparing a great work because he knew death was imminent. He created a character. And it's curious because this alter ego of his that is in some books, which is Arturo Belano, is almost Arthur Rimbaud, who is precisely one of the first great images and ideas that we have of the young rebel. In other words, everything was very built.
Empty Tombs and "2666"
More than in the others, in this book there are many characters that appear and simply disappear, disappear… And we live on the continent that in recent decades many people simply disappeared. The empty tomb is one of the signs of being Latin American.
fascination with doubt
A feature that I see in this contemporary literature, and Bolaño did it very well, is that it took the idea of ​​crime and took away that functional character that the classic detective novel had. You read Edgar Allan Poe to find out who killed. You read to know things. In this contemporary literature, it is not important to know who killed, but to know if the crime really happened… The fascination with doubt took the place of the desire to discover who the murderer is.
The Page Cinco podcast is available on Spotify, Apple Podcasts, Deezer, SoundCloud, and Youtube.
You can also follow me through these social networks: Twitter, Facebook and Instagram.