"A dog on the prowl when I'm walking through the mall," R. Kelly sings in "I'm a Flirt," his 2007 hit with T-pain and TI. When watching the six-part documentary series Surviving R. Kelly that imagery gets a bad aftertaste. In it, the then 17-year-old Lizzette Martinez tells how she was approached by R. Kelly's tour manager in Aventura Mall, with the message 'R. Kelly wants you to call him."
Martinez is one of six women who testified against now 54-year-old Robert Sylvester Kelly in the criminal trial that began in New York in mid-August. Kelly has been accused of sexually abusing minors for years. His marriage to the then 15-year-old singer Aaliyah in 1994 is the best-known example. His tour manager bribed a corrupt official who forged the marriage certificate. It states that the singer he met at age 12 as his manager's niece was 18. She was 15 at the time and Kelly was 27.
Also read: Investigation into R. Kelly after six-hour documentary

Martinez met Kelly after the mall at a steakhouse. "This is your big break," her best friend told the girl who wanted to be a singer. Kelly invited her to his studio and urged her to sing along to a Boyz II Men song. But to her dismay, he then shoved his tongue into her mouth and the following line from the song came true: "If I could man I would probably fuck with all of y'all." In the documentary, Kelly's tour manager explains that he was often sent to the mall to recruit young girls for the 'King of R&B'. Just as he was regularly on the lookout at McDonalds across from Kenwood High School in Chicago. "Everyone knew but nobody did anything about it because we were black girls," one of his victims said in the documentary.
Explicit Sexual Texts
The clues in his music were also plenty. R. Kelly is known as a creator of sweet-voiced R&B with an explicit sexual orientation. His big breakout hit was 'Bump N' Grind' from his second album 12 Play (1993). For Aaliyah, who died in a plane crash in 2001 (twenty years ago this year), he wrote her debut album Age Ain't Nothing But a Number (1994). The title track is about a young girl who convinces an older man to share the bed with him. He wrote songs like 'You remind me of Something' (1995) and 'Ignition' (2003) in which he compares women to cars and sings about how he 'puts the key in the lock'.
Yet Kelly, who was born the third of four children in a poor Chicago neighborhood in 1967, used to be shy. His brothers tell in the documentary Surviving R. Kelly how he had trouble reading and writing and crawled into his room behind his synthesizer. At the age of eight he started singing in the church choir. He was abused by a family member until he was 12, he stated in a 2012 interview, just like his younger brother.
Also read: Singer R. Kelly also accused of abusing a minor boy

Kelly found an outlet in music. It soon became apparent that he had a great talent, which he further developed by performing with his keyboard in Chicago subway stations. His mother Joann Kelly, a single teacher, got him accepted at the prestigious Kenwood Academy. Kelly sang in the school choir under the guidance of singing teacher Lena McLin, whom he calls an inspirer and mentor.
During a performance at a barbecue he was discovered by Wayne Williams of the well-known house label Jive Records. Together they released ten albums that went platinum, including his debut Born Into The '90s (1993). He later switched to Sony subsidiary RCA Records which dropped him in 2019 due to all the allegations.
Musical talent
His velvety voice, gospel performance and talent for songwriting were widely acclaimed. His musical talent has been compared to that of Marvin Gay and Sam Cooke. He worked with Celine Dion, Puff Daddy, Jay-Z and Lady Gaga.
He also released albums in which he showed more of his spiritual side such as Happy People/U Saved Me (2004), featuring Chicago step and gospel songs. He wrote the sentimental "I Wish" and the funeral track about self-love, "I Believe I Can Fly," from Warner Brother's basketball movie Space Jam (1996), a song that later won three Grammys. He wrote the gooey 'You Are Not Alone' for Michael Jackson in 1995, which earned him another Grammy nomination. He also produced songs for Whitney Houston, Quincy Jones, Toni Braxton and Janet Jackson. In the 1990s, there was no male R&B artist that topped the Billboard Top 100 more often.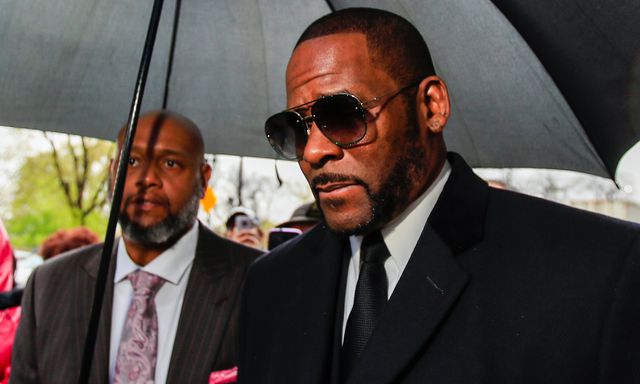 Also read: R. Kelly charged again with sexual abuse of minor

His career thrived despite ongoing allegations of child abuse and sexual abuse, crimes for which he was finally found guilty Monday by a 12-member jury in a New York court. As early as 1997, he was accused by Tiffany Hawkins of rape when she was still a minor. That case was later settled for $250,000. A year later, in 1998, his third hit album was released R., which sold six million copies. Also the next album TP2.com, debuted at number 1 on the Billboard chart. Even after he was tried in 2002 and 2008 for making child pornography, including a video of him urinating on a 13-year-old girl after having sex with her, his star continued to rise. Although the album he released with Jay-Z in 2002 flopped, he scored another hit album in 2003 with Chocolate Factory. He also released successful albums in 2005, 2007 and 2010. In 2012, he was nominated for two Soultrain Awards.
Climate has changed
The music industry has always been lenient towards older (rock) stars and underage women. But the climate has changed. In the second half of the tens, the extensive reports by music journalist Jim DeRogatis on the site Buzzfeed (2017) and in magazine The New Yorker to the #MuteRKelly movement, thanks to a Chicago activist who called on radio DJs to stop playing his songs. The article describes how Kelly manipulated and psychologically and physically abused several women in houses he rented. They had to ask permission to eat and go to the bathroom, and had sex with whoever he wanted. In 2018, Spotify announced that it would no longer include Kelly in the playlists curated by the streaming service and the BBC documentary appeared R Kelly: Sex, Girls & Videotapes. Lady Gaga and Celine Dion removed duets they recorded with the singer from the music channels. In January 2019, the aforementioned six-part documentary series Surviving R. Kelly the light.
In February 2019, Kelly also had to appear in the state of Illinois on suspicion of sexual abuse with violence against four women. That case has now been suspended after being charged by the federal government in July and could theoretically be reopened after the jury's verdict in the federal case in Brooklyn. There he faces charges including extortion, kidnapping and prostitution of underage girls across the state line under the Mann Act. The law also makes it possible to bring in evidence that is older than twenty years (and would otherwise be time-barred). Take, for example, his marriage to the then 15-year-old Aaliyah in 1994. Previously, rock 'n roll singer Chuck Berry was successfully sentenced to one and a half years in prison for fornication with a 14-year-old under the same law. For that, the jury has to believe that Kelly was the hub of a criminal network involved in trafficking in women and prostitution of underage girls across state lines.
R. Kelly has always denied all allegations. In an emotional interview with CBS host Gayle King in 2019, he stated that he had never had sex with a woman under 17.