September 27, 2021
Sunday is racing in Austin
The 2021 MotoGP World Championship enters its decisive stages but the Austin stage, where the Grand Prix of the Americas will take place on Sunday, will be very special for three riders who are cut off from the race for the world title: Valentino Rossi, Marc Marquez and Alex Rins.
For the rider from Tavullia this will be the last appearance away from Europe of his brilliant career in the World Championship. He has never won in Austin, in all likelihood he will not succeed this time either, but also in the American continent he has a lot of fans and he will keep us looking good. Marc Marquez, on the other hand, has been doing good and bad weather for years on the Texan track: the roll of honor recalls that, from 2013 to 2018 it was always he who climbed the top step of the podium. In 2020 there was no race, in 2019, however, it was the turn of Alex Rins, who also took advantage of the fall of the Honda rider, who started in pole position. Rins, coming in first, had set a record. In fact, he was the first rider to win in Austin in all classes: Moto3 in 2013, Moto2 in 2016 and in MotoGP in 2019. Valentino Rossi, Marc Marquez and Alex Rins Valentino Rossi, Marc Marquez and Alex Rins
"A special victory also because I managed to beat my longtime idol, Valentino Rossi" he said after crossing the finish line in front of the "Doctor". On Sunday he will try again to make a season below expectations less bitter. And also Marquez will try again for sure.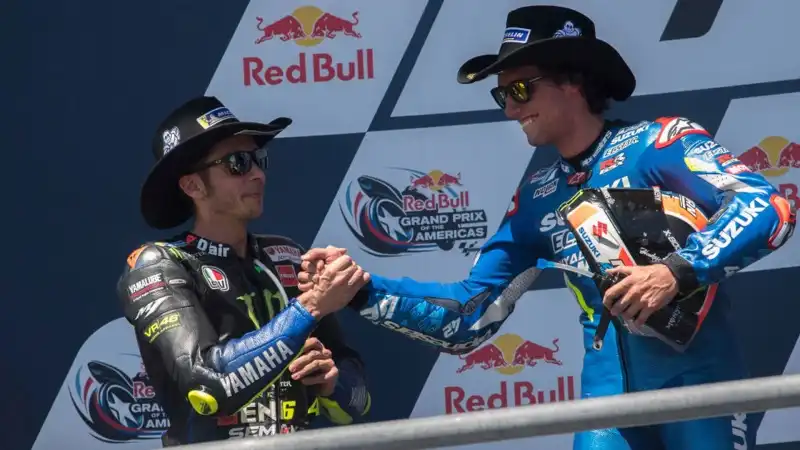 ©Getty Images