On the stage is a theater, the curtain rises and a bunch of horrific mutants sing about their hunger, which they ritually carry to the grave in the form of a gremlin-like baby with bat arms. No, it is not very tasteful at Opera Vlaanderen in the exuberantly designed new production of The silver lake, a little-known work by Kurt Weill and playwright Georg Kaiser. But just as you are mentally preparing for a very long evening, the hysterical director rushes onto the stage: "Oh, it's sooo bad! What was I thinking?"
The 'director' is actor Benny Claessens, who with his explosive presence is the star of the evening: an unpredictable, unstable core that haggles and festers, crosses the line, drags everything and everyone into his self-destructive quest and yet manages to move. With his fictitious troupe Claessens will produce a Kurt Weills production in the year 2033 The silver lake, which premiered shortly after Hitler's seizure of power in 1933 and was shut down after a few weeks. Weill fled Germany – and now fascist hordes besiege the theater once again.
Carnivalesk
Yet that political message is hardly reflected in the concept of director Ersan Mondtag, with whom Claessens frequently collaborates in Germany and who also worked at Opera Vlaanderen just before the coronalockdown. The blacksmith of Ghent directed. The action is too carnivalesque for that, the trying out layers of meaning too ironic.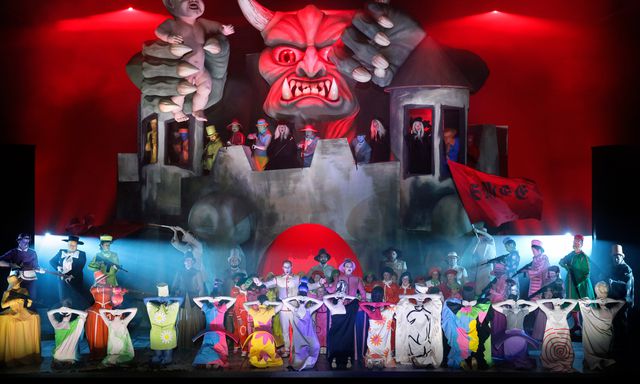 Also read: Exploited Congo in Breugelian opera 'Der Schmied von Gent'

The story revolves around constable Olim, who shoots slum mutant Severin for stealing something – a pineapple, it turns out. Olim repents, wins the main prize in the lottery and takes care of the lame Severin (tenor Daniel Arnaldos) in his castle, where the homoerotic overtones are exuberantly made explicit in all kinds of gay clichés. But Severin is full of resentment: in spite of all his wealth, he only wants revenge on the one who took his pineapple from him. When Olim's identity is revealed, they still grow closer. Meanwhile, impoverished housekeeper Frau von Luber (Dutch actress Elsie de Brauw) uses trickery and trickery to get her castle back.
De Brauw plays well and even sings creditably in the duet 'Schlaraffenland', but she is also somewhat eclipsed by Claessens's barrel of gunpowder, especially when she goes along with his turbo and anti-acting. Right from the start Claessens takes on the role of Olim as 'director': "You don't have the political range", he says to the intended protagonist. "You're too straight."
Then everything gets mixed up: the mutants become Palestinian freedom fighters, the castle becomes an Egyptian temple, Frau von Luber becomes a Chinese queen, Benny/Olim becomes Christ, everyone wraps themselves in latex – in (impeccable) German, English and Dutch cloths Claessens and co flout theater laws and layers of reality, in an at times brilliant mix of soap opera, reality show, queer celebration, making-of, political theater and, oh yes, opera. It is that choir and orchestra under the conductor Karel Deseure are excellent from the flaming overture, otherwise you would almost forget the music, so long-winded and/or shrewd is the screaming, moaning and chattering between the scenes. Let those fascists outside yell and put your arms around me, honey.