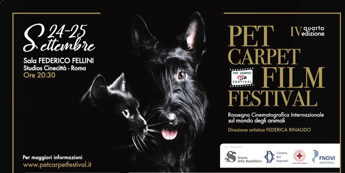 Return the 'Pet Carpet Film Festival' now in its fourth edition: the rassigns short films dedicated to the animal world will be held tonight and tomorrow in Rome at the Sala Fellini of the studios of Cinecittà and will be conducted by Jimmy Ghione and Edoardo Stoppa, with Enzo Salvi as president of the jury.
Hundreds of short films have been received by the organizers and selected by a special jury, dedicated to different themes which are then divided into sections Docu Pet, Cine Pet and Mondo Quotidiano, the latter also dedicated to individuals who with a simple smartphone can tell their everyday life shared with a four-legged friend: stories of love and friendship, but also dramatic or with a positive ending.
"The most exciting stories with the animals of the heart, the encounters between hands and paws that become indissoluble bonds", explains Federica Rinaudo, in the triple role of creator, curator and director of the international film festival dedicated entirely to the animal world, sponsored by the Parliament, the Italian Red Cross and the National Federation of the Order of Veterinarians, with the declared purpose of "informing, educating, raising awareness, thanks to the power of images, regarding the importance of creating a society that is more respectful of the environment and all its wonderful creatures ".
(by Enzo Bonaiuto)