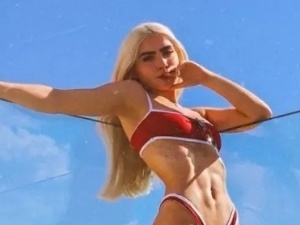 Enjoying single life in Europe, youtuber Jade Picon posted a photo on her Instagram enjoying the summer at a pool in Madrid — but not just any pool.
The swimming pool belongs to the Pestana CR7 hotel, by Cristiano Ronaldo, where the influencer would be staying.
"A sunny day and swimming here at Pestana CR7 Gran Vía Madrid", he wrote in the caption of the photo, in which he poses in a red bikini with the view of the city in the background.
After the end of her relationship with João Guilherme, about three weeks ago, Jade started talking when she was identified as a possible Neymar affair.
She blurted out:
I'm not the type of person you see getting into controversy, who comes here to recant, leak number, conversation print. I also have my own time, it just so happens that it has been exposed here for over ten years. I just ask that my time be respected.