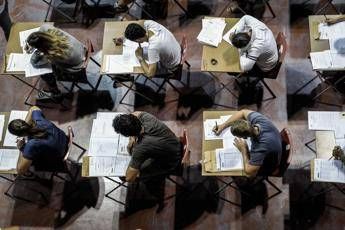 "Are the scores wrong too? Unsurprisingly, it is the domino effect of a Medicine test that will go down in history for the record of appeals." This was supported by Massimo Tortorella, president of Consulcesi, the legal network specialized in health law, which since this morning is said to be overwhelmed by reports from hundreds of students who have discovered their score on Universitaly.
"Errors and irregularities in the test – says Tortorella – the wrong questions and corrections are obviously causing chaos even in the calculation of the test score of every aspiring doctor and our pool of lawyers is checking case by case. In a few hours hundreds have already arrived. of reports to our information desk and on our social channels. The alarm went off for chemistry questions incorrectly entered in logic questions, wrong calculations relating to errors recognized by the ministry and score discrepancies of 1.9 points. lead to think that the correction indicated later by the ministry was not taken into account ".
The errors present in the admission test to the degree course in Medicine have had a significant impact on both the conduct of the test and the results obtained by aspiring doctors, Consulcesi notes. The first results clearly show the impact they had on the success of the test by many students who risk seeing their goal of accessing the Medicine course vanish.
"In this year's test – Tortorella continues – the rules have been violated in all respects. There are still doubts about 3 questions and the regulations of the announcement have not been respected. Those who appeal will not think about remedying only their own position, but it will help to unhinge a fallacious system that has changed the fate of the life of each aspiring doctor and of the whole community for too long ". Consulcesi therefore foresees thousands of appeals after the final publication of the rankings for admission to the Faculty of Medicine.
"The Council of State – highlights the president – has already admitted those who had resorted to the TAR, an extraordinary success of the work of our experts who for years have been working alongside students penalized by a system that, year after year, shows more and more flaws . Thanks to our work, thousands of young aspiring doctors were able to enroll and start their studies ".
The next date to keep in mind – Consulcesi recalls – is September 24, the day on which each candidate will be able to view their test, and then September 28 when the national ranking list will be published, with a first scroll scheduled for October 6. The appeal must be filed within 60 days from the publication of the Medicine test ranking or from any scrolling. In case of acceptance of the precautionary request, the candidate may have the possibility to enroll with reserve and attend the courses until the outcome of the request for merit.