You can hardly imagine it now, but there was a time when the appearance of top tennis players was described in detail by serious sports journalists. One had a "boyish style", the other was sexy "despite her small breasts". Another wore "dated clothing." "The attacks on our femininity never stopped," writes Billie Jean King (77) in her recently published autobiography All in.
'BJK', as she is affectionately known, is a living legend. The American has won 39 grand slam titles in more than two decades, twelve of which in singles. She was the driving force behind the creation of the WTA professional women's tennis association and rocked the United States with her victory over Bobby Riggs in the legendary 'Battle of the Sexes' in 1973. But she was also a tireless fighter for the rights of women and minorities. For all those things, she was awarded the Presidential Medal of Freedom in 2009.
Fame brings influence, but privately, King (her maiden name is Moffitt) paid a hefty price. For a long time she led a double life as a lesbian: outwardly the 'good' wife of a lawyer, in love with the same sex inside. As the child of Protestant parents in narrow-minded America, she looked down on her own sexuality. It took many therapy sessions to understand its devastating effect: "I'm known as a person who tells the truth. Now I was living a lie and I hated myself for it."
All in is a bulky book. It is that her publisher convinced King that not every friendship needs to be described in detail, otherwise it would have been eight hundred pages thick (now 482). King must have sat opposite ghostwriters Maryanne Vollers and Johnette Howard like a waterfall of speech. That they have managed to turn it into an accessible book is an achievement in itself, although the high chatter content eventually becomes irritating, especially if the authors go sideways longer than necessary – King's friendship with pop star Elton John, for example, is widely reported.
the name dropping may be the result of King's existential insecurity, which she believes can be traced back to her childhood. Her father Bill (firefighter) and mother Betty (housewife) were not only God-fearing people, but also had their own intricate dynamics. He had frequent fits of rage, she kept silent and submitted herself. "Both behaviors have influenced me," says King. "I was always nervous, ready for the turnaround, trying to please everyone."
This, combined with her hidden orientation, caused not only psychological but also physical complaints at a later age. King had heart problems and developed an eating disorder. When she fed herself, she felt that old pain less. It wasn't until she was 51 that she dared to tell her parents that she likes women.
love letters
The American tabloid press will have feasted on several passages in the book. Like the detailed description of her secret relationship with hairdresser Marilyn Barnett, during her marriage to Larry King (not to be confused with the famous journalist who passed away this year). At first Billie Jean couldn't believe her luck, but over time Barnett became a tormentor. Hilarious, if it weren't so sad, is the scene where King describes Barnett interrupting an important interview to feed her an avocado. Barnett expected King to support her until her death and threatened to reveal love letters when she was sidetracked. Barnett hired a lawyer, and King was out.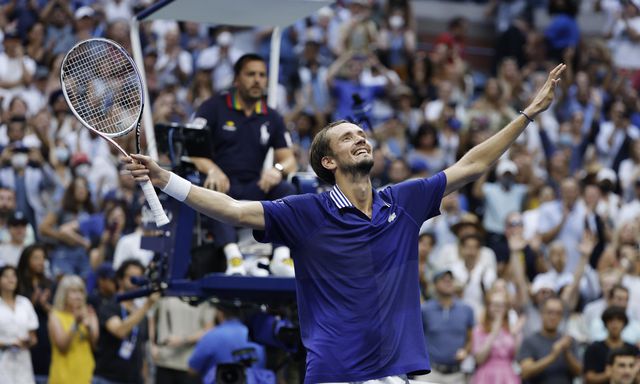 Also read: Genius, strategist, hothead – the many faces of tennis champion Medvedev

King is also candid when it comes to the sexual assault – she was sixteen – by the husband of her favorite teacher. He groped her in the back seat on a road trip, while his wife was behind the wheel. "After that, for a while I recoiled when I encountered older men in certain situations," she recalls. "Or if I saw a man who looked like the man who assaulted me. Sometimes I would sit in the living room, look at my father and think: he has no idea what happened."
Then there's the abortion King had after a rare lovemaking with Larry, in 1971. In California, abortion was legal, but she had to answer to a medical committee first. "Probably the most humiliating thing I've ever experienced." After confiding in a sports reporter, she couldn't resist writing about it. Her parents had to find out about her abortion from the newspaper.
King's private life is a rollercoaster. You wonder how she stayed in the top tennis all these years. The sport must have been a way out, also given the environment in which she grew up, but the love for the game was also great. King bought her first racket as a ten-year-old for eight dollars—she did odd jobs in the neighborhood—and told her mother she wanted to be number one in the world.
In the book she explains what makes tennis exciting. "Everything we experience is part of a process of self-discovery, but tennis can speed up those learning processes because it involves all your senses. In singles you are on your own. Energy, self-awareness, determination, ambition – you have to harness it all to reach the finish line."
Sexist statements
King's personal experiences are needed to properly understand her militancy. Had she not been curtailed as a child, she might never have accepted the challenge of former tennis player Riggs (then 55) to compete in sporting competition in front of a television audience of millions in September 1973. Much is known about their 'battle of the sexes' in a packed Houston Astrodome, but it is interesting to read how King prepared for it and what its impact was.
Riggs tried King leading up to the best-of-five with sexist statements, but she isolated herself and worked on her condition in silence and visualized her victory. When that happened – she won in three sets – she was constantly accosted by people who told them why her victory over a man meant so much to them. "Girls and women, mothers and fathers, school principals and coaches, the most diverse people asked me if I wanted to intervene to set something right in their lives, to slay a dragon. It still happens. I do what i can."
During her meeting with former President Obama in the White House, he said: "You don't realize it, but I saw that game when I was 12. Now I have two daughters and it has influenced the way I raised them."
Naomi Osaka
Coincidentally or not, in the year King won against Riggs, the US Open was the first grand slam tournament to announce an equalization of the prize money. King reveals that that decision came about less voluntarily than is often believed. After threatening tournament director Bill Talbert to boycott the event, she told him that a sponsor wanted to make up the difference in prize money (55,000 dollars). Perplexed, Talbert agreed to what would later be considered a groundbreaking and cross-sports decision.
The struggle for equal treatment of tennis players – financially and otherwise – must have been energy-consuming. There was a lot of lobbying, no means was shunned. Not only were powerful administrators thwarted, but also male colleagues, including some friends. They saw the demands of women as a threat. "Who would pay money to watch you play," one of them tossed King.
No wonder she and eight other players initiated an exclusive women's circuit sponsored by tobacco company Philip Morris, in defiance of an outraged American Tennis Federation (USTA). The Virginia Slims Circuit was the forerunner of the Women's Tennis Association as we know it today. Without King's fearlessness, tennis would probably never have become the most successful women's sport. King became the first female athlete to earn more than $100,000 in 1971. In comparison, Japanese tennis star Naomi Osaka was the highest-earning sportswoman this year with $60 million.
In All in there is something for everyone. Sports enthusiasts can indulge themselves, but it also reads like a handbook for activists. It is not without reason that the autobiography begins with a quote from Ruth Bader Ginsberg, a long-time member of the US Supreme Court, who died last year. "Fight for the things you love, but do it so that others join you."
It could be King's motto.