Three tattooed crosses on the Achilles tendon of an Ajax fan. They became this week in the picture set by the account of the Supporters Association Ajax. Accompanying text on Twitter: "First Ajax players spotted at Schiphol"
They can again. 1,200 Ajax fans can cheer on their team in Estádio José Alvalade on Wednesday evening when the Champions League season starts against Sporting Clube de Portugal. A corona test or vaccination certificate is necessary. Mouth cap in the stadium too. Anyway, the fans are happy that they can go to Lisbon at all. Ajax's last European away game with the Amsterdam public was in February 2020, against Getafe in Spain, when the corona virus spread almost unseen.
In the same week in February, the match between Atalanta Bergamo and Valencia was played, in Italy. It would turn out to be a disastrous match for the spread of the virus in hard-hit Bergamo. The mayor of that city, Giorgio Gori, later called the match a "biological bomb". Not much later, football in Europe came to a complete standstill. And with it the football culture of supporters who travel in large groups after their team – a way of life for some.
'Football is for the fans'
The return of the away crowd to European matches has been lobbied. Ajax director Edwin van der Sar played an important role. At the end of August, he spoke with representatives of the European football association UEFA at the draw for the Champions League in Istanbul. "Football is for the fans of both clubs," he said at the time. A week later, Van der Sar traveled to Switzerland to discuss the matter further at UEFA headquarters in Geneva. The ex-goalkeeper is also vice-president of the European Club Association, the umbrella organization for football clubs. As the face of that organization and of Ajax, he became, along with Manchester United and a few other clubs, the face of the awayday-lobby.
Ronan Evain was also involved. He is Executive Director of Football Supporters Europe, which represents many supporters associations. According to him, the arguments of the clubs and supporters were clear: football supporters should be treated equally. It has been possible for much longer to travel through the European Union – usually vaccinated or with test evidence. People could go on holiday, to theater performances abroad, to hotels and business meetings. But not to football matches, for example in the preliminaries of European tournaments, because UEFA had banned that. "It was a bizarre situation," says Evain. "You could travel abroad and even buy a ticket to a football match if you were there, but the public could not travel organized to matches abroad," says Evain. According to him, this resulted in complicated and sometimes even dangerous situations.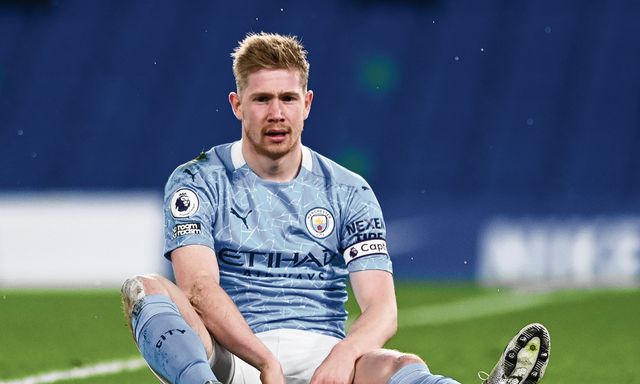 Also read: this NRC story about top football players who put their agent aside

Supporters of Union Berlin from Germany traveled to Helsinki a few weeks ago on their own initiative, for a preliminary round match against the Finnish KuPS. It was easy to get tickets in Helsinki. As the Union Berlin fans marched towards the stadium, it was decided to escort them to a separate 'out section' – despite UEFA's ban on away fans. Evain: "Traveling after a club is part of the nature of football fans. The UEFA ban was more dangerous than safe there."
5 percent crowd
In Geneva, Edwin van der Sar got a good feeling about the lobby at the beginning of last week, he texted Ajax's commercial director Menno Geelen. It would be fine, fans could come to Lisbon. "We were very happy with that, and so was the supporters' association," said Geelen in the Pak Schaal podcast of Football International.
It turned out well indeed. UEFA announced last Tuesday that away fans across Europe are allowed to go to matches again. Clubs are allowed to make 5 percent of their stadium capacity available to visiting supporters. This was also the case before the corona pandemic. The only difference is that in most countries it is not yet allowed to use the maximum capacity of a stadium. This automatically means that less public is allowed.
Vitesse will play in the Conference League this season. On Thursday, against NS Mura in Slovenia, six hundred fans are allowed. In the Netherlands, clubs are currently allowed to use two thirds of their capacity. "That also applies to the guest section, which comes down to 665 tickets for us," says a Vitesse spokesperson.
However, supporters can't just travel everywhere. Feyenoord played on Tuesday in the Conference League against Israeli club Maccabi Haifa (0-0). There are such strict quarantine rules that no public could join. The Dutch press was not in Israel either – reporting was done from home. "It is not possible here yet and the national or regional authorities ultimately determine," said a Feyenoord spokesperson from Israel.
Patchwork of rules
It is expected that the stadium capacity in the Netherlands will soon be able to be used to the maximum. This has consequences for Feyenoord for the home games against Maccabi, Union Berlin and Slavia Prague. "We are just going to make 2,400 away tickets available for all upcoming European home games. So that is 5 percent based on our regular maximum of 47,500 spectators," says the spokesperson.
It is, says Ronan Evain of Football Supporters Europe, still a curious patchwork of rules. Away supporters are not welcome at all in Spain, Kazakhstan and Greece – although that could change at any moment. Supporters must always adhere to the local rules anyway. In one country a mouth cap on public transport or on the café terrace, in another not.
For matches in England (for example, Vitesse is in the group at Tottenham Hotspur from London), supporters must book a corona test, which they must undergo the second day they are in the country – even if they have been vaccinated. Evain: "Most fans stay in the country for less than 48 hours, so I think they have to book and pay for that test, but will not undergo it. In any case, they should make sure that they know and follow all local rules."
Football trips without ifs and buts will be impossible for a long time to come, Evain thinks. But he does want to emphasize something. The most important. "It has been a very, very long time since we European awaydays had. This is now the highest attainable. So I would like to say to the fans: enjoy it, enjoy it immensely."
With the cooperation of Sam de Voogt