Brad Pitt, Maria Sharapova, Andy Roddick, Ben Stiller, Rod Laver. An imposing line of celebrities sat in New York's Arthur Ashe Stadium on Sunday to witness what Americans love so much. history in the making to call. Novak Djokovic would defeat Russian Daniil Medvedev in the final of the US Open, becoming the first male tennis player since Laver in 1969 to calender slam won: four major tournaments in one calendar year.
And not only that. The Serb would also win his 21st grand slam in New York, it was expected, surpassing his rivals Roger Federer and Rafael Nadal (each good for twenty). "It might be the most important game of my career," he said in advance. In recent days, Djokovic could think of little else than that one trophy, which seemed to symbolize all his sporting achievements.
His higher goal, he confessed at Wimbledon this year, is not only to win more grand slam titles than Federer and Nadal, but also more than Serena Williams (23) and Margaret Court (24). To achieve that, he focuses more and more on the big tournaments. To peak there, he must waste as little energy as possible.
His hunt for records was badly damaged on Sunday, much to Djokovic's chagrin. The global number one had to recognize his superior in an unleashed Medvedev: 6-4, 6-4 and 6-4. After more than two hours of play, the Serb sat in a chair, while Medvedev fist bumps gave. His legs didn't cooperate, his serve didn't work, he made a lot of unnecessary mistakes. "My game was way below par," he would later admit.
A little upset
Medvedev started well and already managed to break Djokovic in his first service. Concentrated and serving very strongly, the Russian worked towards victory. Under difficult circumstances he – and that is very clever – did not allow himself to be distracted. Neither by Djokovic – who smashed a racket out of frustration in the second set – nor by the audience, who increasingly stood behind Djokovic as the game progressed.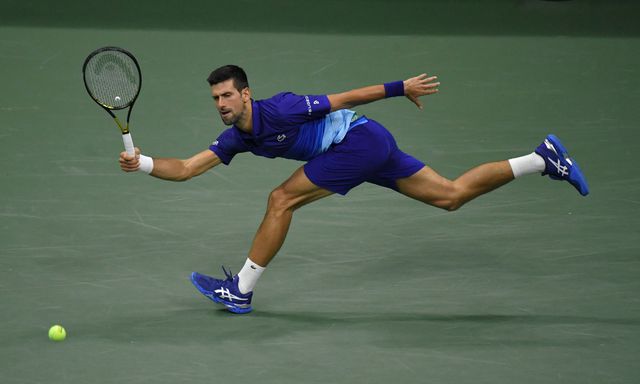 Also read: The hunt for the highest attainable: all grand slam tournaments in one year

Only in the third set did Medvedev seem a little upset when he hit a double foul at 5-2 and match point, when the crowd whooped as he tried to serve. Djokovic came back to 5-4, but Medvedev seemed determined not to give up the win. With good serve, he again forced two match points, of which he used the last.
The 25-year-old Russian fell "like a dead fish" on his side and stuck out his tongue wearily. What he just failed to do at the US Open in 2019 and just failed to succeed at the Australian Open this year – winning a grand slam – he did now. He is the first Russian since Marat Safin in 2005 to win one of the four major tournaments.
Touched in the soul
During the awards ceremony, he apologized to Djokovic and his fans who, he realized, had had something completely different in mind. "But for me you are the greatest tennis player in history," he told Djokovic, who visibly enjoyed all the praise and support.
Not so long ago, Djokovic (34) was considered one of the most unloved stars in tennis. Someone who often makes a mistake and doesn't care much about his environment. The Serb has long felt misunderstood. Perhaps that explains why he had great difficulty controlling his emotions during and after the final. "This defeat is hard to deal with given everything that was at stake," he said. "But on the other hand, I felt something I've never felt in my life here in New York. The audience made it very special. I am the happiest person on earth. The emotion and energy I got from fans is not inferior to winning 21 grand slams. I felt very special and the spectators touched my soul. I will cherish those moments forever."
Medvedev said he was married to his wife Daria for three years. He couldn't think of what gift to buy her. After qualifying for the final, he decided there was only one thing for it: to win his first Grand Slam title. "With two and a half million dollars in prize money you can go shopping," said the woman who handed him the check.
A version of this article also appeared in NRC Handelsblad of 13 September 2021