'Oh, if I shall be dead, shall be dead / Come and whisper, whisper something sweet, / I shall lift my pale eyes / And I shall not be astonished,' concluded JH Leopold in 1912. Suppose he lifted his eyes and the novel Until death do us part by Lionel Shriver, wouldn't he be surprised? Or would he be surprised by a book about dying lovers that is so melancholy?
Shriver's worldview is not something to cheer about; not at all in her latest novel. Couple Kay and Cyril decide that they will get out together at 80 so that they won't be a burden to their children or health care. The best is already done by then, they think when they are fifty. Until the time comes: living the last year as if it no longer matters, still has its charm somewhere. This way Kay can 'safely' confess that she voted pro-Brexit, without her husband being able to stay angry for long. But it is extra sour if the last year falls into the water due to Covid.
Shriver works out different scenarios as parallel possibilities – a process she also applied in The world after his birthday (2007), although at that time there were only two possibilities. Here are more: Kay and Cyril are 'saved', or only he dies and she doesn't, and vice versa, or they freeze, they have eternal life, they end up in a shabby, tyrannical care home, et cetera.
Jort Kelder
It's pretty brilliant what Shriver is doing here: With all the variations on not dying and the consequences of staying alive, she can play all her political registers (and ride hobbyhorses), but she also explores literary possibilities. First the literary variants: there is science fiction, where man has been replaced by something with two and a half meters of feathers and where language has been reduced to the minimum (very nice to experiment with as a writer of course), there is a love story (a kind of Romeo in Julia in the mobility scooter) and the most gruesome form: writing dialogues of someone with a locked-in syndrome.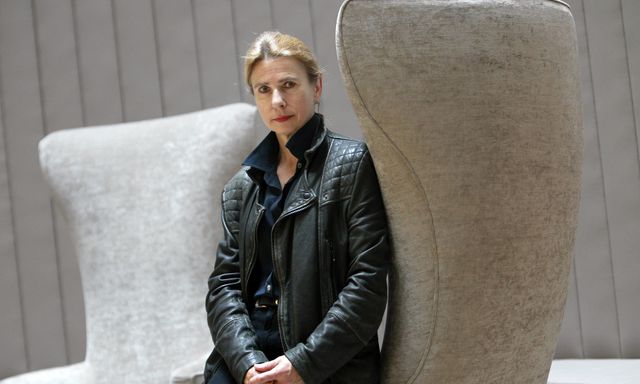 Also read: 'We are not at war with the virus, we are committing suicide'

Like Ian McEwan, Shriver often uses novels as a laboratory. Some don't like that, because it gives the novels a somewhat essayistic extra layer, so that you don't fully immerse yourself in the lives of the characters. Those who don't necessarily need to be drawn into a story become fascinated by the ideas and thought experiments with which you may or may not agree. That's in Until death do us part – Shriver seems to look at the world with less and less empathy per novel – often the case. As a sort of Jort Kelder of the arts, she discusses Covid and the social burden of an aging population.
Shriver was fierce on all measures in interviews, and she repeats that in her novel. In the unloving portraits of the children (one is boring, the other a meddlesome fat man and the third, Roy, an antisocial waiting for the inheritance) this one is typical: 'Roy was the only one who didn't wear personal protective equipment. Though he was pre-eminently the type to contract Covid-19 and to run frantically through the city as a "super-spreader," Cyril was reluctant to admit that their middle child's resistance to all the rigid, suffocating societal pressures graced him. '.
Irritating expat
It is occasionally not very subtle, but also razor sharp. For example, when Shriver exposes the market forces of health care (when Kay and Cyril are in a care home, the shivers run down your spine, she horribly filleted the health care So Much for That from 2010). A world in which no one dies anymore becomes an ironclad dystopia, both in the horror of the unlimited possibilities and an overcrowded Brexit England, where there is a fight for space.
There are probably no authors who are more vicious and funnier than Shriver right now. She does not please, but looks in every novel how far she can go. In the meantime, she also processes the reactions she evokes since her much-discussed future novel De Mandibles (2016). In her previous book The path of most resistance (2020) she seemed particularly indignant about the negative reactions, and that indignation took precedence over the story itself – in this novel self-mockery prevails. In it Kay raves about 'an annoying American expat' and 'hyperventilating madman', who as a writer sows panic everywhere after her 'stupid novel': 'Shriver is a hysterica. And so obnoxiously self-righteous, as if she wants civilization to collapse just to prove her point.' It is to be hoped that Shriver is never proved right, so that she will continue to share her destructive view of humanity with us for a long time to come.
A version of this article also appeared in NRC Handelsblad on 3 September 2021
A version of this article also appeared in NRC on the morning of September 3, 2021