"The process of due diligence relative to Mps proceeds as established by memorandum of understanding. I urge you to fly higher than the gossip you hear or read, and I assure you that I will keep updating you whenever we have new ones e concrete information to share". The CEO of UniCredit Andrea Orcel takes pen and paper for write to all employees of the group and motivate them, returning from vacation, in view of the two big ones dossier waiting for the bank. That is the launch of the new industrial plan "to be completed by the fourth quarterand "and theMontepaschi operation which in the strategy of the former Ubs banker will serve to accelerate the achievement of some of the group's targets in Italy.
"I don't know what awaits us yet, but I know that our new strategy will show us the way to go: towards a future in which we will act faster, we will get even more satisfying results, e we will offer the best possible services to all our customers", He begins Orcel in the mail to its bankers, mail of which Affaritaliani.it has viewed and publishes exclusively.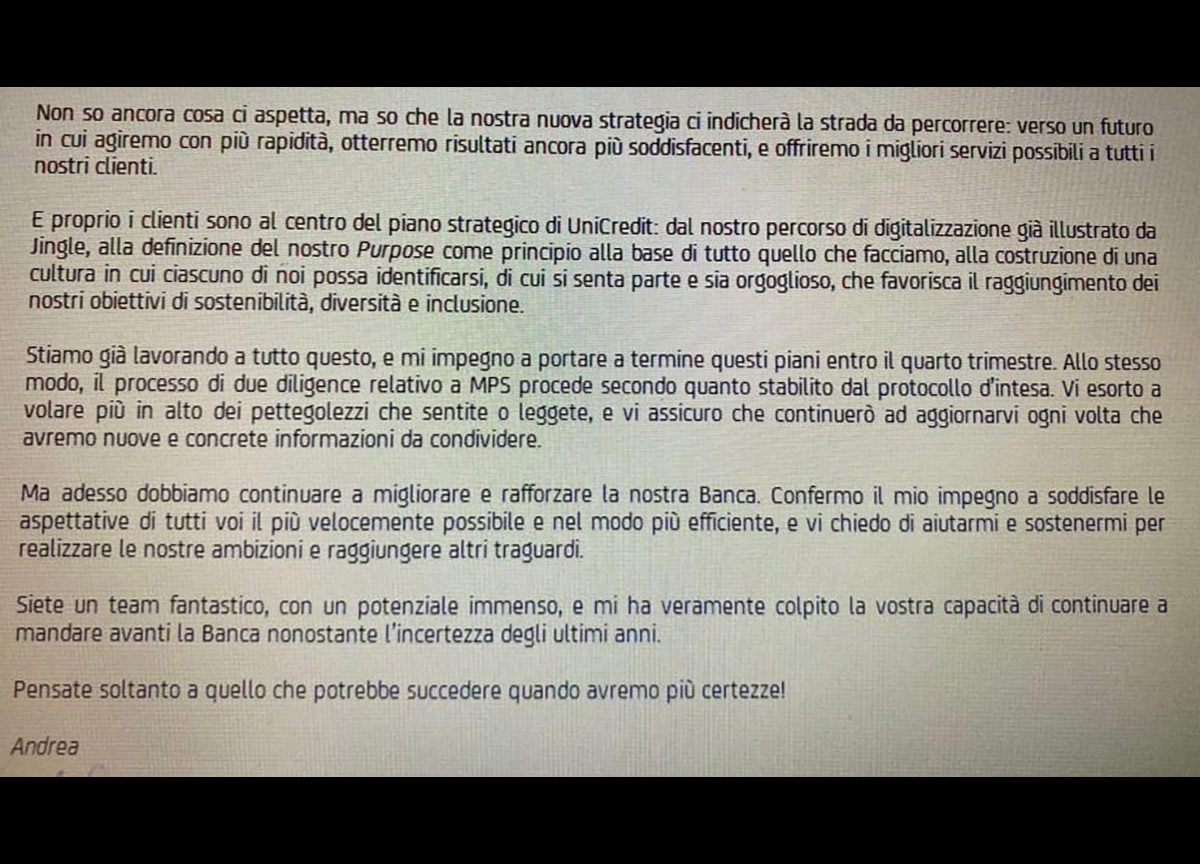 UniCredit internal email with the UniCredit CEO's message to employees
"Is exactly customers are at the heart of UniCredit's strategic plan: from our digitization path already illustrated by Jingle (Pang, the Group's Digital Manager, ed), to the definition of ours Purpose as the underlying principle of everything we do, to the construction of a culture in which each of us can identify, of which we feel part and proud, which favors the achievement of our goals of sustainability, diversity and inclusion ", continues Orcel.
"We are already working on all of this, and I pledge to complete these plans by the fourth quarter. Similarly, – adds the head of UniCredit introducing the dossier Montepaschi – the due diligence process relating to Mps proceeds in accordance with the provisions of the memorandum of understanding. I urge you to fly higher than the gossip you hear or read, and I assure you that I will continue to update you whenever we have new and concrete information to share ".
"But now – concludes Orcel, signing the email"Andrea'and asking for the collaboration of UniCredit bankers for the mission with the transformation of the group at the center – we must continue to improve and strengthen our bank. I confirm my commitment to meeting the expectations of all of you as quickly as possible and in the most efficient way, and I ask you to help me support myself to realize our ambitions and reach other goals. You are a team fantastic, with immense potential, and I was really impressed with your ability to continue running the bank despite the uncertainty of recent years. Just think about what could happen when we have more certainties! ".
@andreadeugeni