What's next in nursing homes? The vast majority of residents have been vaccinated, the number of outbreaks seems to remain stable, but nursing homes have not yet given up freedom-restricting measures.
Some institutions still close their doors for visitors in the event of a corona outbreak. Such as the De Beekwal nursing home in Eerbeek in Gelderland, where seventeen residents and a group of employees contracted the virus last week. All 125 (vaccinated) residents must stay in their room. They are not allowed to receive visitors until Wednesday. "In order not to spread the virus further," said a spokesperson for the healthcare institution.
Other nursing homes with smaller outbreaks – currently about 170 in the Netherlands – sometimes choose to isolate only the infected residents, or to temporarily close smaller living groups. The branch association for elderly care Actiz calls it 'customization'.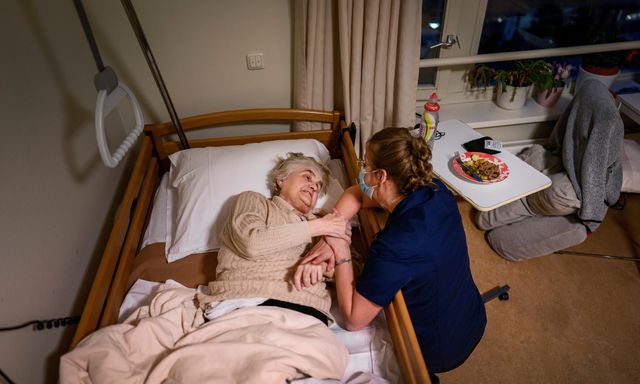 Also read: One day it wasn't easy anymore, in the care home

Such measures are in line with current guidelines, says a spokesperson for the Ministry of Health: in the event of an outbreak, part of the location will be temporarily closed to visitors. But is that still necessary, now that all nursing home residents who want it have been vaccinated?
Yes, says professor of geriatric medicine Cees Hertogh, who advises the cabinet as an OMT member. "We are in an uncertain phase of the pandemic. We do not yet know how long the effects of the vaccinations last and whether we can expect the same effectiveness in the elderly. So we will have to regulate visits in the event of an outbreak, especially in organizations with a low vaccination coverage".
No, says professor of geriatric medicine Marcel Olde Rikkert. "Nursing home residents are a risk group, but that risk has been greatly reduced by vaccinations. We are now in a different situation than last year."
Loneliness
Olde Rikkert conducted research for Radboudumc into the effects of corona isolation among the elderly. He did not find any additional complaints of depression, but he did find strongly increasing feelings of loneliness. Enough reason to be very cautious about restrictions, according to Olde Rikkert. "With this group you cannot strive to remove all the risk. In nursing homes where the elderly spend their last phase of life, well-being should be a higher priority than surviving as long as possible."
At most, you should think about measures for residents who are known not to respond to vaccines due to a disease and who want to be extra protected themselves, says Olde Rikkert.
Emeritus professor of geriatric medicine Joris Slaets goes one step further. He calls it "unheard of" that elderly people are denied contact with loved ones because of corona. "The average life expectancy in nursing homes is often less than a year. Whether those people die a few months earlier or later is completely trivial. The question should be: how do they die, don't they? when."
According to Slaets, a good end of life revolves around finding peace and tranquility with loved ones. "That is the most important thing that remains in that last phase of life. And that contact with loved ones would a nursing home manager be allowed to deny us, because otherwise a few more infections would wander around that could lead to an earlier death? It's completely ridiculous. These people are already living in the face of death!"
Is the virus fight too much at the expense of the well-being of the elderly in their final phase of life? OMT member Cees Hertogh thinks it is a "false contradiction". "It is too easy to say: let go of all infection prevention. And then? As if living with an infection is so pleasant. When the virus spread in nursing homes last year, it had devastating effects. Even people who survived experienced a decline in their quality of life."
Now that many nursing home residents have been vaccinated, Hertogh thinks it is still too early to let go of measures. Although residents seem to get sick less, Hertogh also points to recent international studies that indicate that the power of vaccines decreases after a few months and that vulnerable elderly people may be less well protected. "But we don't know enough yet what that means in the long term." Hertogh is therefore starting a study for the Amsterdam UMC, together with the GGD, into the effects of vaccinations in nursing homes. "Hopefully that study will provide more guidance, so that we can organize measures differently."
Experimenting with measures
Nursing institutions are already experimenting with measures themselves, says Jan Hamers, professor of Elderly Care at Maastricht University. "They are looking for solutions to prevent outbreaks, without having to close the whole place." Hamers and a group of colleagues have been following 76 nursing homes across the country for over a year. Their last count, in April, showed that most nursing homes hardly dared to let go of the reins. In four out of ten nursing homes no grandchildren came to visit, and visitors often had to make an appointment. Mouth caps were mandatory, hugging almost nowhere allowed.
Hamers has the impression that many nursing homes have since implemented relaxations; figures have yet to come in. "You hear that there are different reactions now. For example, infected residents are sometimes placed together in a closed ward, so that the rest can continue to receive visitors. That is a better solution than a total ban on visitors."
A version of this article also appeared in NRC Handelsblad of 24 August 2021
A version of this article also appeared in NRC in the morning of August 24, 2021