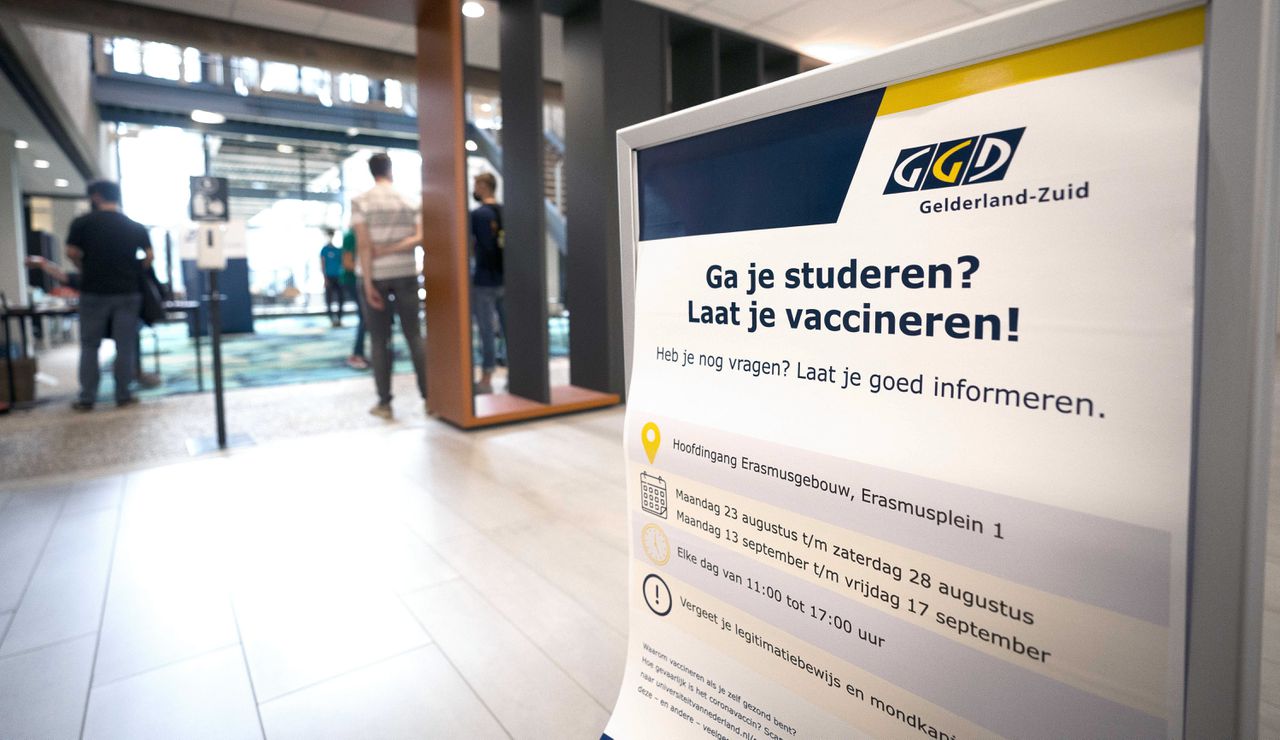 The vast majority of people who received a positive result from a corona test in the past six weeks had not been vaccinated. This is evident from figures published by RIVM on Tuesday.
In total, there were 368,060 people who tested positive for the coronavirus between July 12 and August 22. 305,682 of those people had a vaccination status. Of these, 66 percent had not been vaccinated at all, 18 percent had received one shot and 16 percent had been fully vaccinated.
The percentage of vaccinated people who nevertheless tested positive is somewhat higher than an earlier report by RIVM: at the beginning of August, the institute reported that about 12 percent of people who received a positive test result in July had been fully vaccinated. In any case, this can partly be explained by the fact that the vaccination rate has increased in the meantime. At the time, 66 percent of all adults were fully vaccinated, which has now risen to 76 percent.
Age difference
The fourth wave of infection, which led to high numbers of positive tests in July and August, mainly occurred among young people. At that time, this group was often not yet fully vaccinated. This is also reflected in the figures: about 10 percent of people under the age of 40 who received a positive test result were fully vaccinated. This percentage is much higher among older age groups: over 75 percent of the over-70s. Nine out of ten people in that age group had already been fully vaccinated.
The effect of vaccination can also be seen in these age groups, the RIVM stated earlier. The previous waves also usually started with young people, but sooner or later they passed on the virus to other generations, after which the number of positive tests there also increased. But that didn't happen in this wave – especially in the age groups where the majority had already been fully vaccinated, there was only a very limited increase in the number of positive tests.
Corona numbers are not falling
After an initial rapid decline at the beginning of this month, the number of positive tests has now remained stable at around 2,500 per day for two weeks. That is considerably more at the end of June, when there were about 500. The number of Covid-19 patients in hospitals also remains high, there have been about 200 patients with corona in the ICU since the end of July and that has not decreased since.
It remains unclear exactly how many vaccinated people will be hospitalized. Hardly any data is shared about this – the Ministry of Health once published the results of a small report. It kept track of the vaccination status of people who were hospitalized in the week of July 12-19. Then 10 percent of patients were fully vaccinated, 17 percent were partially vaccinated. In addition, 5 percent of the patients had known immune problems – the vaccination status of these patients has not been reported.
A version of this article also appeared in NRC in the morning of August 25, 2021